Last year, our Foundation was lucky to welcome cancer survivor Rich DeSilva, running his first Boston Marathon to help JAF families fight cancer. This year, the 43-year-old Mansfield dad is back for more, running "barefoot" in his Vibram 5 Fingers! 

Rich, a Director at Financial Engines, is especially appreciative of his family's "extraordinary" support – his wife Deana and three kids: Alexandra, Jake and Anthony. As he says: "As the miles increase, it can clear out an entire Saturday preparing, running and resting." He's grateful his family understands. And we're grateful he's running for our team again!

– Jen Andruzzi
JAF: What inspired you to run for JAF this year?
Rich: The origins of my interest in JAF began in December 2010, when I was diagnosed with melanoma. I have also lost two friends and a work colleague to cancer, just within the past two years. And several other family members and friends in recent years are in remission, having recently battled the disease. Therefore, this is a cause that is near and dear to my heart, as Joe and I are both cancer survivors hoping to make a difference in people's lives.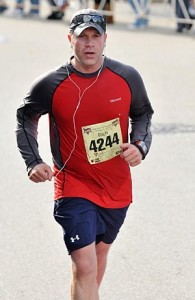 JAF: What's your fundraising goal and how are you meeting it?
Rich: My goal was $5,000; I just topped $10,000. Certainly, having a personal story helps motivate folks to contribute, but social media is also very effective. Additionally, I'd planned to host a Texas Hold 'em Tournament Fundraiser at the end of March.
JAF: What's on your marathon resume?
Rich: I ran Boston last year in the 90-degree heat, crossing the finish line with my shirt tied around my head and having experienced several hallucinations. It's not an experience that was particularly enjoyable.
JAF: How do you train?
Rich: Training is going extremely well (knock on wood).  I only run three days per week, including a long run on the weekend, and I cross train (swimming, yoga, strength training) the other days. My off day (Friday or Sunday) usually includes a hike.
JAF: How do you stay motivated to train in winter?
Rich: I love running in the cold, particularly after last year's inferno. Dressing in layers allows you to take stuff off as your body heats up.
JAF: Do you do other charity work?
Rich: Sadly, a close friend of mine just lost a daughter to Lafora, a rare, genetic, terminal form of epilepsy. In addition to donating, I plan to work with him to help form a nonprofit that raises awareness for this terrible disease.
JAF: What's your marathon goal?
Rich: Because I'm not likely to win the marathon unless I take the green line, I try to have fun… high-fiving kids, taking pictures with the students dressed up in costumes, just taking in the moments as they come… it's a day of celebration.
JAF: Got a theme song?
Rich: "Indestructible" by Disturbed. The music gets you pumped up, and while you are running in the moment, you truly do feel infallible.
JAF: How do you stay "upbeat" and motivated?
Rich: Focusing on the real reason I am fundraising and running, focusing on the people and families I am helping.
JAF: What would surprise non-runners about marathons?
Rich: It's not two times as difficult as a half marathon. It's five to ten times more difficult.
JAF: Runner's high… myth or reality?
Rich: Anyone who thinks it's a myth either doesn't run or doesn't run hard enough.
JAF: What's the best training snack?
Rich: I've run many half marathons, and my tradition is to eat pasta with shrimp the night before, have two beers, and then hydrate, hydrate before the race!