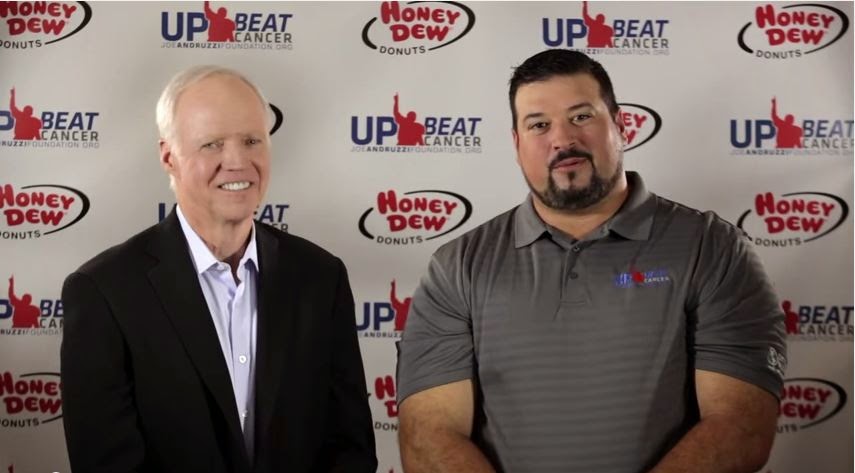 The Joe Andruzzi Foundation is excited about a sweet, new partnership that'll be sure to jumpstart your day.
In honor of
National Coffee Day
and all the New England cancer patients and families we serve, we are so proud of our new partnership with Honey Dew Donuts, New England's largest locally owned coffee and donut shop chain. Today, Honey Dew Donuts will begin a campaign to raise money for the Foundation through the sales of $1 window decals at all locations throughout October. AND, they will match the decal proceeds, dollar for dollar! They will also feature JAF branding on their coffee cups and in stores to share our (Up)Beat rallying cry.
Honey Dew Donuts has also unveiled a special (Up)Beat red and blue-sprinkled, chocolate frosted donut inspired by the positive philosophy of our favorite former New England Patriot, three-time Super Bowl Champion and cancer survivor, Joe Andruzzi. Proceeds from donut purchases will also support the Foundation.
With Honey Dew's support, we will be able to give even more families help, hope and a reason to smile. We are incredibly grateful to them for partnering with us for this campaign. We hope you will get out there and treat yourself to a window decal and a delicious donut for a good cause. To sweeten the deal a bit more, Joe will make surprise guest appearances at select Honey Dew locations TODAY! Could your local store be one of the stops on his #CupOfJoe tour? Stop in to find out!
Honey Dew Donuts will also run a month-long contest: Customers are invited to take a photo with the Joe Andruzzi lobby stand and post to Twitter and Instagram with the hashtag #IFoundJoe, to be entered to win fantastic prizes. Go find Joe for a #CupOfJoe and tweet #IFoundJoe to @joeandruzzifndn and @HoneyDew_Donuts. Make sure you purchase a window decal to show your support and (up)Beat spirit!
Hope to see you on your coffee break,