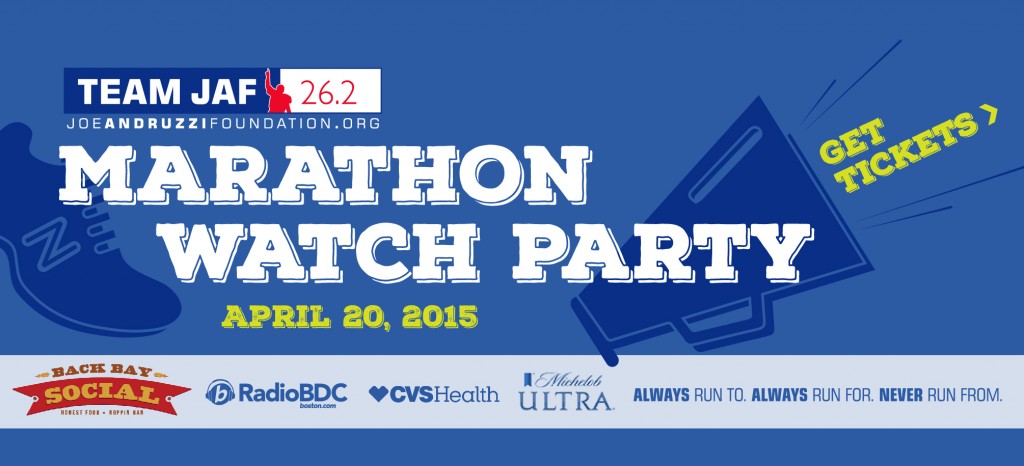 After months of long and challenging training, Team JAF's dedicated marathoners are finally nearing the finish line. And we're hoping you can join us on Monday, April 20 – Marathon Monday! – at Back Bay Social Club on Boylston Street from 10:00am – 6:00pm as we cheer on our 21 #TeamJAF Boston Marathon® runners.
Just steps from the finish of the world's most historic marathon course, Back Bay Social Club will be filled with JAF supporters celebrating the culmination of the team's hard work, training and fundraising.
Tickets are $50 for the event, and can be purchased online at http://bit.ly/JAFWatchParty15.
Children under 12 are free, and attendees will be able to come and go as they please to cheer on runners as they make their way towards the finish line. A portion of proceeds raised through the watch party – sponsored in part by CVS Health, Back Bay Social Club, Michelob ULTRA and RadioBDC – will directly benefit Team JAF's 2015 fundraising efforts.
Team JAF, supported by the John Hancock Non-Profit Program and New Balance, are raising money towards JAF's mission to provide help, hope, and a reason to smile for cancer patients and their families. To date, the team has raised more than $117,000!
Jen and I are really looking forward to honoring our team's months of hard work, training and fundraising. We couldn't do our work – providing financial assistance to cancer patients and their families during treatment, and funding pediatric brain cancer research – without the dedication and commitment of our incredible supporters.
The event should be a ton of fun – RadioBDC will be broadcasting live from Back Bay Social Club throughout the event, and we'll be passing out cool giveaways and t-shirts from our friends at Michelob ULTRA!
Can't make it? You can still help our runners reach their fundraising goals by visiting: http://bit.ly/SupportTeamJAF
Hoping to see you there, and remember – Always Run To. Always Run For. Never Run From.
– Joe Andruzzi