The Boston Marathon can have a way of leaving a lasting impression on anyone. The energy on the course on Marathon Monday from runners and spectators alike is something unlike any other. Even on the sidelines as part of the famous Wellesley scream tunnel or one of the many cheer stations along the route, you feel connected and, for some, even moved to participate. For Andrew McGill, that inspiration got to him.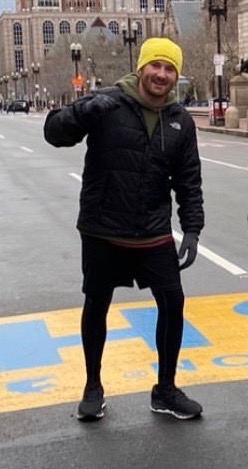 Andrew grew up watching his dad participate in seven Boston Marathons on behalf of Boston Children's Hospital. Each time, Andrew and his family would head to Wellesley to see his dad dash ahead to Boston. Those timeless moments stayed with Andrew, leaving him wanting to run the legendary course one day.
In 2022, Andrew was back in Wellesley on Marathon Monday, cheering this time for the CEO of the wealth management firm he works at. Again, in the role as a spectator that day, Andrew realized he finally wanted to accomplish his marathon dream.
"It just felt like it was a sign," Andrew said. "Just remembering the energy there last year, I thought I got to be a part of this."
Andrew soon started researching 2023 charity teams he could apply to join. When he came across the Joe Andruzzi Foundation (JAF) and its mission, it resonated with Andrew personally and professionally.
Fifteen years ago, Andrew's grandfather was diagnosed with prostate cancer. During his grandfather's cancer journey, Andrew witnessed his mother and other family members take care of his grandfather. Along with that, the family felt the strain financially cancer can have.
Unfortunately, Andrew's grandfather passed away because of his cancer. The memories and lessons Andrew learned from him, however, remain.
"He was a visionary and had tons of energy," said Andrew. "He was always doing work and being there for his family. He always gave back too, and when I was young, he would take me to the Pine Street Inn to do a lot of charity work as well."
Andrew works as a financial advisor. Throughout his years in this field, he's financially prepped others for unexpected hard times. However, Andrew wants to do more.
"I feel like there's a much greater impact I can have directly on the people going through [a diagnosis]," Andrew said. "It's one thing helping people prevent it; it's another helping through it."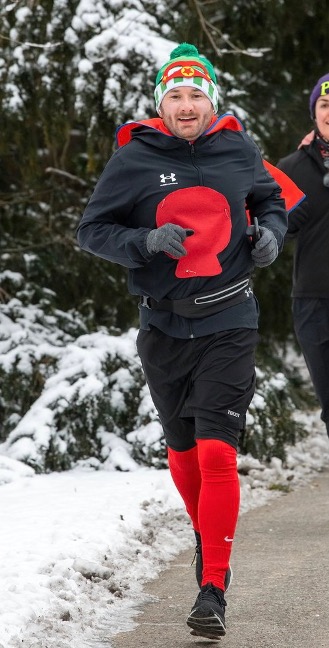 That's why running for Team JAF's Boston Marathon team became crucial to Andrew—even if he had never run a marathon. In the past, Andrew did cross country during his school years and used running to help him stay in shape, but he never did any long-distance running.
What's been a big boost for Andrew is the weekend group runs during marathon training with members of Team JAF. Andrew mentioned how in their group text chain, all the runners always encourage each other.
"There's a ton of camaraderie there," Andrew said when describing Team JAF's mentality. "Along with telling each other, 'Hey, tomorrow morning, I don't want to go on this run, but I'm going to do it.' Everyone wants each other to do well."
One of those Team JAF teammates is Andrew's work colleague, Becky Cloutier. Having had many people in her life go through a cancer journey, Becky wanted to run the 2023 Boston Marathon for a cause that helped cancer patients. She would never imagine having a close tie to someone who received assistance from JAF.
It turned out that one friend in Becky's circle received a financial grant from the Foundation back in March 2019. That grant recipient was Katie Crowell, who received JAF's 10,000th grant.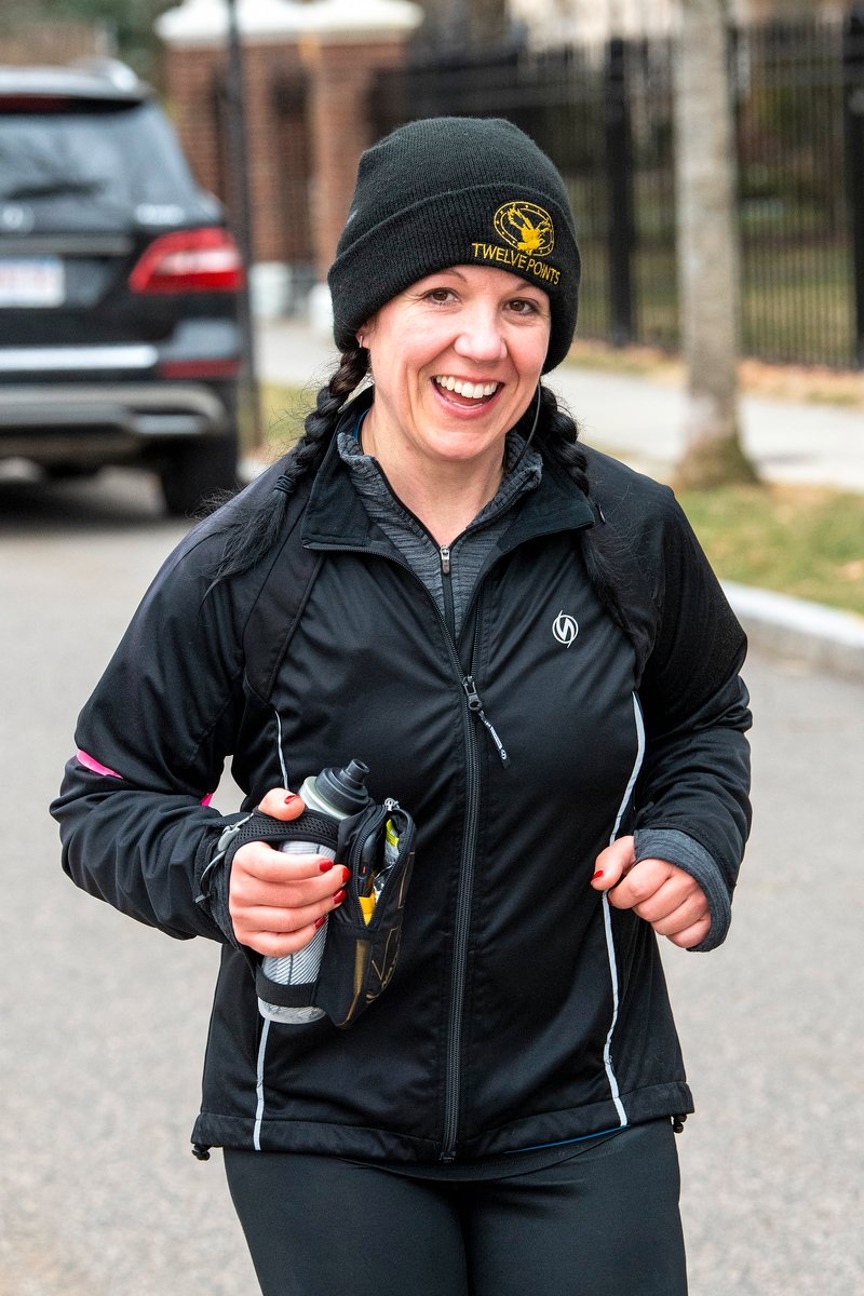 Having gone to several of Katie's fundraisers during Katie's marathon days, Becky knew Katie and her story.
"It suddenly made running for JAF much more personal for me," Becky said.
While this is her first Boston Marathon, running in marathons isn't new to Becky—having participated in races such as the Kentucky Derby Marathon and ultra-marathons. One memorable ultra-marathon for Becky happened up north in Canada in 2019. That day consisted of Becky logging 32.5 miles, but it wasn't the same mileage for every runner.
"I thought that race was awesome because it had bibs that showed what race you were doing, whether it was a 5k, 10k, marathon, or ultra," Becky said. "The support from the other runners was so awesome. I was out there a couple of hours before some of them, and they were still very supportive and cheering you on. It was great."
Andrew isn't the only person Becky knows on Team JAF. Becky also knows Meghann Hagen, a fellow runner, and a childhood friend she rode horses with years ago. Both runners had no idea the other would be a part of Team JAF. It was the first time Becky had seen Meghann in a long time.
"The first training run we did, I was like, she looks familiar; she reminds me of Meg from the barn," said Becky. "Then we figured it out, and now 30 years later, we randomly end up on the same marathon team."
Though Becky and Andrew run at different paces, they spend time in the office talking about their runs. According to the two, the work chats are primarily about what's sore and their recovery methods.
It's been a fantastic time for Andrew and Becky preparing for Marathon, but their focus remains on supporting cancer patients across New England. Becky explained how seeing people come together and believe in Team JAF's mission has been incredible.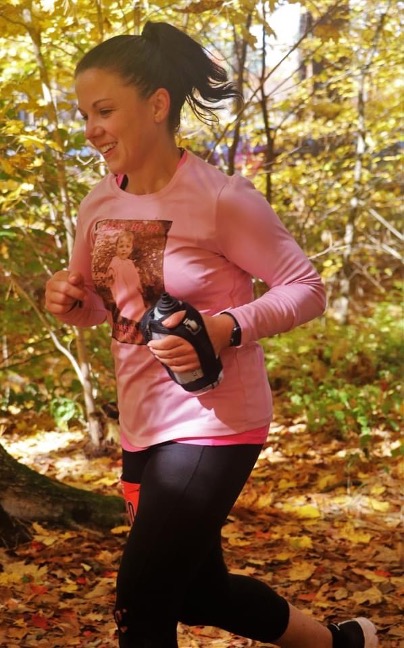 "When you have real-life examples you can tell people, it hits home," Becky said. "You can be the most prepared person in the world and not be prepared for a cancer diagnosis."
"JAF isn't like some organizations that you don't exactly know where the money is going," said Andrew. "With JAF, it goes directly to helping folks impacted by cancer."
With one day to go until they line up at the starting line in Hopkinton, Andrew and Becky are ready to run 26.2 miles and support JAF's mission of helping countless cancer patients. Both these Team JAF runners share a team and a workplace, but their reasons for supporting JAF are uniquely inspirational and motivating. We'll be cheering you on, Andrew and Becky!
Click HERE to learn more about Andrew, Becky, and the 2023 JAF Boston Marathon team.