The pinging sound of the sonar started to get louder. Countless bubbles formed on the water. The engine roared to life when ZOOM! The famous 70-foot high-power Codzilla boat sped through the waters of Boston Harbor.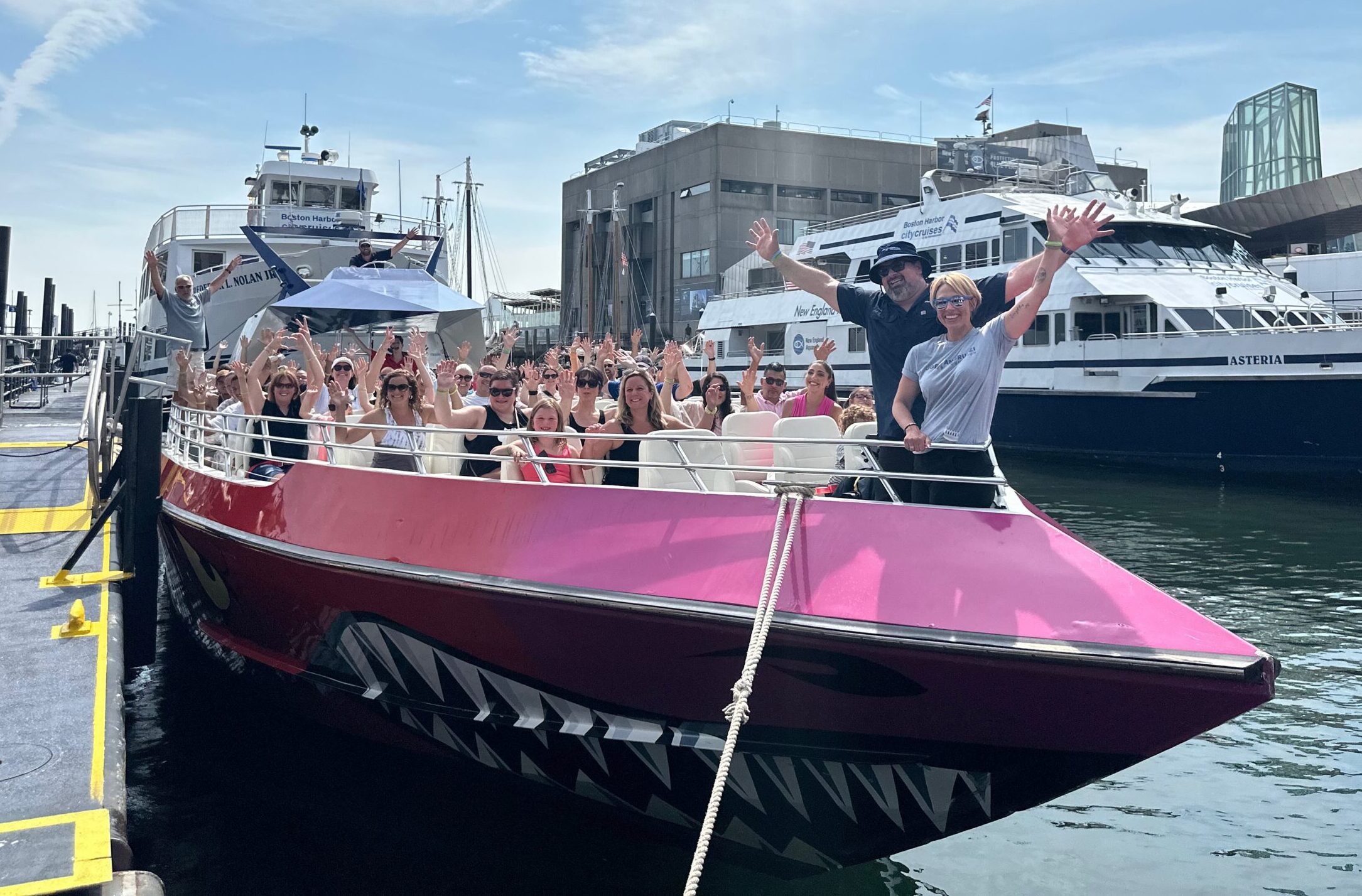 "This is so much fun!" one person belted out from the back of the boat. From then on, 60 cancer patients and their families left their worries on the dock.
On Monday, July 24, the Joe Andruzzi Foundation (JAF) welcomed New England cancer patients and their families—coming from towns such as Billerica and Worcester, MA, and Warwick, RI—to enjoy a beautiful, sunny morning for a JAF (Up)Beat Event on Boston Harbor City Cruises' Codzilla.
JAF (Up)Beat Events are opportunities for cancer patients to enjoy special experiences and outings and spend time away from thinking about treatment. This occasion marks the 12th time JAF and Boston Harbor City Cruises' have come together to help make a fantastic day for patients.
"It's amazing to come out here and spread the smiles," Joe Andruzzi said to WCVB's Channel 5. "Time is the most valuable thing we have, and to spend it with bringing laughs to those going through treatment, it's a great feeling."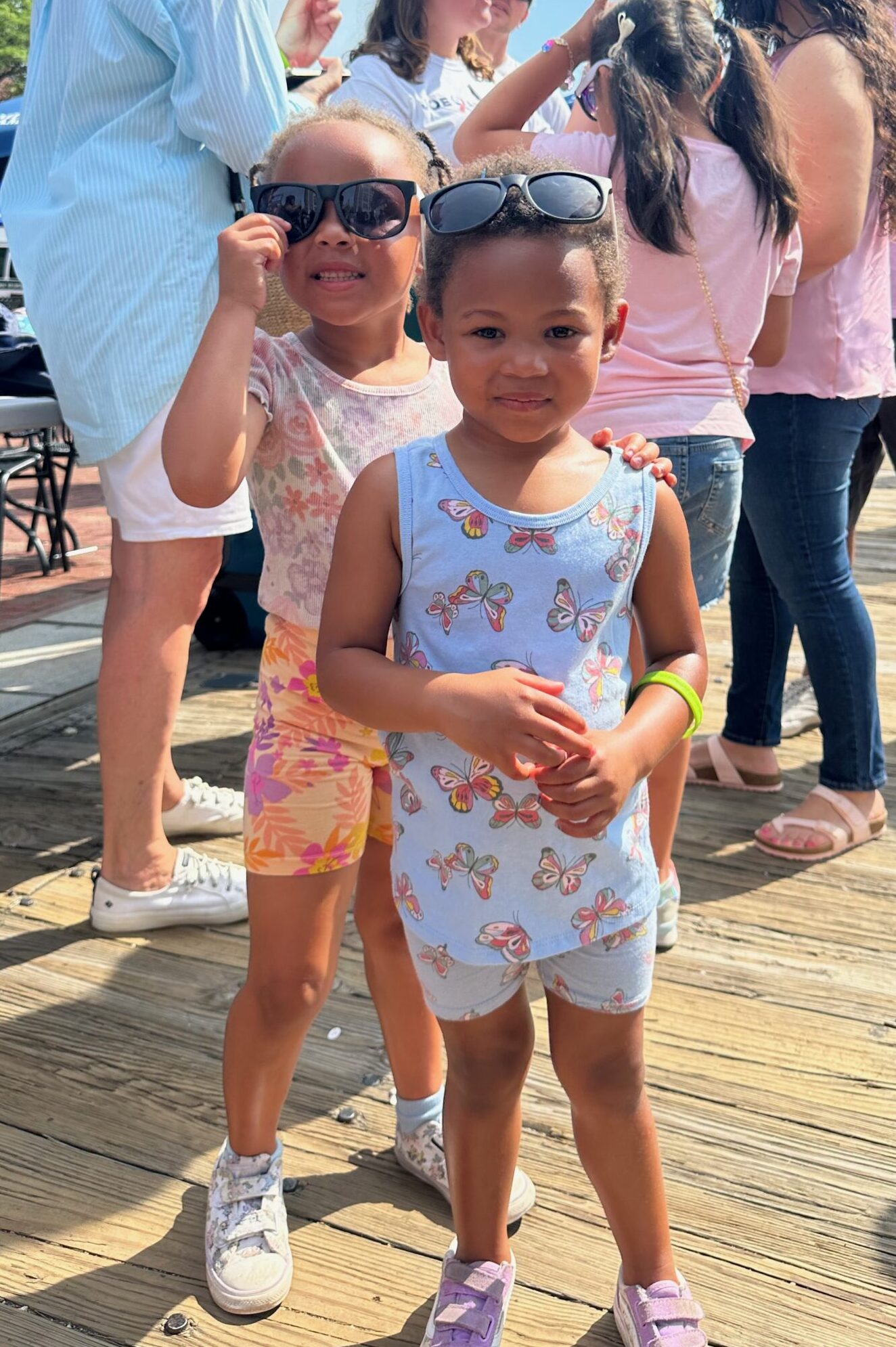 Three-year-old Zoe from Somerset, MA, was one such JAF patient recipient who had an incredible time. Diagnosed with leukemia in 2021 and currently in remission, Zoe and her big sister, Zia, sat in the back of the boat, holding Joe's hand throughout the ride. Zoe's family is well familiar with the Foundation, as Zoe's mom, Caree, saw JAF step in to support her brother's cancer journey back in 2013.
"It's awesome to be here and enjoy this without the intense chemo or [Zoe] being sick," said Caree. We need foundations like JAF because a lot of patients and families rely on these organizations for the support and the financial help."
Once the boat arrived back on shore, patients and families enjoyed tasty sandwiches and salads for lunch catered by Panera. Soon after, attendees visited the New England Aquarium to check out the latest and greatest exhibits.
"Today's been such an incredible day," said Monica, a JAF patient cancer patient from Worcester, MA, who came with her daughter, Makenna. "After what we've gone through with [my diagnosis], it's nice to really enjoy a day out in the city with her."
The Foundation sends a heartfelt thank you to all the patients and their families who made the trip to Boston and our friends at Boston Harbor City Cruises for working with us once again. For all of us at JAF, seeing every attendee's unforgettable smiles and excitement was such a joy. Hunter Andruzzi, JAF's Patient and Family Wellness Coordinator, said it best.
"Days like Codzilla, where our patient recipients and their families can be together sharing joy and laughter instead of worrying about the financial toll of their cancer diagnosis, are why I believe in the work JAF does."