Many of our returning Team JAF runners have a shared motivation: finishing what they started last year. While several of our runners crossed the finish line safely, many were stopped just short of their 26.2 mile goal in 2013. Mark Zurlo was among the runners stopped at the corner of Boylston and Hereford streets, and he has vowed to return this year and cross the finish line to support our foundation. 

Mark has truly embodied our (Up)Beat spirit in his training this year. He has become very close not only with his fellow JAF runners, but also with several members of the JAF patient community. Our supporters can't wait to cheer Mark and all of our Team JAF runners on this April, and watch them cross the finish line as a team—and as a family. 

Click here to help Mark meet his fundraising goal!

– Jen Andruzzi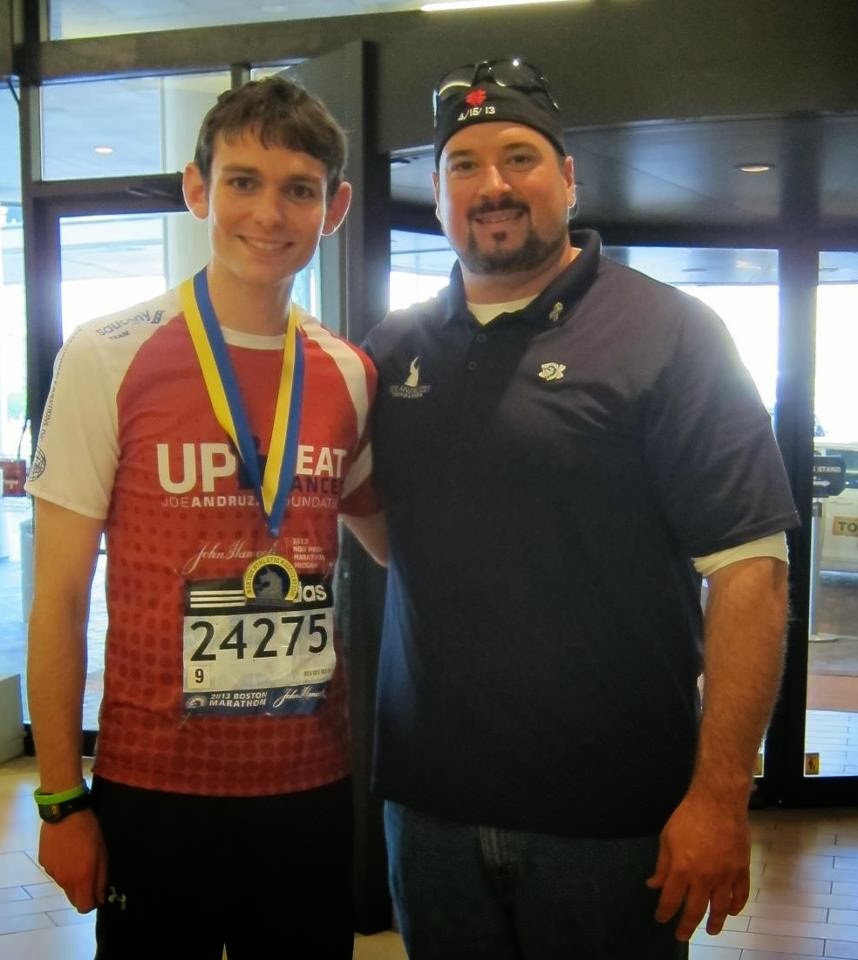 MEET MARK ZURLO

HOMETOWN: North Haven, CT
OCCUPATION: Marketing at EMC
FUNDRAISING GOAL: $5,000
JAF: What inspired you to return for the Joe Andruzzi Foundation Marathon Team this year? How did you originally find out about Team JAF?
Mark: The main motivation was to finish what I had started in 2013 and complete the marathon. I originally found out about the Joe Andruzzi Foundation through Susan Hurley at CharityTeams, who I first approached when I decided I wanted to run the race for charity.
JAF: What was it like being part of the 2013 Team JAF Boston Marathon team? Any inspiring stories you'd like to share?
Mark: It was an amazing experience – such a great team atmosphere. A very solid group of JAF runners would show up for long runs every Saturday, and we would support each other as the training runs got longer and longer.
It was also a great experience to share the Foundation's story with so many people who weren't familiar with it and help them understand the great work that is being done to help those affected by cancer.
The most inspiring moments were meeting those who have benefited from the work of the charity. I had one family stop by one of my fundraisers in Hopkinton after seeing a flyer and tell me their story – I spotted them on the course in Ashland and ran over and gave them high fives – it was only a few miles into the race, but it reminded me why I was out there and who I was representing.
JAF: What's your marathon fundraising goal? How do you plan on reaching that goal? How does it differ from 2013?
Mark: Just like last year, my goal is to raise $5,000 for the foundation. Last year was my first marathon, so I was able to drum up a lot of excitement early on. I think you have to work a little harder the second time around, but I'm taking advantage of what I learned last year about what works and what doesn't and putting that to use this year
JAF: How's training going? What is your regimen?
Mark: It's going pretty well – beyond the expected aches and pains, I've been relatively injury free. Injuries were the biggest obstacle during last year's training, so I've been doing a lot of physical therapy type exercises to stay healthy. I aim to do four runs a week and a whole lot of stretching. Right now we're really in the base training phase, so I'm excited to start building up to longer runs that really put your body to the test.
JAF: What are you doing to fundraise this year?
Mark: I'll be holding a bowling event at Jillian's on 2/28 from 6-8 p.m. – unlimited bowling for only $20 and 100% of the proceeds go to JAF. I'm also holding a 50/50 fundraiser at Improv Asylum in the North End on April 3rd at 8 p.m. I did this last year and had a great turnout, so hoping to match that this year. If you use the promo code "JAF" when buying tickets to that show, half the ticket price will go to the foundation. Then of course I'm sending plenty of emails and letters, and Facebook and Twitter have also been great resources.
JAF: Anything else you'd like our supporters to know about you or your family heading into the 2014 Marathon season?
Mark: For something that is technically an individual event, running the Boston Marathon requires a tremendous amount of support from a whole host of people. I'm very thankful to have the support of friends, family, co-workers, and everyone associated with CharityTeams and the Joe Andruzzi Foundation. Even getting to the starting line would be impossible without them.
TO READ OTHER TEAM JAF RUNNER PROFILES, VISIT: CLICK HERE