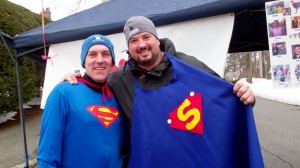 JAF Marathon Team member David Roche has a lot of sympathy for families in need, and truly understands the value of community support. He's already a much-appreciated Foundation volunteer, so we're obviously excited this 42-year-old Mansfield dad is taking on his first marathon for JAF.
David, a lead broadband technician at the Norwood Light Department, is grateful for the support of his family during his long hours of training: his wife Kristin, sons David, 21, and Brendan, 15, and his 11-year-old daughter Emma. We're grateful he's on our team!
– Joe Andruzzi
JAF: What inspired you to run for JAF this year?
David: My mom is a cancer survivor and I lost my dad to pancreatic cancer back in June of 2010, which has made me look at cancer from a different perspective. I am extremely moved by the Joe Andruzzi Foundation's mission. Reading so many stories and seeing how many lives Joe and Jen have touched makes it so easy to get involved. It is inspiring to see the face of a foundation so actively involved.
JAF: What's your fundraising goal and how are you meeting it?
David: My fundraising goal is $6,500. I have been blessed with such great friends and family that I have already come close to reaching, and hopefully surpassing, my goal. Raising money for a charity that gets so personally involved makes it easier and I will hopefully exceed my goal!
Thanks to a friend who gave me a great idea, I did football squares on Thanksgiving Day. I did the squares again for the NFC and AFC championship games. I also had some items generously donated, for which I sold raffle tickets. And I'm grateful to one of my sisters, who was gracious enough to host a fundraiser at her house for JAF.
JAF: How do you train?
David: This is my first marathon and my training is going well. I have been running three to four times per week, which includes a long run on the weekends and a hill work out in Newton with the CharityTeams group. I also have included a gym workout once or twice per week.
JAF: How do you stay motivated to train in winter?
David: Most of the time, if you are running with friends, you don't need motivation, you just enjoy doing it. Talking while you run helps you ignore the elements. If I do need the motivation when running alone, I will watch a Joe Andruzzi Foundation video online. (Most times, it is the Codzilla video). That is motivation enough.
JAF: Do you do other charity work?
David: I work with the Andruzzis every year, volunteering at the JAF annual gala. I wanted to get involved, and hopefully be a positive influence in someone's life. A few years ago, my son was admitted to Children's Hospital in Boston for an illness, which (although the six days seemed an eternity) opened my eyes to the importance of a great support system. I am just one person getting involved, trying to make a difference. During my son's admittance to Children's, I also saw firsthand how important it is to give blood, so I try to give blood every two months. I would love to try to raise awareness as to how important it is to give blood! I also volunteer as a community coach for baseball and softball. My family has been so supportive of my training, which unfortunately has kept me away from them for many hours during the week.
JAF: Who's your favorite superhero? Any costumes in your closet?
David: Spiderman. He is the first superhero I remember watching on TV. I wasn't a huge fan of "The Electric Company," but I had to watch, just to see Spiderman. Unfortunately, I don't think I could run with a mask on, so I had to choose a Superman costume for our "Superhero 17" run.
JAF: How do you stay "upbeat" and motivated?
David: I think of those who cannot run and how lucky I am that I am healthy enough to run. And of course, I envision myself crossing the finish line!
JAF: What's the best training snack?
David: I'm sure it's the obvious answer, but I swear by pasta before a long run. UCAN sports drinks make a big difference with my long runs, as well.