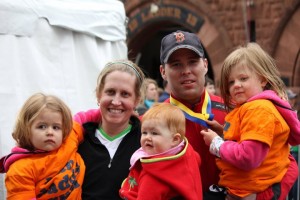 We really appreciate runners like Tim Weeks, a 36-year-old attorney and father of two from Lexington, Mass., who is deeply committed to our mission. This is Tim's second year running for the foundation and we're proud he's chosen to raise money for us again.
Thank you, Tim, for your empathy and hard work!
— Jen Andruzzi
JAF: Why did you join the Joe Andruzzi Foundation Marathon Team?
Tim: The Joe Andruzzi Foundation is unique in that it directly helps families dealing with cancer. Life goes on outside of the oncology ward and day-to-day expenses can pile up. I am proud that the money I have helped raise for the Joe Andruzzi Foundation allows people to focus on their family member dealing with cancer and not on the utility bills.
JAF: Have you ever run a marathon before?
Tim: I ran the Boston Marathon in 2011 for the Joe Andruzzi Foundation.
JAF: What advice would you offer other marathon runners?
Tim: The marathon is really hard, but you will finish if you set your mind to it.
JAF: What do you like about running?
Tim: I like to get outdoors as much as possible. I enjoy running long distances because I want to see how much I can push myself.
JAF: How's training going?
Tim: I run early in the morning on the weekdays for my shorter runs and I do a long run on Saturday or Sunday. Training is going well, although I want to make sure I don't develop any shin splints or anything like that.
JAF: What music pumps you up?
Tim: The Rudy soundtrack is always a good motivator.
JAF: What's your marathon goal?
Tim: I would like to finish at around four hours, preferably less. I also want to enjoy the run up Beacon Street this time; I was too exhausted last time.
JAF: What are you doing to fundraise?
Tim: I have been contacting all my friends, family and co-workers, all of whom have been very supportive of me running the marathon and raising money for the Joe Andruzzi Foundation.