Joe and I are driving proud in our vehicles with our new license plates. We both traded in our old plates and purchased the Conquer Cancer Coalition of Massachusetts plates.
I can't even explain how great it feels to be driving around with my new licenses plate. I feel like I am screaming out to everyone, FIGHT! FIGHT! FIGHT!
Joe and I were lucky enough to meet the Zukers who founded Conquer Cancer. After we met them we immediately asked how do we get plates.
The Zukers are amazing people!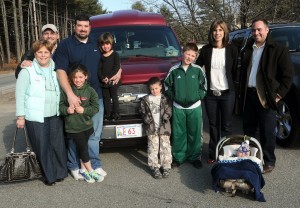 When life gives you bumps in your road, and I like to say sometimes pot holes, you have to put your two feet on the ground and say to the world "Nothing will knock me down today or tomorrow it will only make me stronger and smarter."
In life some people are given more bumps in their road then others and let me say the Zukers have not let their bumps keep them down, they have only made them stronger and smarter.
When Susan Zuker's husband, Michael, died of lung cancer in January 2004, she and her family knew they had to do something to honor both his life and his battle with the disease and they were determined to help others going through the cancer journey.
That year, Susan and her two sons developed the Conquer Cancer license plate for Massachusetts. At the same time, they founded the Conquer Cancer Coalition of Massachusetts, which receives all proceeds form sales of the plate.
For More Information on the Conquer Cancer Coalition of Massachusetts visit: info@conquercancer.org
Joe and I have met some wonderful people through our travels in the cancer world and I cherish each and everyone of them with all my heart. To all of you fighting this disease today, know that there are so many people fighting for you. Keep on fighting!
I can't wait to see the roads filled with Conquer Cancer plates. Order your plates now!
Proud owner of a Conquer Cancer plate,
Jen Andruzzi