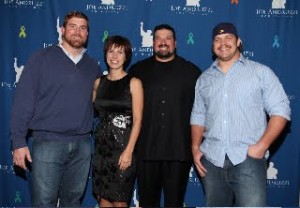 The 2nd Annual
New England Celebrities Tackle Cancer
Gala's grand total is in,
$227,765 !!!!!!
With all of your generosity and support we were able to raise an amazing amount of money that is going to help the Joe
Andruzzi Foundation in it's mission
; funding cancer research, assisting cancer institutes in achieving the highest level of patient care possible and by providing financial assistance to cancer patients and their caregivers.

Thank you to all of our generous sponsors!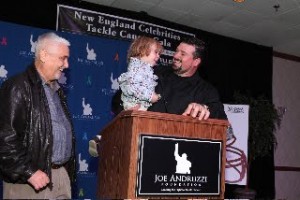 A huge THANK YOU to our Presenting Sponsor, Credit Unions Kids at Heart. 100% of their sponsorship will be going to the C.J. Buckley Brain Cancer Fund at Children's Hospital Boston.
At the gala the attendees had the chance to be the first to purchase a "web seats".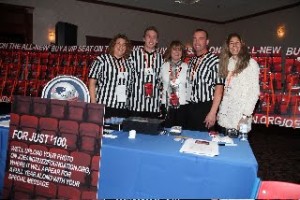 We are excited to announce the JoeAndruzziFoundation.org website will launch in early 2010. In preparation of the new site, we introduced the Joe Andruzzi Foundation Stadium Seating where you will be able to share a "well wish" & personal photo on the site. For a donation of $100, your wish and photo will be uploaded to a special fan section where it will pop up when clicked. Your well wish and photo will remain on the site for one year and can be renewed thereafter. 100% of the proceeds on the sale of these "web seats" benefit the Joe Andruzzi Foundation.
At the gala attendees had the chance to purchase a Patriot Autographed Football with the football came a Joe Andruzzi personalized sharpie to use to get MORE autographs from all of the current and past Patriot players. (These footballs that are sold at the event are the only things that are allowed to get autographed.) 100% of the proceeds from the sale of the Patriot Autographed Footballs goes to the Joe Andruzzi Foundation.
Continued on from last year's gala we sold our gift bags (which 100 of them had prizes in ranging from $100 Bob's Discount Furniture Gift Card to a autographed copy of Kelley Tuthill's new book "You Can Do This")
100% of the money raised by the sale of our gift bags goes to help patient parking at Dana Farber and the Jimmy Fund. This year we raised $5400 from our Surprise Gift Bag Sale.
Dale Arnold and Marjorie Clapprood, thank you so much for your everything you do for the Joe Andruzzi Foundation in front of the scenes and behind the scenes. You guys are the best!
Thank you, everyone!!!!!!