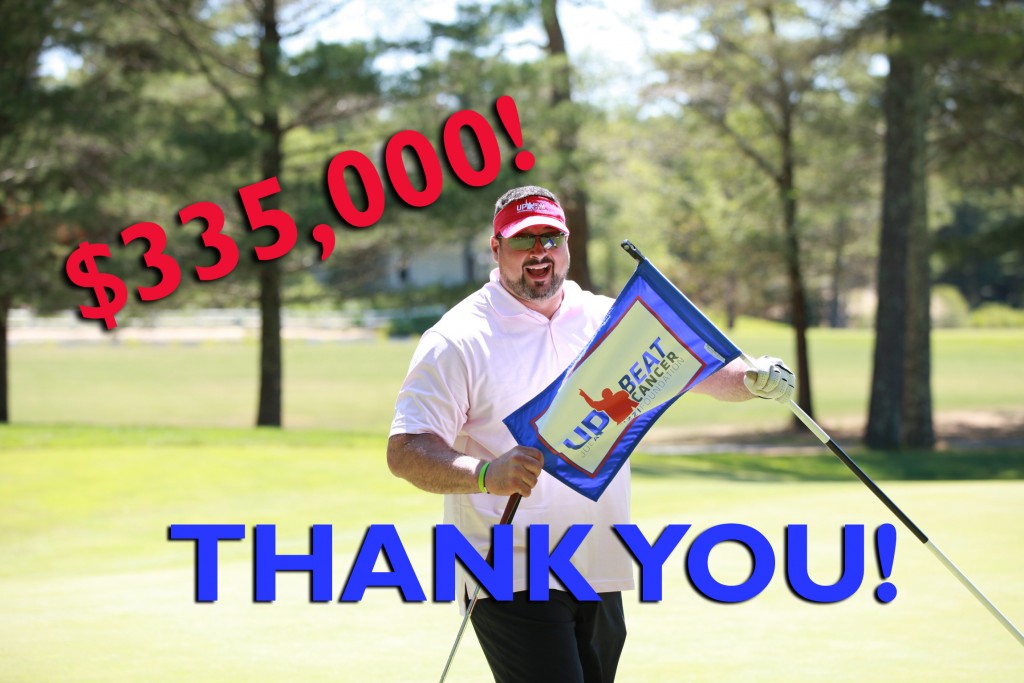 To be completely honest – in 2009, when Joe and I initially considered hosting a golf fundraiser, I had no idea what a Par 3 was. Yesterday, we celebrated our eighth annual tournament, and I can't believe how much it's taught me over the years –not just about the game of golf.
It's taught me about generosity. It's taught me about benevolence. Most importantly, it has taught me that a group of loyal supporters can come together for a single cause to do unimaginably special things.
I'm so incredibly thrilled to say that yesterday's Eight Annual Joe Andruzzi & Friends Golf Tournament, presented by East Commerce Solutions Inc., reached new heights by raising more than $335,000 in support of our Foundation – a new record for the event. And we didn't just sneak by our previous golf fundraising record (set in 2013) – we went above and beyond it by $60,000!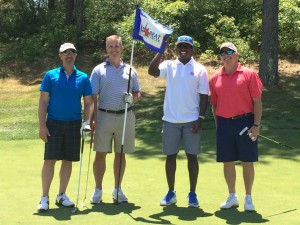 It's truly a touching reminder of what can be accomplished when we all come together to pay it forward, and because of our tremendous supporter base, the Joe Andruzzi Foundation will be able to provide financial and emotional assistance to a growing number of those battling a cancer diagnosis. It was such a special day at the perfectly manicured Pinehills Golf Club in Plymouth, Mass. – one we won't ever forget.
I'd like to start by sending an enormous THANK YOU to all of our benevolent sponsors, led by the event's three-time presenting sponsor (and long-time JAF supporter) East Commerce Solutions, Inc. We could not have put together such a wonderful event without their support – led by CEO Ed Medeiros – as well as the backing of our dinner sponsor, Dinner Sponsor J. Calnan & Associates; Celebrity Sponsor Bob's Discount Furniture; Auction Sponsor Walmart, Lunch Sponsors Randstad Technologies (Jones Course) and Behavioral Concepts Inc. (Nicklaus Course); Breakfast Sponsor Majestic Construction, Inc.; Passport Sponsor ROI Communications, Beverage Cart Sponsors Hobbs Brook Management LLC (Nicklaus Course) and Foxwoods Resort Casino (Jones Course); The Zampine Family, our Snack Sponsors; Hole-in-One Sponsors Brewster EMS (Jones Course) and The Kagan Family (Nicklaus Course); and Chance Sponsor, Walsh Brothers. These are just a few of the numerous supporters who donated their time and resources to ensure we raised significant funds towards JAF's mission, and we are forever grateful. Many of these supporters also sponsored JAF patient recipients and their guests to play in the tournament – giving them a much needed day of fun out on the course.
We were also privileged to host, and hear, the moving words from our patient speaker: Matthew Cooney – a JAF patient recipient battling stage-4 Melanoma and father to a five-year-old son. There were not many dry eyes in the room as Matthew walked the crowd through his harrowing battle with cancer, describing how emotionally, physically, and financially draining a diagnosis like his can be. He discussed how JAF's help provided much needed emotional relief when it was desperately needed, and how he continues to battle with a positive outlook. We wish Matthew and his young son the best as he continues to fight with incredible perseverance.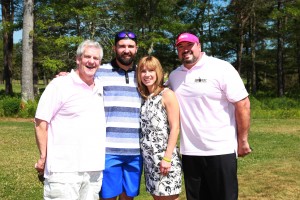 I'd be remiss to not also thank the all-star list of attendees that donated their time to support the event, including past and current New England Patriots players/coaches Matt Slater, Rob Ninkovich, Brian Stork, Sebastian Vollmer, David Andrews, Matt Chatham, Sammy Morris, Dante Scarnecchia, Moses Cabrara and Joe Vallano; radio and TV personalities Jackie Bruno, Mikey Adams and Greg Hill; actor Kevin Chapman, and many, many others.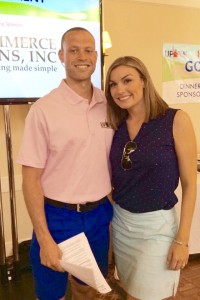 The whole JAF crew also wants to send a special thank you to Dalen Cuff, anchor and reporter for Comcast SportsNet New England, for playing in the event and then serving as master of ceremonies during the post-round celebration. Funny guys Lenny Clarke and Tony V. brought the house down with a hilarious (and successful!) live auction – and we can't thank them enough for their support and generosity. We also want to give a special thank you to all of our generous supporters who donated some absolutely amazing live and silent auction items towards our tournament. JAF events always have incredible items to bid on, but this year's golf tournament was out of this world. The best part? It all goes towards supporting cancer patients, so thanks again to everyone who donated items, and especially those of you who bid on them!
And last, but certainly not least, we want to thank Pinehills Golf Club and staff for being amazing hosts, as well as all the participants and volunteers who generously donated to the event and auction, both with their time and resources. This annual event enables us to keep on giving to those whose lives are affected by cancer, and we are forever grateful to everyone who joins us in this mission.
We hope to see you all again next year, so save the date! The Joe Andruzzi & Friends Golf Tournament, presented (once again!) by East Commerce Solutions, will be returning toPinehills Golf Club on June 26, 2017 for our NINTH! annual event!
– Jen Andruzzi
P.S. – CHECK BACK LATER THIS WEEK FOR PHOTOS FROM THE EVENT ON OUR FACEBOOK PAGE!