Nancy Simmons' mammogram showed something questionable, but her doctors didn't think it was serious. She had very dense breast tissue, and it was tough to tell what they were seeing.
Come back in six months, we want to re-check it, they told her.
Then, her only son – who's had diabetes since childhood – got into a serious car accident and broke 20 bones. "I've been a single parent of someone with diabetes all my life," she said. "So, that was my priority."
A year passed before she made it back for her follow-up. And then, there was cancer.
"I was kind of in shock," remembered the 61-year-old employment specialist from Westport, Mass. "And I started to beat myself up."
Her diagnosis of Stage 3 breast cancer, on December 29, 2016, began her treatment journey. "I was so scared," she admitted. "But mostly because of my son."
"As a single mother, I accomplished a lot. But when that happened, I was in shock. Because when you're alone, you don't really think about what could happen. You don't plan for this."
In February of 2017, she had surgery to remove her left breast. A month later she was undergoing weekly chemotherapy treatments. Then came radiation.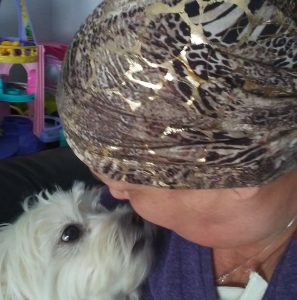 Now, she is almost finished. And she can't wait to return to work.
Work was – and remains – a huge part of Nancy's life. Cancer interrupted her very successful career, helping clients find employment through the Bristol County Career Center. It also disrupted her income. She's grateful she had purchased short-term disability insurance, but it took 90 days to kick-in. So, for three months, she had no income.
"The added stress of that was insane," she said, of worrying about her bills. Three years ago, she bought her family home, and her son lives upstairs. The new mortgage was higher than what she'd paid previously, and the idea of losing her home terrified her.
"I couldn't stop crying," she said. "I'd worked hard my whole life, sometimes two jobs, to buy this little home. And to think that could be wiped out…"
Organizations like the Joe Andruzzi Foundation saved her, she said.
"I got just enough from [the Joe Andruzzi Foundation] and a few others to make it through those three months without going into debt… almost to the dollar," she said. "There must be a God, because I'm not that lucky!"
Some other wonderful things have happened during her cancer battle, she said.
First, Dr. Mark Shparber, a doctor she used to exercise with (when she was a personal trainer) became her oncologist at the Southcoast Centers for Cancer Care. She used to admire how he ran out of the gym whenever his beeper went off. "He was so dedicated. And I thought, if I ever have cancer, I want that guy for my doctor."
She also felt fortunate that surgeon Dr. Maureen Chung performed her surgery, and that her team at Southcoast worked so amazingly together.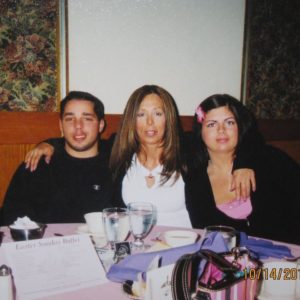 Then, a few months ago, a co-worker came to her house with a gift bag. "I thought it was something to eat," Nancy remembered. Inside, was $6,000 in cash, raised through donations and a fundraiser her colleagues secretly put together and dedicated their weekends too. She was shocked by their kindness.
Another co-worker calls her every day; others bring her Portuguese soup, food and uplifting cards and gifts.
"I've just been blown away by the unconditional love of people," Nancy said. "I'm not alone. I'm a very blessed woman.
As she nears the end of treatment, she's ready to reclaim her life.
"Obviously, my body's been through a lot," she said. "I usually feel positive, but sometimes I feel fearful. It's not all rosy. I sit there, and I will cry. Then I get up and the next day I vacuum and walk my dog."
"Tomorrow's not promised to anyone. So… smell the roses!"