This is a particularly exhilarating time in New England, with the hometown football team in prime position to make another deep postseason run.
But here at the Joe Andruzzi Foundation, there is even more reason for excitement – we're THRILLED to announce that our good friends and supporters at Empower Retirement have decided to round up their end-of-season Goal Line Giving donation to an even $50,000!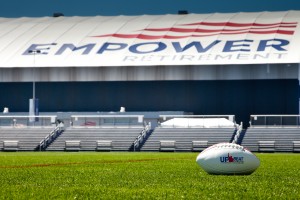 Back in September, we launched a campaign in partnership with Empower who pledged to donate $100 towards JAF's Financial Assistance Program for every point New England scored during the regular season. After a successful season filled with numerous touchdowns, field goals and safeties, New England scored a total of 441 points – equaling a donation of $44,100. To further the campaign's impact, Empower Retirement has rounded-up and donated an additional $5,900 to the Foundation, bringing its total Goal Line Giving contributions to $50,000.
Ultimately, Empower's generosity will allow JAF to offer financial assistance to over 70 families battling cancer!
The Goal Line Giving partnership also allowed JAF and Empower to work together to raise awareness for the Foundation's mission in an effort to drive donations and greater visibility for the needs of the families we serve.  
Jen and I are extremely humbled by the generosity of Empower Retirement and grateful that for the past 17 weeks they have joined us in supporting our mission. Unfortunately, there are constantly more and more families that experience the heartache and stress that comes with a cancer diagnosis, but thanks to Empower Retirement, we can reach out to more of those families and hopefully relieve some of that stress so they can focus on recovery, not bills.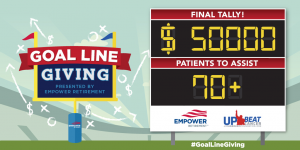 Thanks again to everyone at Empower Retirement for their unbridled generosity, everyone who followed along and supported the campaign socially, and, of course, to the hometown team who ultimately point the points on the board!
Now, we're on to Houston!

– Joe Andruzzi