Marathon Team member David Santoro is back again for his second year with JAF, running to raise money for families fighting cancer. Like so many of our runners, he's lost loved ones to the disease, so he's deeply supportive and empathetic towards our mission.

David, a 50-year-old financial planner who lives with his family – wife Diane, daughter Adrienne and son Peter – in North Attleboro, also hopes to run the Boston Marathon someday with his daughter, who's running in her dad's shoes. We'll look forward to that day!

Thank you, David, for joining our team again this year!
– Jen Andruzzi
JAF: What inspired you to run for JAF this year?
David: I was asked in 1991 to run for Dana Farber, back before charities got numbers. I was qualified and Jack Fultz was coaching the DFMC runners. I was introduced to him at a race and was trying to improve my times, so he asked if I would be willing to raise money for DFMC, if he worked with me. I did… and I guess the rest is history.  I ran 17 years for Dana Farber and then took a few years off from fundraising. When I decided to go back to fundraising, someone suggested The Joe Andruzzi Foundation, and I liked what Jen and Joe were doing by helping people, financially. There are so many people doing research, but not as many helping those fighting the disease.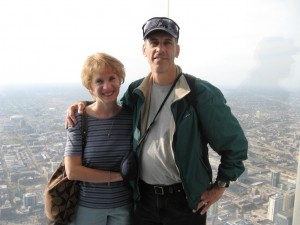 JAF: What is your personal connection to cancer?
David: I lost my Mom to breast cancer in 1999. She was living in Florida at the time and I was lucky my employer allowed me to be there with her until the end. If not for that employer, I couldn't have afforded to stay there. My wife also lost her Dad to lung cancer in 2004. Cancer is a terrible disease and I hope someday we can cure it.
My family, as it has grown, has come to every one of my marathons and is very supportive. My daughter, who came to her first Boston Marathon when she was a month old, is a great runner in high school now, and someday I hope she and I can run Boston together.
 
JAF: What's your fundraising goal and how are you meeting it?
David: My goal is $2,500. I am asking everyone I know, and some I don't, to support me.  Last year, I raised more than $1,600, but more people know I am running this year. I am sending out letters to individuals and asking everyone at work. I am putting it out to all the organizations I belong to and requesting money from the charitable foundation at work.
JAF: What's on your marathon resume?
David: Boston 1987 and 1990-2012; New York 1988-1997; Chicago 2003-2012; Disney 1997 and1999; Mule Mountain 1989; Bermuda 1994; Austin; Rhode Island. I have run a marathon almost every six months since 1988.
JAF: How's training going?
David: Training is going well, but I need to increase my weekly mileage. My schedule doesn't allow for much of a regimen. I get my miles in whenever I can and cross train when possible.
JAF: How do you stay motivated to train in winter?
David: I know I need to try and maintain my qualifying time for Boston.
JAF: Do you do other charity work?
David: I volunteer and assist the cross country and track coach at St. Mary's Catholic School. I started coaching there when my daughter was on the team, in middle school. I serve on the school council, also at St Mary's. I am a Cub Scout Den leader for my son's Den. I also do pro bono taxes and financial planning for members of the military. (I am a retired Army Reservist.)
JAF: Give us a good marathon story!
David: Once, while running Boston, I came up behind an older man who had hand-written on the back of his T-shirt that this was his 23rd Boston and his 100th marathon. I think he was in his 70s and we talked for a few minutes. He told me he had fallen earlier in the year as he was training, and the doctor told him had it not been for his running he probably would have broken his hip. This is my hope: that when I am in my 70s or 80s I can still be out there running Boston every year.
JAF: Got a theme song?
David: Not really, but I have always loved "Sledgehammer" by Peter Gabriel and when I used to listen to music while running, it was my favorite.
JAF: Who's your favorite superhero?
David: Mr. Incredible. He is the only one I've ever known to have a family.
JAF: How do you stay "upbeat" and motivated?
David: Remember how much better I feel when I am running.
JAF: What would surprise non-runners about marathons?
David: It is not as hard as you think as long as you get in your miles.
JAF: Runner's high… myth or reality?
David: Real!
JAF: What's the best training snack?
David: For a meal, pasta with red sauce. And for a snack, bananas or oranges.