Tiffany and her family enjoy heading outside to camp or traveling somewhere new and exciting in the warm and sunny months. With her large family of four children, four step-children, and seven step-grandchildren, those camping trips are a big, fun family adventure.
While she and her family are always searching for new campgrounds to explore, the family makes sure to stay at a favorite spot of theirs in Milton, NH.
"We always book a weekend at the Yogi Bear Camp Resort," Tiffany said. "We usually go with my in-laws and my sister-in-law and her kids. Being all together is the best part about it."
In December 2021, the 40-year-old Grafton, NH, native started experiencing stomach cramps. The pain became so much that Tiffany decided to head to a local emergency department to figure out what was happening.
Tiffany was told by the doctors there that she may have a twisted ovary and suggested undergoing surgery to take it out. She didn't believe the surgeons would find something that would turn her world upside down, but they did. Tiffany had a six-centimeter cancerous mass in her colon that had pierced holes into her bowel.
The entire operation resulted in a partial removal of both Tiffany's colon and small intestine. When Tiffany woke up hours later, she was told the unexpected news of her stage III colon cancer diagnosis. Alone in her hospital room due to COVID-19 protocols at the time, Tiffany went through a rollercoaster of emotions—including thinking about her daughter, Nora Lynn.
"Just the word cancer makes your heart drop," said Tiffany. "My first thoughts were that I would never see my daughter grow up since she was only four months old at the time."
Tiffany soon started treatment at the Dartmouth Hitchcock Medical Center. Her care plan consisted of four months of chemotherapy and going in bi-weekly. Every time Tiffany completed an infusion session, she would leave with a chemotherapy pump bag for the next few days.
Being on chemotherapy was, at times, scary for Tiffany. She had heard horror stories of how tough and draining it was physically and mentally. Amid her treatment, Tiffany, unfortunately, suffered a stroke due to a bad reaction to the chemotherapy and had to stop. Despite that, Tiffany looked to the bright side of her time on chemotherapy, mentioning she learned a lot about her treatment and always tried to stay in the moment.
"You just have to keep positive and know it's not forever," Tiffany said about going through treatment. "There will be good days and days that it's hard to find the energy, and that's ok."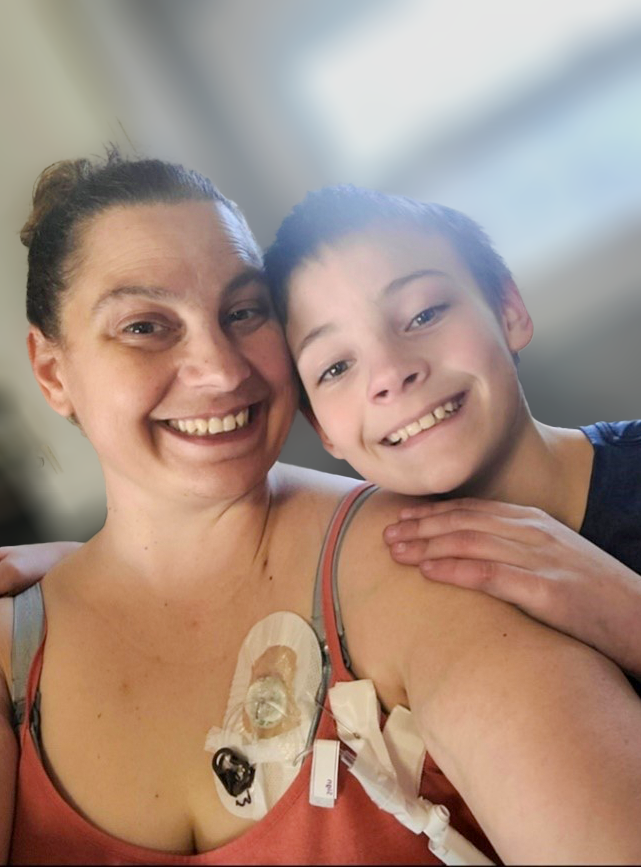 While she received much support from her family, Tiffany is a widow and single mom who was the source of her family's income and food.
Payments such as phone and electrical started piling up alongside struggling to keep food on the table. The financial stress of cancer was now fully impacting Tiffany and her family, and she was looking for any help they could get.
Tiffany's oncology team at Dartmouth Hitchcock was aware of her financial hardships and suggested applying for assistance from the Joe Andruzzi Foundation (JAF). Once Tiffany's application landed on JAF's Programs Team desk, help was on the way.
JAF sent over a Financial Assistance grant to cover those phone and electricity bills Tiffany had. Tiffany also received a Hannaford gift card from JAF's Food Security Assistance, presented by AmpliX. To her, the news of JAF's support brought hope during difficult times.
"When we found out that [JAF] was able to help, it felt so great," Tiffany said. "Just when my world was falling apart and filled with so much bad news, it was great to get some good news that helped my family and me easing the stress of our life."
Tiffany finished treatment in June of 2022 and goes in for blood work and scans every six months for monitoring. At the time of this post, Tiffany is cancer free.
Once the spring and summer months arrive, Tiffany and her family will be heading out to the campgrounds once more for quality time. In Tiffany's words, she can keep her focus on that thanks to the help she received from the Foundation.
"JAF helps cancer patients find a smile at a really difficult time."