The Joe Andruzzi Foundation (JAF) was in full force on Saturday, October 14, for its first appearance in the Eversource Hartford Marathon! Team JAF was on the racecourse, and more than 40 volunteers (twice the number required!) and staff were helping marathon operations in various roles.
The premier marathon and half marathon in Connecticut, the Hartford Marathon celebrated its 30th running this fall! It didn't disappoint as the impressive location inspired everyone with the same glorious start in front of the majestic Capitol and the iconic finish line under the Arch at the Eversource Hartford Marathon and Half Marathon.
The Hartford Marathon is unique in allowing runners to participate in various ways – a 26.2 Full Marathon, a Half Marathon, a Charity 5K, a Team 26.2 Relay, and a Kids Fun Run.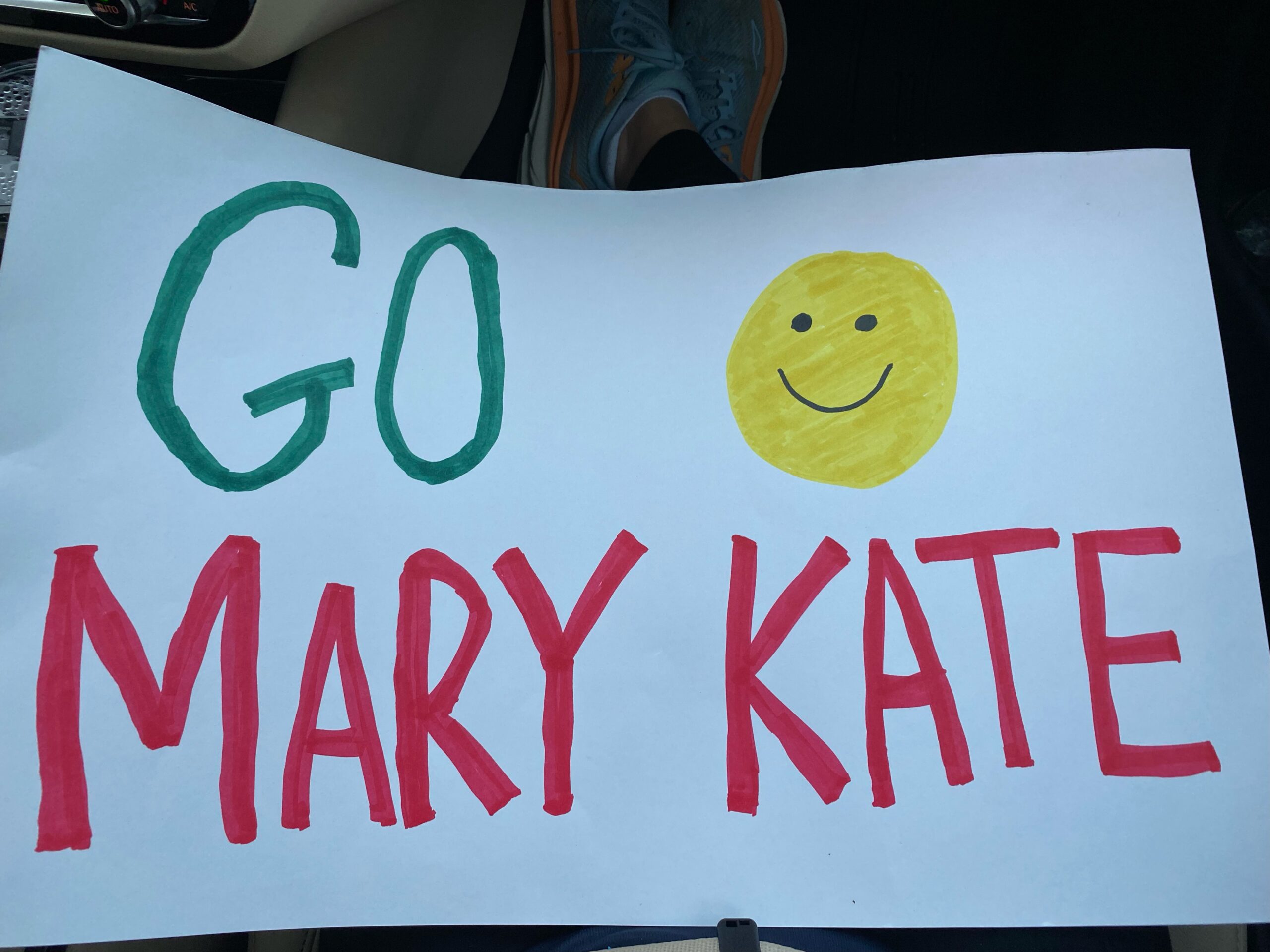 Team JAF had a fantastic showing, with four athletes participating, collectively raising more than $7,000 (and still counting!). This year's top fundraiser was Mary Kate Birch of Mansfield, a first-time Team JAF runner. Mary Kate ran for her sister, Martha, who lost her battle with an aggressive form of uterine cancer nearly two years ago. The day was extra meaningful for Mary Kate as she was running on her sister's birthday. She added, "The stress and pain during that period were unbearable, so I feel strongly about the mental impact of JAF on supporting families. My sister was an avid runner and completed several Boston Marathons and the Marine Corps Marathon. The best way for me to honor her is to participate in something that she loved."
Also running the Half Marathon was Ashley Hayes of Providence, RI, an oncology clinic social worker at Providence VA Medical Center. It is her first time running for Team JAF, and she shared, "I have seen the benefits of the financial assistance the Foundation provides to oncology patients. As an oncology clinic social worker, I have assisted patients in applying for assistance and have seen incredible relief in relieving some of their financial burdens as they go through treatment. I think the work this Foundation is doing is extremely important and would like to help in this way."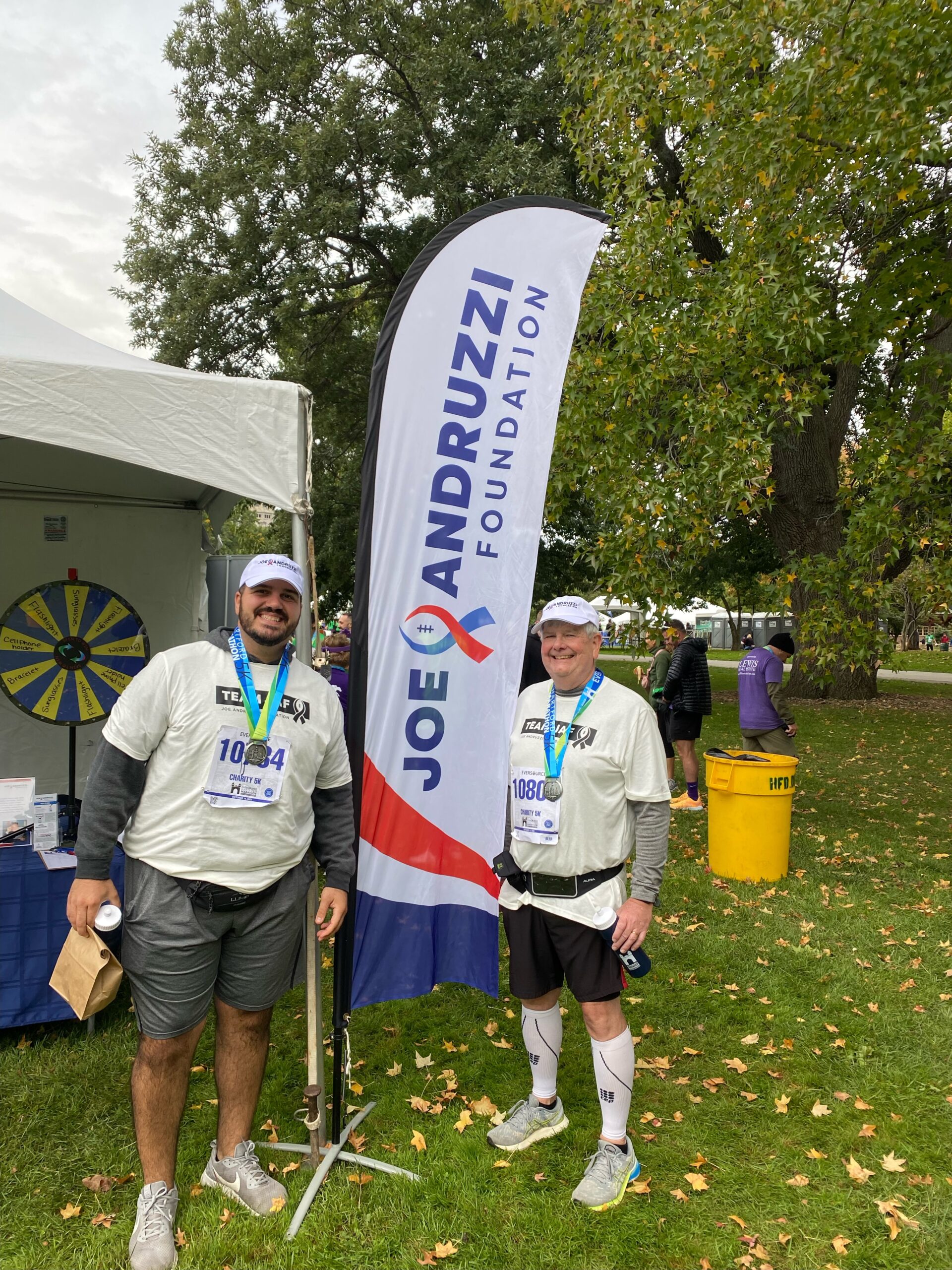 Representing in the Charity 5K were Kyle Santorini of Boston, MA, and Bill Donovan of Middletown, CT. Kyle is a first-time runner for JAF who is running for his sister, who lost her battle with Juvenile Chronic Myeloid Leukemia in 2000. He stated, "I have seen firsthand how cancer affects the patient and the family. While researching charity teams to join, I came across the Joe Andruzzi Foundation. It instantly connected with me."
Bill Donovan is a seasoned JAF supporter and Team JAF Alumni. Bill is second to none in supporting our events, and we were so glad to have him representing his home state for our first appearance in the Hartford Marathon!
The City of Hartford showed the Foundation a wonderful time in beautiful Bushnell Park, where JAF had our booth at the Charity Village. Music, food, and vendors made for a festive day! However, all eyes were on the historic Soldiers and Sailors Memorial Arch – the final pass-through for all runners before reaching the grandstands and finish line.
Extraordinary thanks to all our partners who sent volunteers to help staff the event as part of Team JAF's participation requirement as an official Eversource Hartford Marathon charity partner. They are Webster Bank, UnitedHealthcare, Bridgewater Hospital, Middlesex Hospital, and Optum, to name a few. Thanks to two of JAF's favorite supporters and Connecticut residents, Amy and Mike Garafalo, for helping to staff our booth.
Race organizers for the Foundation, Gillian O'Brien, Erica Mancini, and Ashley Reinhart, are already planning Team JAF's return for next year! See you in 2024, Hartford!