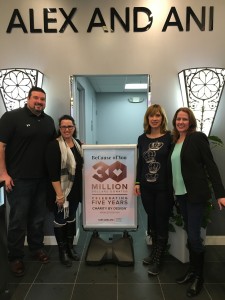 This week, the Joe Andruzzi Foundation is celebrating the FIVE Year Anniversary of ALEX AND ANI'S® CHARITY BY DESIGN® initiative, as well as the company reaching $30 million in donations to its non-profit partners! CHARITY BY DESIGN was created in February of 2011 to ignite the ALEX AND ANI commitment in creating connectedness and community impact through giving back.
The theme of ALEX AND ANI | CHARITY BY DESIGN'S five-year milestone is #PeaceTogether, which is focused around celebrating the incredible amount of money raised and how the company has been able to do so by sharing time, resources, and talent to help elevate the missions of the non-profits they work with – including JAF!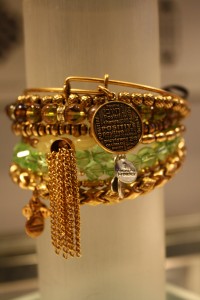 We can't believe it has been two and a half years since we started our incredible partnership with ALEX AND ANI | CHARITY BY DESIGN, when we launched our "Positive Is How I Live" bangle specifically made for the Foundation.
It all started a few years back when members of ALEX AND ANI | CHARITY BY DESIGN had the chance to attend our annual gala at Gillette Stadium and immediately saw that Joe, our family, and our community lived with such a positive outlook on life and its challeng
es. It wasn't long after that when, on August 6, 2013 – the six-year anniversary of Joe's last chemotherapy treatment – our bangle was launched.
The JAF charm features the word "Positive" in languages from all over the world, transcending cultural barriers to remind everyone to stay (Up)Beat in the face of adversity. The positive message also gives strength to anyone struggling with any battle, reaching beyond our organization to bolster anyone in need of positive reinforcement for any reason.
20% of the proceeds from every bangle, which retails at $28.00, directly supports JAF's mission of providing help, hope, and a reason to smile for cancer patients and their families by contributing financial and emotional support when it is needed most.
To date, ALEX AND ANI has donated over $390,000 from JAF bangles sales – meaning, together, we have been able to assist more than 550 cancer patients and their families since the start of our partnership. Simply incredible!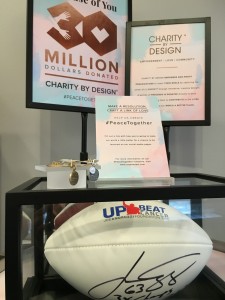 To help celebrate ALEX AND ANI | CHARITY BY DESIGN'S milestones, the company will be hosting in-store celebrations from open to close in all of its retail stores this Thursday, February 18th – many of which will be highlighting its local CHARITY BY DESIGN partners.
Want to celebrate with us and thank ALEX AND ANI | CHARITY BY DESIGN for all they have done for JAF patient families? Stop by their store at Patriots Place tomorrow and enter a raffle to win a Joe Andruzzi Foundation football autographed by Joe!
Be sure to take photos, share stories about how you embrace positivity, and most of all – help us say THANK YOU and CHEERS to ALEX AND ANI | CHARITY BY DESIGN for five amazing years.
-Jen Andruzzi