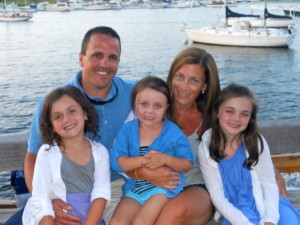 We love that this 37-year-old stay-at-home mom from North Attleboro, Mass., never forgets why she's running. And that she prizes her "me time"/training for making her a more energized mother to her three daughters.
Thank you, Julie, for sharing your time, caring and enthusiasm with us! We'll be cheering for you to make that goal time…
— Jen Andruzzi
JAF: Why did you join the Joe Andruzzi Foundation Marathon Team?
Julie: I wanted to join a charity that benefitted cancer research and I was very impressed with what JAF is doing for patients and families affected by cancer.
JAF: What is your inspiration?
Julie: My inspiration is my sister who is in remission from breast cancer and my friend who is finishing his treatment for Hodgkin's lymphoma. Both went through their treatments with such an amazing attitude and are doing well today!
JAF: Have you ever run a marathon before?
Julie: I ran the Boston Marathon in 2010 and 2011.
JAF: What advice would you offer other marathon runners?
Julie: I would tell other runners to think of why or who they are running the marathon for. And when they think they just can't run another step, to remind themselves why they are doing this race – and that running the marathon is the reward for all their hard training!
JAF: What do you like about running?
Julie: I run because it is my time for me; I feel like after a good run I come home refreshed, relaxed and ready to take on my busy family activities!
JAF: How's training going?
Julie: Training is going great! My weekly training is tempo run, easy six, hill repeats, easy five to six, day off, long run, recovery run.
JAF: How do you motivate yourself to train when it's freezing cold or snowing?
Julie: I would actually rather run in cold weather than heat! You warm up fast in cold weather and feel really refreshed after. Snow can be challenging but it can also make the run fun!
JAF: What music pumps you up?
Julie: I haven't been listening to music lately because I usually run with a group.
JAF: What's your marathon goal?
Julie: Under four hours.
JAF: What are you doing to fundraise?
Julie: Gymnastics and dance fundraisers and a jewelry party.
JAF: Do you do other charity work?
Julie: Not right now, but I have raised money in the past for MEEI and Tedy's Team. I got involved with MEEI because my daughters had care and surgery there. And I was involved with Tedy's Team to spread stroke awareness because my brother-in-law suffered a stroke at 40 years old.