As we begin our annual preparations for the Thanksgiving holiday, those of us who are fortunate think about what to cook or what to pack if we're traveling. It's a holiday that reminds us to enjoy family, friends and the special people who touch our lives each day and make them unique.
I have so much to be thankful for this year that it's hard to know where to begin. The least I can do is shed some light on something for which we're very appreciative. At our recent gala, two families did something so selfless that I wanted to share it with all of you.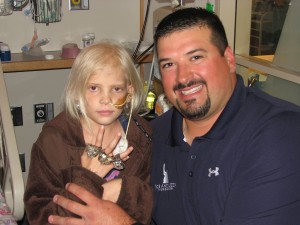 Mary Kate is an 8-year-old non-Hodgkin's Burkitt's lymphoma patient that Joe visited at Children's Hospital. Perhaps the connection formed because she's the same age as one of our son's or because she has the same cancer as Joe experienced. After a memorable visit, we continued to keep in touch with her family and asked them to join us at our gala. They all had a wonderful time from taking pictures with Joe's Super Bowl rings to scoping out the auction items.
Mary Kate must have had her eye on the Mary Poppins tickets and trip to New York City. Not wanting to deny her of this simple pleasure, her family hovered by the bidding sheet until it became cost prohibitive. I'm sure her parents were devastated not to be able to get this gift for their brave daughter.
That's when two generous sponsors stepped in to help. They stood by the bidding sheet relentlessly raising the amount until they won the item. Then they gave this gift of a theater trip to Mary Kate's family along with train tickets to New York City for all of them.
I feel blessed and thankful to have donors and sponsors that appreciate what we're trying to do and jump in to make a difference for a patient. This generous donation not only made Mary Kate feel special, but also contributed to help other families that need financial support with parking, rent/mortgage or utility bills because the auction funds our grant program.
As a Foundation, we cannot continue giving grants to families in need without your generous contributions. There are so many things you can do for patients directly or anonymously. Help us help all of those patients who should focus on their treatment rather than financial stress. In the spirit of Thanksgiving, give us another reason to be grateful.