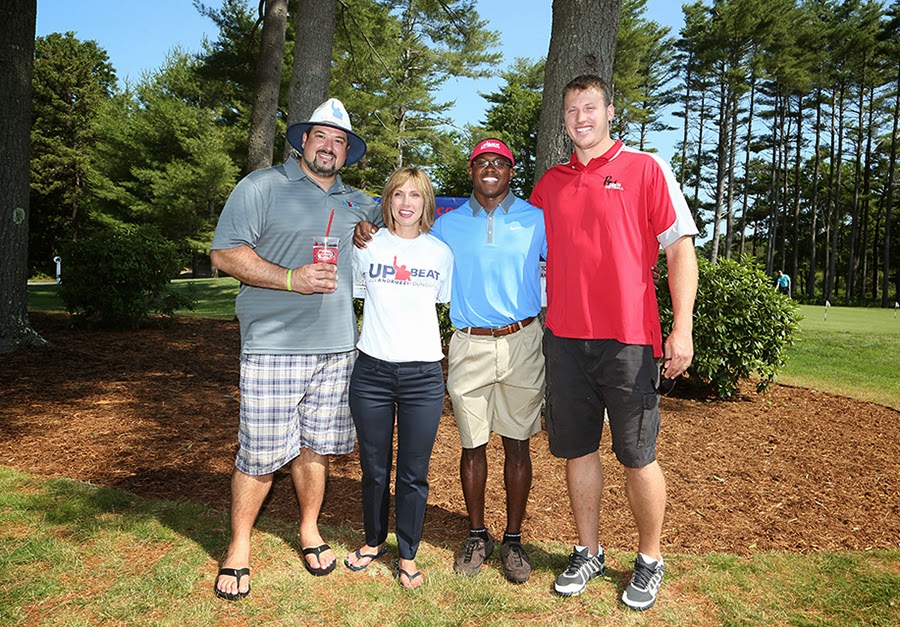 Every year I am blown away by how generous people are, and this year was no exception! Thanks to everyone who came out for the Sixth Annual Joe Andruzzi & Friends Golf Tournament. We raised more than $250,000 that directly supports families battling cancer, both financially and emotionally, as well as innovative pediatric brain cancer research at Boston Children's Hospital. And for the sixth year in a row, we did it with our (Up)Beat rallying cry!
Golfers arrived at the beautiful Pinehills Golf Club in Plymouth, Mass. on Monday ready to swing their clubs to benefit JAF. To keep things fun, we used a "scramble" format where a foursome chooses the best of their shots for the next shot, and repeats the process until the ball is holed. Everyone had a blast.
We had an all-star list of attendees at the beautiful Pinehills Golf Club in Plymouth, Mass. this year, including Nate Solder, Tebucky Jones, Jerrod Mayo and Duran Harmon. Several celebrities, including professional boxer John Ruiz, actor Kevin Chapman and comedian Dave Russo, also played to support the Foundation. Patriots' co-captain and this year's event host, Matthew Slater, made sure everyone had a great time. We all enjoyed lunch on the course, followed by a cocktail reception and the chance to unwind after a morning of hitting the links. The whole JAF crew also wants to thank Dalen Cuff, anchor and reporter for Comcast SportsNet New England, for serving as master of ceremonies during the post-round celebration.
We were also honored to hear the moving words of Michael Walsh, a 48-year-old JAF patient recipient, who spoke about his five-year battle with stage IV colon cancer and the impact of JAF's financial support. His compelling story brought the event's objectives to life, and drove home just how crucial financial relief is to those in treatment.
As always, this day would not have been a success without the generosity of our sponsors. A big thanks to our presenting sponsor East Commerce Solutions, Inc., as well as to Millennium: The Takeda Oncology Company, Bob's Discount Furniture, J. Calnan & Associates, The Home Depot, Randstad Technologies, CSM Group, Inc., Honey Dew Donuts, Hobbs Brook Management, LLC, the Zampine Family, Behavioral Concepts, Inc., State Street and many more. We also want to give a huge thank you to the Pinehills Golf Course team for letting us have a blast at their course for the second year in a row.
We are incredibly grateful to all the participants who generously donated to the event and auction, both with their time and resources. This annual event enables us to keep on giving to children and families whose lives are affected by cancer, and we are forever grateful to everyone who joins us in this mission.
Because of the more than $250,000 we raised, we can continue to help alleviate cancer's financial and emotional impact on patients, as well as fund critical pediatric brain cancer research at Boston Children's Hospital. It's not just about raising money, but also about giving help, hope and a reason to smile to the families dealing with cancer. We want to help everyone stay (Up) Beat and we could not do this without your help.
So again, thank you from the bottom of my heart. Hope to see you on the links next year!
– Joe Andruzzi
CHECK OUT PHOTOS FROM THE EVENT ON OUR FACEBOOK PAGE!