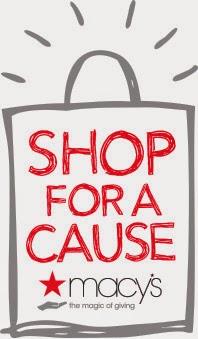 I'm thrilled to announce that you can continue to support the Foundation and everything it does through . . . shopping! Just in time for back-to-school, the Joe Andruzzi Foundation has been chosen to participate in Macy's "Shop for a Cause" Day on August 23. Macy's has been supporting charities throughout the country in this way since 2006, enabling shoppers to truly make a difference in their communities by simply doing something they already do. With the help of Macy's "Shop for a Cause," you don't have to choose between shopping or supporting charity: you can do both!
Here's how: Our shoppers/supporters buy $5 Macy's shopping passes from the Foundation, which retains 100 percent of the proceeds. Then, on August 23, shoppers use the pass at Macy's to save up to 25 percent throughout the store on regular, sale and clearance items. Shoppers also save 10 percent on electronics, watches, furniture, mattresses and rugs/floor coverings. Simply purchase the pass to support the Foundation, then save money while you shop! To purchase shopping passes, please visit bit.ly/U1D9Ff .
We have 100 passes ready to go, but it is our hope that our participating supporters will exceed that number. After all, what better way to support cancer patients and their families than rallying together for a carefree day of shopping?
We are so excited to provide this simple opportunity to help support the Joe Andruzzi Foundation's mission. The Foundation helps cancer patients and their families by assisting with rent or mortgage, utilities or other household expenses during what can be the most stressful and challenging time of their lives. It also funds cutting-edge pediatric brain cancer research and provides emotional and social support to patients and families.
Help us keep the momentum from the Fifth Annual Codzilla Thrill Ride and Sixth Annual Joe Andruzzi & Friends Golf Tournament going by participating in Macy's "Shop for a Cause"! Don't forget to mark your calendar for August 23.
Thank you for continuing to support the Foundation with your time and resources. We wouldn't be able to affect so many lives without your help!
–Jen Andruzzi