The Joe Andruzzi Foundation's (JAF) 15th Anniversary Road Trip headed up to the great state of New Hampshire on Wednesday, September 13, and Thursday, September 14.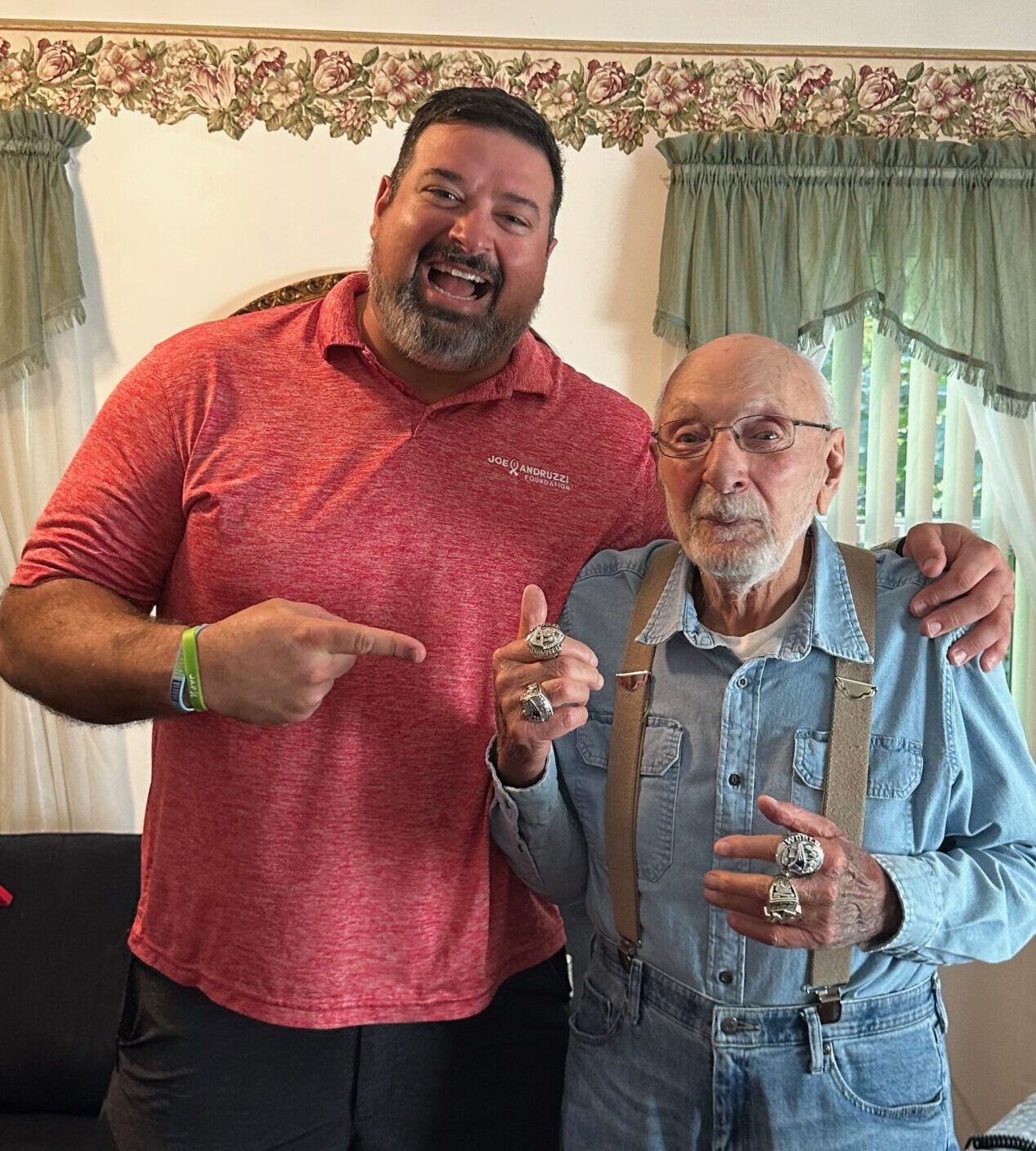 For our first stop on Wednesday, Joe Andruzzi and the entire team headed to Stratham, NH, to deliver groceries to 91-year-old veteran Rudy Longo of Stratham, an Extraordinary Needs recipient. JAF provided a new refrigerator to Rudy after his 20-plus appliance finally stopped working.
JAF may have filled Rudy's fridge, but we're pretty sure Rudy filled our hearts with pure joy. During an interview, Joe even coined a new phrase: "JAF helps patients of any age – from zero to Rudy!" Watch more on our visit HERE.
From there, we headed about 90 minutes north to Dartmouth Hitchcock Medical Center in Lebanon, NH, where we received a very warm welcome from social workers and hospital staff. Joe visited with oncology patients in their infusion center, delivering care packages and smiles.
Next, it was on to Altitude Trampoline Park in Concord, NH, as we lifted the spirits of some young cancer patients and their families for a night of pizza and lots of jumping! JAF's Patient and Family Wellness Coordinator Hunter Andruzzi led this fabulous event and even found himself taking part in the fun!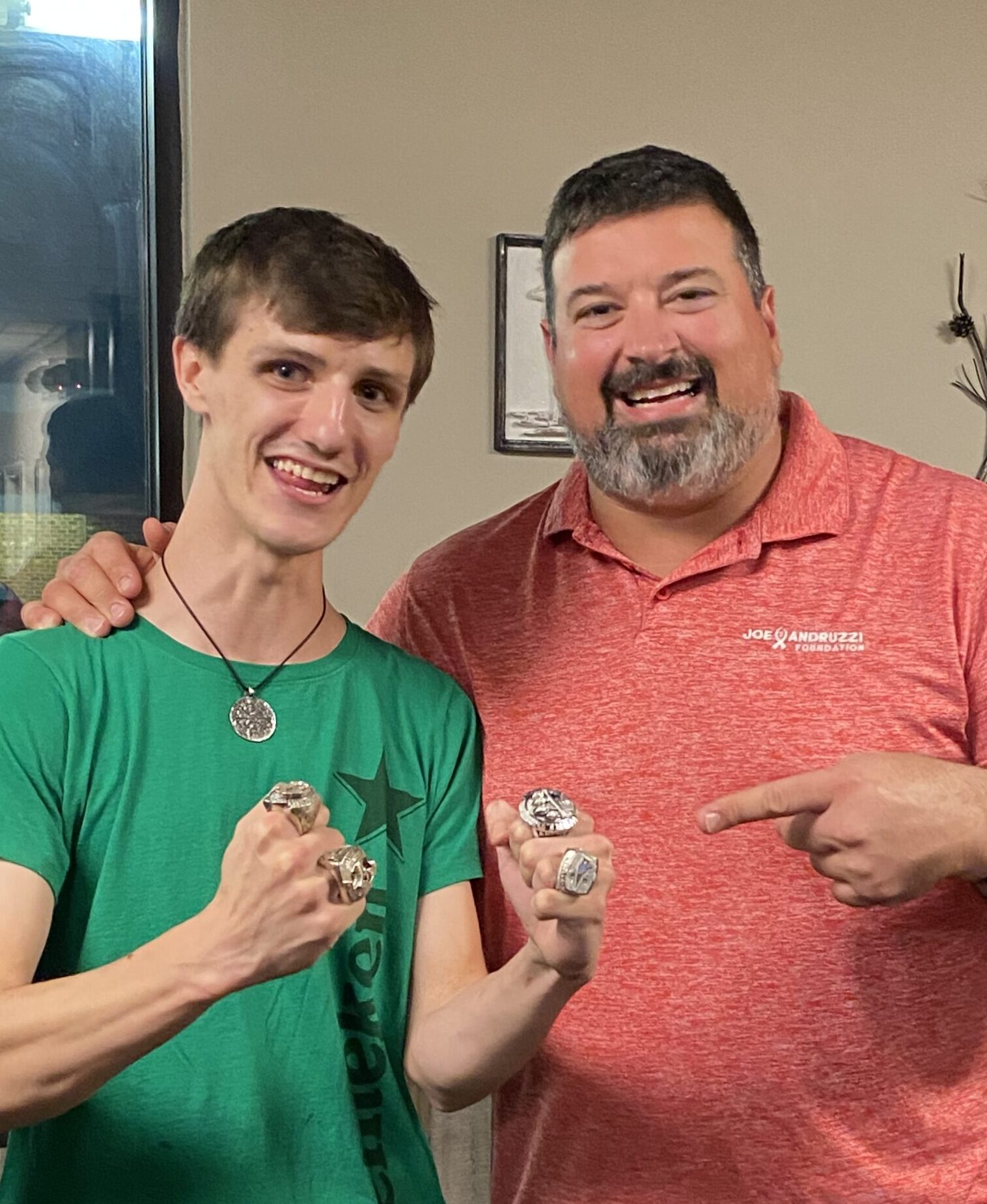 To end the day, the JAF team gathered at Alexandra's Bistro in Concord, NH, for a delicious meal together. The restaurant is owned by Danny Pillsbury, whose story and reason for opening this establishment made it a very special, must-stop destination for JAF.
In 2018, Danny lost his mother, Theresa, to colon cancer, only later to lose his wife, Alexandra, to cancer as well in 2021. Despite these tragic losses, Danny opened the restaurant, where he serves as chef, to honor his late wife.
The meal was outstanding, and we filled the room with laughter, visiting and eating with Danny, his father-in-law, Tony, and the entire staff late into the evening. Together, we all forgot about cancer for a little while. Read Danny's full story HERE.
Staying in Concord, our beautiful New Hampshire Thursday morning had us visiting Payson Cancer Center for a truly memorable and moving experience with patients. The hospital gathered JAF patient recipients in their library for coffee and conversations about the financial challenges of a cancer diagnosis, and we heard first-hand how JAF assistance makes a difference.
Many patients told us how distance could be a hurdle, with one patient sharing, "I have to travel almost two hours to get to the hospital and then sometimes wait hours between appointments, only to travel another two hours home. The cost of gas and meals for just one day's treatment is considerable. And I have to come multiple days during the week. I don't have any other choice if I want to get well."
Joe sat with each patient, sharing cancer stories and experiences. A social worker remarked, "What a wonderful morning this has been for the patients. I've watched as one of our patients who resisted going to counseling or therapy groups, open up today and share his feelings and struggles.
He told me afterwards, 'This was nice,' and he'll be back to attend a support group. We are so glad JAF visited today."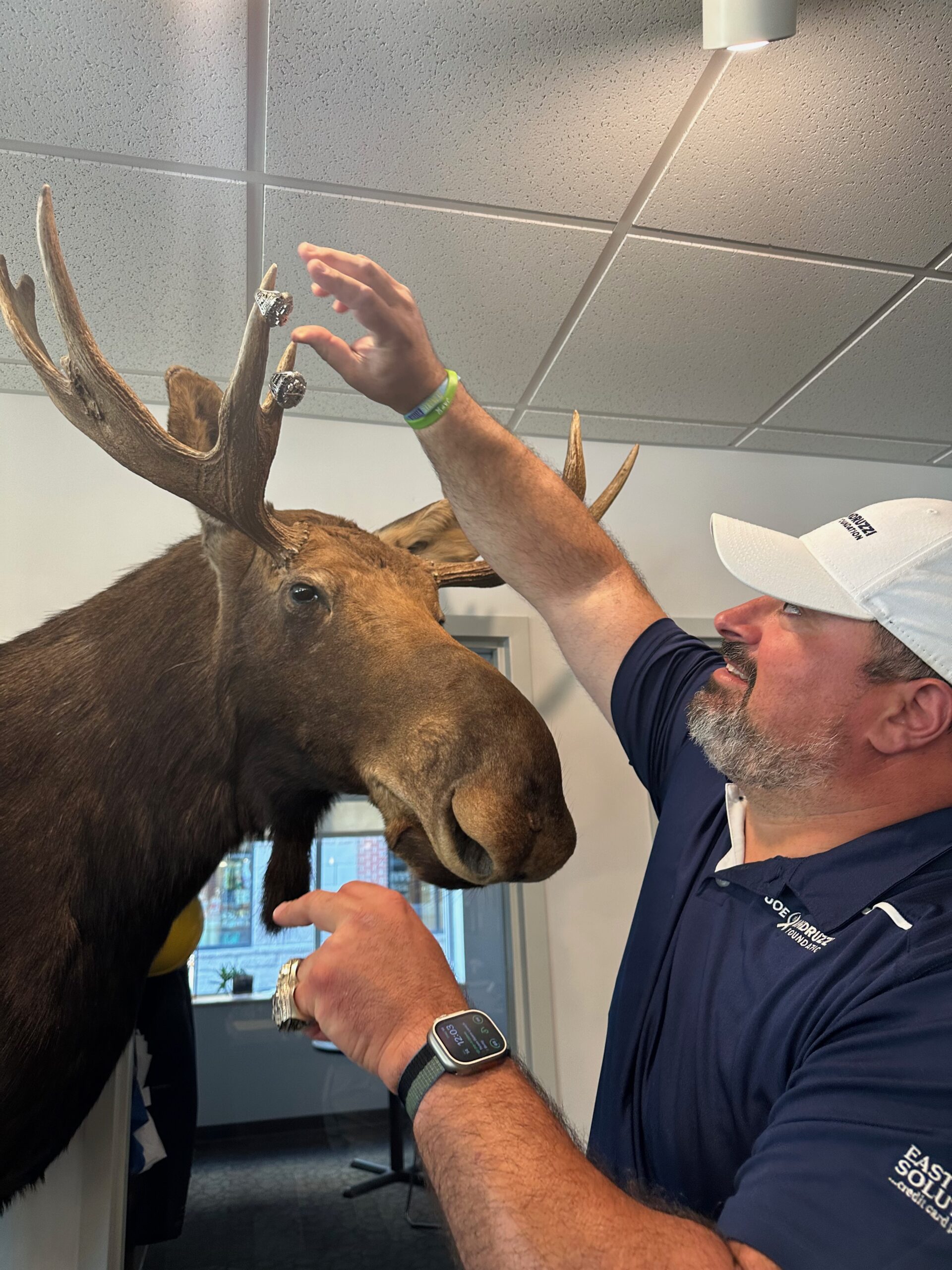 We couldn't visit New Hampshire without stopping in the capital city and dropping into the Greater Concord Chamber of Commerce! Joe met chamber member Carolyn O'Brien and spent time with their resident mascot, Chocolate Moose, who wanted to try on Joe's Super Bowl rings.
The team learned lots of great facts about the greater Concord area. Next, we stopped in local landmark Gibson's Bookstore & Café, with Joe checking out the sports section and the team refueling with some beverages.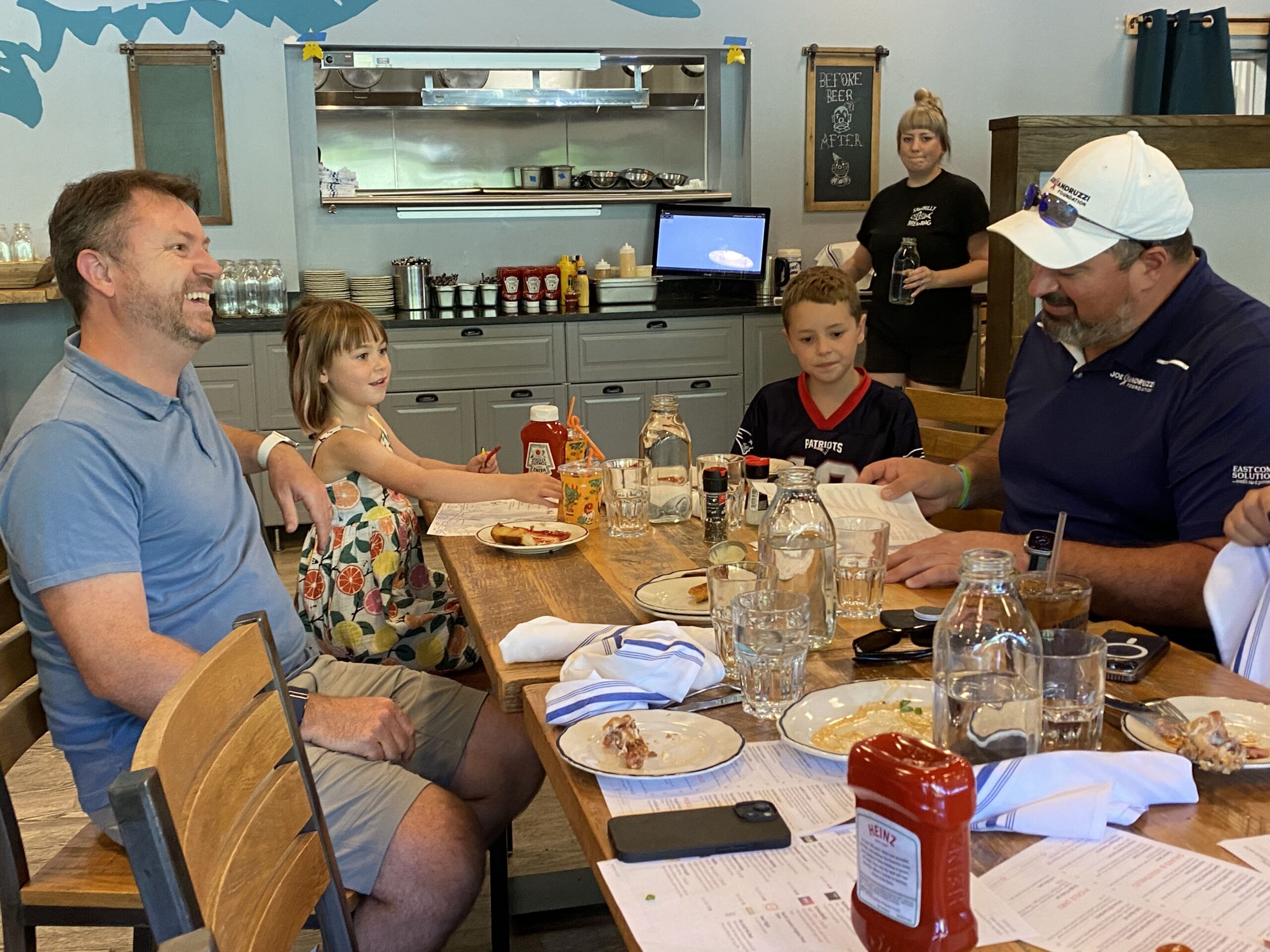 One last stop was Sawbelly Brewing in Exeter to meet up with our corporate partners from Well Told Design. Thank you to the team at Sawbelly and owners Jim and Diane Stilion; great food and fun were on tap, including the SawBELLY Burger, named Exeter's 'Best Burger' and earning the title of '3rd best in the state.' You bet we tried it, and it was delicious!
At every stop in The Granite State, JAF met kind and compassionate people supportive of our mission to remove financial barriers for New England cancer patients. Thank you to EVERYONE we met this month! We can't wait to come back soon!