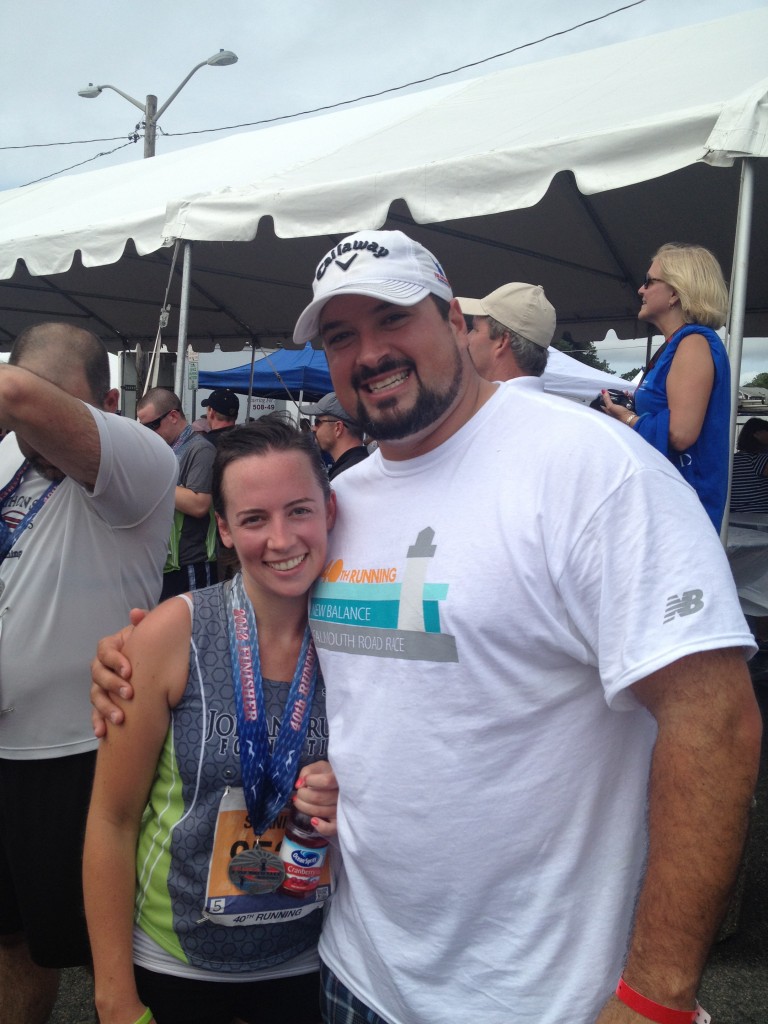 The Joe Andruzzi Foundation is aiming high and recruiting the largest-ever team of runners for the Falmouth Road Race this year. With the goal of fielding a team of 63 runners, 40 have already committed to run for Team JAF. With only 2 months until race day, training and fundraising efforts are in full swing.
Our friends at Digitas have made incredible headway to enlist runners of all experience levels to join the JAF team. We sat down with Bethany Bayer,
VP/Group Director, Creative Strategy
at Digitas to talk about the company's motivation to run the Falmouth Road Race on behalf of the Joe Andruzzi Foundation.
What was the motivation behind your outreach for the Falmouth Road Race on behalf of the Joe Andruzzi Foundation? Where does the passion for making this happen come from?
We've recruited 25 runners and that number continues to grow each week. Most of us are from Digitas, but we've also recruited friends, spouses and former employees to join our "extended Digitas team." Many of our runners are first-timers, inspired to commit to the race after the events at this year's Boston Marathon, but that's not the only reason. Digitas has had a close relationship with the Foundation for several years. Our employees know Jen and Joe well, and truly believe in the work the Foundations does. We're looking forward to running Falmouth and know it will be a lot of fun.
What's the recipe for your success? How has Digitas been so successful in recruiting participants for the Falmouth Road Race?
Many of us have large online social networks and have leveraged them to recruit others to join the team and join the party! This was very natural for us, because as an agency that specializes in digital, it's what we do every day for our clients. We also have a very active group that works at Digitas for cause-related efforts and we reached out to this resource as well.
What does this race mean to you and the rest of the Digitas staff?
We're excited to run. We've noticed some great mentorship happening between the experienced runners and the first-timers. It's generating a real team spirit between people that don't necessarily work together everyday. It's a nice way for our employees to bond and get to know each other outside of work, too.
How are your runners preparing for the race on August 11? Are they training together?
Yes, we are definitely focused on preparing for the race. Our runners are training with the help of Susan Hurley, an avid runner and member of the Charity Teams, an organization that helps drive recruitment for the Foundation. Our more experienced runners are also pitching in by giving the newbies some great training tips. We have planned runs after work, which will begin next week. These group-training sessions will be a way for the team to support one another.
Of those recruited from Digitas, how many are serious runners (i.e., individuals who run for exercise or run in road races)? Do you have any training tips for those preparing for the 10 kilometers on August 11 – whether they're seasoned runners or rookies?
Only a handful of us are seasoned runners. The rest are rookies, taking it slow, listening to the experienced teammates, and getting tips from other colleagues that have run the Boston Marathon in the past. The best tips we've received are in regards to downloading apps that help in training and prepping for a run like this.
How are members of the Digitas team working to meet their individual fundraising goals?
We're leveraging social media to garner sponsors and emailing friends and family for their support as well. Digitas is also offering a corporate match so we're encouraging employees, even those who aren't running to participate this way. Additionally, we're hoping to organize a fundraiser for the entire team in July.
What suggestions do you have for other companies that are trying to motivate their workforce to participate in similar fundraising or charity events? Any interest in throwing out a challenge to them?
Our team isn't really the "challenger" type – we're competitive with ourselves individually but encouraging of others. We're more focused on teamwork and participation. We're thinking of this race as a big celebration. We'd love other companies to encourage their workforces to get involved by offering things like corporate matches and team fundraisers. We all have personal reasons to run, but collectively we are able to support and encourage each other along the way.
For those at Digitas who have previously run in the Falmouth Road Race – what are your favorite aspects of this race?
The Falmouth Road Race is a blast! Family, friends and local residents line the course to provide encouragement throughout the race that you don't experience at other events. It's in a great location and the course is beautiful and scenic. Our race veterans have been raving about Falmouth, which has encouraged many to sign up so that they can see what it's all about!