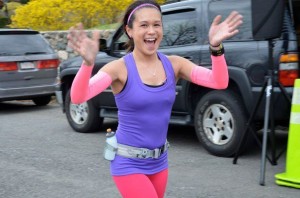 A few weeks ago, Joe Andruzzi Foundation Marathon Team member Michelle Greene wrote a fun post for us about training one Saturday with her fellow "superhero" athletes, dressed as a Powerpuff Girl. We totally appreciate the enthusiasm and excitement runners like Michelle – a 26-year-old marketing administrator from Chelmsford, Mass. – bring to our hard-working team.
Thank you Michelle; we're honored you're running your first marathon for our foundation!
— Joe Andruzzi
JAF: Why did you join the Joe Andruzzi Foundation Marathon Team?
Michelle: I was drawn to the Joe Andruzzi Foundation because of its wonderful mission to both provide financial assistance to cancer patients and their families, and to help fund research for pediatric brain cancer. As soon as I heard about the JAF cause and what the foundation stood for, it was an easy choice for me. My father was diagnosed with a skull-based tumor more than 10 years ago and underwent numerous surgeries on his skull. Though I was too young to realize the financial strain this could have placed on my parents, I do remember the impact it had on our family. I hope that the money I raise can help support cancer patients and their families, to help alleviate the stress and pressures of everyday life so they can focus getting better.
JAF: What is your inspiration?
Michelle: My family. I want to make them proud.
JAF: Have you ever run a marathon before?
Michelle: This is my first marathon ever, and I'm proud that I am running it for the Joe Andruzzi Foundation.
JAF: What do you like about running?
Michelle: I have never been a runner, and just recently discovered how much I loved running this past summer, with a little push from one of my friends. She convinced me to sign up for a half marathon this past October, where I think I experienced my first "runner's high." After that I was hooked. I love running because of my friends and the training group I run with; it is really a social event! But it really is an individual activity, too. You really figure out how much and how hard you can push yourself mentally and physically. I continue to impress myself every week as my mileage increases!
JAF: How's training going?
Michelle: I have good runs and bad runs. I have a running schedule that I use as my guide, but I try to listen to my body and go from there. But I always do my long runs on Saturdays and my hill workouts on Tuesdays; we affectionately call our coach the "Devil," as he orders us to run up and down the hills of Heartbreak Hill. These two days have definitely contributed to helping me become a stronger and more confident runner.
JAF: How do you motivate yourself to train when it's freezing cold or snowing?
Michelle: I've been pretty lucky that this winter was my first marathon training season! So, I know I can't really complain. But as hard as it is to get myself up and going when the weather is bad, I'm always happy afterwards that I did it. Training for the marathon is all about dedication – you don't really think about it, you just go out and do what you know you have to do – even in bad weather. "What doesn't kill you makes you stronger" right?
JAF: What music pumps you up?
Michelle: I don't usually run with an ipod. I like to listen to my surrounding and my thoughts. (As crazy as that sounds.)
JAF: What's your marathon goal?
Michelle: Being my first marathon, my ultimate goal will be to finish with a smile on my face. I want to enjoy the run and take everything in, because I've been told that this marathon is not like any other, from the course to the spectators.
JAF: What are you doing to fundraise?
Michelle: I am holding events in March, which will include raffles. I am also doing some smaller things with friends and family, such as squares, selling dog cookies and holding a designer yard sale.
JAF: Do you do other charity work?
Michelle: No, this is the first charity I have worked with.
JAF: What else should we know about you?Michelle: I'm proud to run my first marathon with this amazing organization. I can't do it alone, though, and I truly want to thank my supporters. Their help is not only allowing me to raise money for the JAF, but it really does help keep me motivated through this long training season. So, thank you!