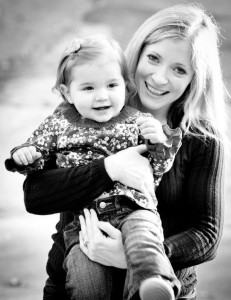 Today, we'd like to introduce you to another dedicated member of the Joe Andruzzi Foundation Marathon Team: Rebecca McCarthy, a 34-year-old principal laboratory technologist and mother from Nashua, New Hampshire.
Thank you, Rebecca, and good luck with your training and fundraising!
— Joe Andruzzi
JAF: Why did you join the Joe Andruzzi Foundation Marathon Team?
Rebecca: My husband attended the same college as Joe and was an incoming freshman on the football team when Joe was a senior. He always spoke very highly of Joe. When I read about the foundation, I knew it would be a good match for me, because of the applicable cause and focus on funding pediatric brain cancer research. I work in the research realm and seeing this area receive funding is rewarding. Also, knowing you are helping families with day-to-day costs is very rewarding.
JAF: What is your inspiration?
Rebecca: My daughter, Lachlyn. I was not always healthy and in shape. But now that I am – and have committed to remain so, even through injuries and having a child – I want nothing more for my daughter than to grow up knowing she can accomplish anything. She can define her own happiness, as I have mine. Meeting Joe and Jen, and some of the people their Foundation has helped, has also been hugely inspiring.
JAF: Have you ever run a marathon before?
Rebecca: No, this will be my first.
JAF: What do you like about running?
Rebecca: I run for physical health, but mainly for mental health. Running keeps my busy mind calm and gives me a chunk of time during the day that is just for me. I also love the feeling of accomplishment achieving each new distance gives me.
JAF: How's training going?
Rebecca: My training is going great! I have been in physical therapy four times in the past and I think all of the exercises I learned have helped me to stay injury-free this time around. I am following Hal Higdon's training plan, as well as attending the Charity Teams' Strength in Number's long runs and hill workouts. I am building miles and feeling stronger every week. My husband, family and friends have been amazing, providing me time to do all of this training and watching my daughter while I run.
JAF: How do you motivate yourself to train when it's freezing cold or snowing?
Rebecca: Three days a week, I run before work with a co-worker. Knowing someone is waiting for you is very motivating. Also, attending the Charity Team trainings is motivating because the people are friendly and encouraging and going through the same things. Thankfully, it also helps that this winter has been very mild, with very little snow.
JAF: What music pumps you up?
Rebecca: Just any upbeat songs I like.
JAF: What's your marathon goal?
Rebecca: To arrive healthy and finish the entire race.
JAF: What are you doing to fundraise?
Rebecca: I have written letters to friends, family and businesses. I have promoted my cause on Facebook. I am going to throw an event with a Charity Team friend. We will have raffle and silent auction items.
JAF: Do you do other charity work?
Rebecca: No. I have long dreamed of running Boston and I want to make it the most memorable experience I can. I know running this marathon for such a great cause will provide that.
JAF: What else should we know about you?
Rebecca: I just want to say that training for a marathon is a lot of hard work and takes a lot of time. This is a big dream for me and I could not be this close to achieving it without the support and love of my family.