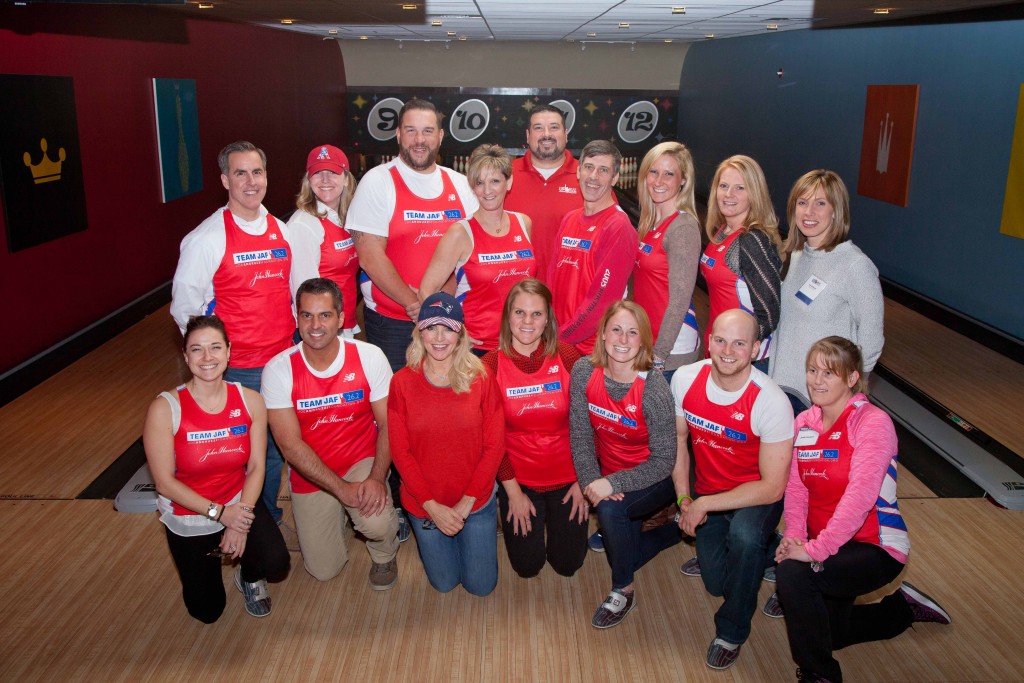 As many of you know, on April 18, 2016 – Marathon Monday – Team JAF runners will take strides against cancer through the streets of Boston for the sixth straight year!
We are thrilled to announce that 18 runners will be making up the 2016 team – a diverse group of cancer survivors, athletes, veteran marathoners and those running in memory of loved ones, including: Matthew Birnie, Valerie Chirichiello, Kelly, Fisher, Jodie Hooper, Katie Horan, Kristen Knight, John Lapointe, Kathleen Lussier, Don McCarthy, Matthew McKay, Maureen O'Connor, Sarah Parsons, Amy Pepe, John Ponte, Jim Pustinger, Dave Santoro, Sarah Sceery, and Susan Sly!
The team is mostly made up of runners receiving John Hancock Non-Profit Marathon Program Boston Marathon bibs for 2016, and all fundraising by Team JAF will directly support the Foundation's mission of providing help, hope, and a reason to smile for cancer patients and their families.
It's hard to believe Team JAF's first Marathon was almost five years ago. Since that race, more than 100 special runners have pledged to train and fundraise as a member of our Marathon team, becoming the ultimate foundation ambassadors along the way. In that time, Team JAF's fundraising has totaled more than $950,000 over five Marathon Monday's, and with your help, our 2016 team will cross (and go well beyond) the $1 million mark. That means our runners will have raised enough funds over six Boston Marathons to empower JAF to assist more than 1,500 cancer patients in need.

On Monday, January 18, members of Team JAF's 2016 squad joined at Splitsville in Foxborough for our annual Marathon kickoff party – where the team was able to meet each other, share the stories behind why they are running, and, of course, bowl! Susan Hurley of CharityTeams – who will once again be reprising her role as Team JAF's captain; available to all of our runners for her expert training and fundraising assistance – was also in attendance.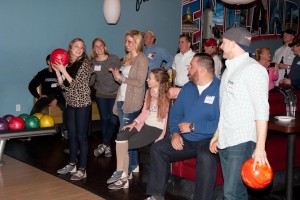 The highlight of the night was certainly our patient speaker, Jodi Hanley – a former hospice social worker who was diagnosed with, and beat, non-Hodgkin's Lymphoma before becoming an oncology social worker. Jodi, a former JAF patient recipient herself, shared her inspiring story with our marathon team, as well as the unique perspective she has having experienced so many different aspects of cancer's impact.
Jodi's profoundly impactful speech hit home with everyone in attendance, and reminded our runners of how their fundraising can make a direct impact in the lives of those who need it most.
"A dear friend and colleague of mine told me about the Joe Andruzzi Foundation and their patient assistance program – I had no idea that type of help existed, and within no time an application for a grant had been filled out and sent off in the hopes I would get approved for $700 to go towards my utility bills," Jodi told those in attendance.
"For some, $700 is not a lot, but I'll tell you, when those checks came in the mail it was a gift like no other. My husband and I could finally breathe," Jodi said. "We not only felt relief, but were incredibly appreciative and thankful that, due to the goodness and generosity of so many, we could pay a few bills. More importantly, our attention could be redirected back onto what mattered most at the time: my health."
Jodi also left our runners with an inspiring quote for them to remember when coming down Boylston Street in April.
"Run because you can. When you get tired, remember those who can't run, and what they would give to have this simple gift we take for granted. Run harder for them, and know they would do the same for you."
Paying it forward – couldn't have said it better myself.
– Jen Andruzzi