Jessica loves traveling with her husband and three young children, writing poetry and children's books, and is a big music fan. In August 2022, the Warwick, RI native had just celebrated her 40th birthday when she received a flyer in her mailbox stating that she was now at the suggested age to do a mammogram screening.
She went to her doctor's office and asked them about getting a mammogram, and they arranged one for that day. When she went in for the screening, the doctors 'discovered something off' according to Jessica, but she wasn't as worried initially.
"I was told that first mammograms can come back looking suspicious or abnormal but that they're often nothing," Jessica said. "So I was slightly worried but feeling optimistic, and I scheduled a second one along with an ultrasound."
In Jessica's mind, she felt great and healthy and didn't see any changes in her health. When Jessica went in for her next appointment, the technician performed the ultrasound but then brought the doctor to look at Jessica's scans. The doctor suggested Jessica underwent a biopsy, which she did. Jessica checked her patient portal days later during her lunch break to shocking news.
Jessica's patient portal revealed a cancerous tumor on her left breast that had spread to her lymph nodes. She was soon officially diagnosed with Stage II breast cancer.
"I was absolutely devastated," said Jessica. "I had no idea what any of the medical terms meant at that time and just knew that I had cancer. All I could do was cry and not go back to work for the rest of the day."
Those first handful of days after discovering her diagnosis felt like an out-of-body experience for Jessica. She spent time with her family, worried about being around for her kids, and figuring out how she could've possibly had cancer—given there was no history of breast cancer in her family. Jessica maintained a positive mindset, however, and felt she could get through this once she met her care team at the Lifespan Cancer Institute.
"When they laid out the plan for me and showed the step-by-step process, I felt a lot better and thought, 'Ok, I feel good; we have something in place,'" Jessica said. "Having that and my family's support system made me feel like I had everything I needed and that I could do this."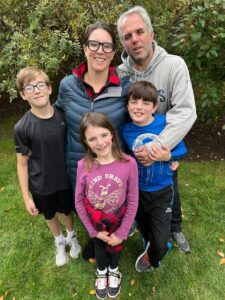 The treatment plan for Jessica consisted of six months of chemotherapy split into two parts—with the first going bi-weekly for four rounds and then weekly for the last nine rounds. Jessica shared she was 'petrified' of her first chemotherapy appointment, but she pressed on. Once Jessica moved on to the next part of chemotherapy, however, it became much more difficult.
"When I switched over to the second chemo, I had a severe allergic reaction to it," said Jessica. "I went into anaphylaxis and had to switch to a different chemo type."
After Jessica recovered, she went on to have a lumpectomy with a lymph node dissection. The day of the surgery was a nerve-wracking one for Jessica as she kept thinking about what was going to happen and preparing for the worst. Fortunately, Jessica calmed herself, underwent a successful procedure, and moved forward to easier radiation treatment after recovery.
During that time, yet another cancer barrier started to become more noticeable to Jessica with the financial impact. Now a single-income household, her family's day-to-day bills—particularly the utilities—became daunting.
"The price of treatment can have such an influence on other bills because it's so expensive," Jessica said. "It's an incredible stressor that makes you think, 'How am I going to pay this? How am I going to buy food for my family?'"
Jessica went to her social worker at Lifespan to figure out how best to navigate her challenging financial times. Her social worker mentioned how the Joe Andruzzi Foundation (JAF) could help ease the load of Jessica's bills and applied to JAF on her behalf.
JAF quickly processed her application, and Jessica soon became a grant recipient for Household Expenses, alleviating Jessica's anxiety about her bills.
"I couldn't believe it," said Jessica. "It was honestly such a nice surprise, and I felt so grateful that we had help because we had acquired so many bills. It really uplifted our spirits."
Additionally, Jessica was one of the recipients of a new mattress through JAF's partnership with Bob's Discount Furniture—saying she was 'moved beyond words' by the Foundation's generosity to help so much.
Currently, Jessica is taking chemotherapy medication. In her mind, Jessica is fully confident she'll be able to get through her cancer journey, thanks to support from family, friends, and JAF.
"Knowing that others are out there and thinking of people like me and what we go through, it helps in so many ways," Jessica said on JAF's impact. "I feel beyond grateful to be a recipient of JAF's kindness and generosity."
The Foundation is honored to have assisted those like Jessica during the most challenging times of a cancer journey. Because of JAF, Jessica can focus on her health and return to traveling with her family again.