There are so many joys that come from being part of a non-profit. Every day, we get to experience first-hand what it is like to make a difference in the lives of those who need help. From awarding grants to cancer patients so they can pay a crucial household bill, to hosting record-breaking fundraisers, there have been so many individual (and memorable) moments at the Joe Andruzzi Foundation over the past nine years that stick out in my head.
All of that considered, something dawned on me last week while in Boston: our annual Codzilla patient outing is by far my most favorite event of the year.
Before we get into that, let's recap how we got here.
Joe's battle with cancer in 2007 didn't just open our eyes to the personal financial perspective of a cancer diagnosis – it became evident from the start of treatment that if we were going to get through the tough road ahead, we all needed to stay positive and optimistic; for Joe, for the kids, for our family.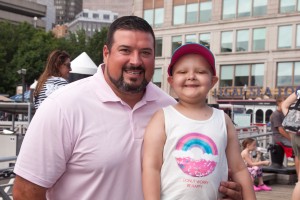 That's why JAF is grounded in our (Up)Beat Cancer mentality – an expression of who we are as an organization: fun, full of laughter and happiness. Upbeat. We truly believe laughter is the best medicine, and that patients and their families can greatly benefit from the relief of cancer's financial and emotional burdens so they can focus on what really matters: getting better and enjoying life.
At the forefront of this mantra is our foundation's ongoing series of (Up)Beat Opportunities – events and gatherings organized to help take patients' minds off of treatment, even if just for an afternoon.
Last Thursday, the Joe Andruzzi Foundation hosted more than 20 cancer patients and their families at Long Wharf in downtown Boston for the aforementioned Codzilla Thrill Ride for the seventh straight summer (thanks to our friend's at Boston Harbor Cruises).
What is Codzilla, you ask?
Well, see for yourself…
Codzilla is a high-speed powerboat that whips around Boston Harbor at upwards of 40 miles per hour as music blares and waves splash. Most importantly, our annual outing gives patients a much-deserved day of laughs and fun away from treatment.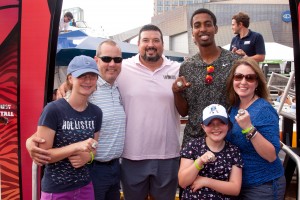 As patients arrive for the event, it gives Joe and I – and the entire JAF staff – an opportunity to spend time chatting with each family. You really get the chance to connect with patients one on one, hear about their journeys, and fully understand just how big of an impact JAF is making on the cancer community. Each family also gets to take a photo with Joe and his four Super Bowl rings before loading onto the boat for a wet and wild adventure.
When we return to the docks, there are pictures and ice cream waiting for everyone. What a day!
Though I love the Codzilla ride itself, there is just something about the event as a whole that has us looking forward to next year's outing as soon as we pack up and head home. Seeing the smiles on the faces of our patient families. Watching kid's jaws drop as they stare at Joe's Super Bowl rings on their little fingers. Hearing the collective laughter and joy emanate from the group as they enjoy a cold ice cream on a hot summer day.
I know it takes me away from anything else happening in the world at that moment – and if we can help take patients and families minds off of cancer treatment, or the financial ramifications of the disease, as well, then we've done our job for the day.
Thanks again to Boston Harbor Cruises and the entire Codzilla Thrill Ride staff who are so generous and a pleasure to be around each and every year.
Be sure to check out photos from this year's Codzilla event on our Facebook page here!
We can't wait to be back again next year (Joe and I are already counting the days)!
– Jen Andruzzi