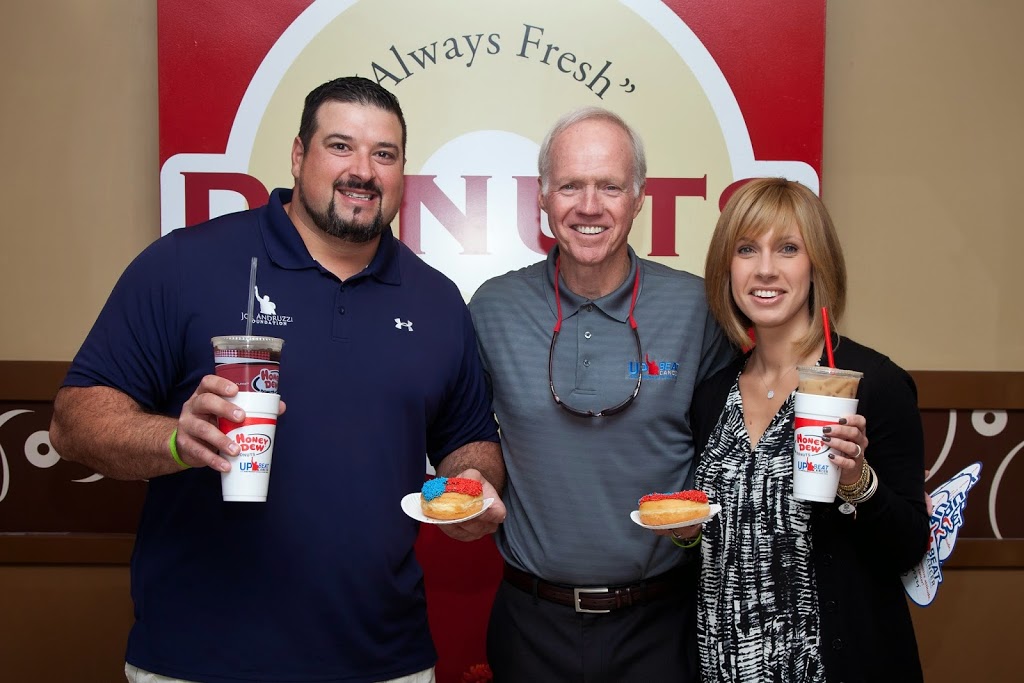 For the month of October, we were privileged to work alongside one of the Foundation's newest partners, Honey Dew Donuts, who provided us with an excuse to indulge in our favorite treats with the satisfaction of knowing that a portion of proceeds would benefit the Joe Andruzzi Foundation.
More than 140 New England stores sold $1 window decals throughout October and Honey Dew generously matched, dollar for dollar, all proceeds from the sales. Honey Dew also pledged to donate a portion of the proceeds from their special (Up)Beat red and blue-sprinkled, chocolate frosted donut to our Foundation (and those will continue to be in store so go check them out – believe us they're delicious!)
The grand fundraising total is still being calculated… but we're pleased to announce that, thanks to the support of our kind and generous friends at Honey Dew, initial results show that we've raised about $30,000 during the October campaign!
Joe and Honey Dew founder Richard Bowen kicked off the campaign on National Coffee Day by surprising customers and employees at Honey Dew stores. This exciting way to launch the partnership also reinforced Honey Dew's commitment to engaging with their customers and being part of the community. Joe loved connecting with Honey Dew's customers so much that he continued to surprise and delight them throughout the month through Honey Dew's month-long social media contest. All customers who took a photo with the lobby stand of Joe in and posted the photo on Twitter and Instagram with the hashtag #IFoundJoe were entered for a chance to win fantastic prizes.
Words cannot express our gratitude for the substantial contributions which Honey Dew and their customers have made to our Foundation – by raising both awareness and funds in support of our mission. We love working with partners that truly care about the communities in which they live and work, and Honey Dew certainly embraces this approach in all that they do.

They have furthered our goal of helping cancer patients and their families throughout their most stressful and challenging times by providing vital funds that assist us in providing financial and emotional support and have also helped fund cutting-edge pediatric brain cancer research.
Thank you, Honey Dew Donuts, for everything!

You have been such a joy to work with and your philanthropy will have a lasting effect on the families our Foundation is so honored to assist.