The Joe Andruzzi Foundation team surprised cancer patients at Sturdy Health in Attleboro, MA, on October 31 for a JAF (Up)Beat Event—opportunities for cancer patients to enjoy special outings or occasions and spend time not thinking about treatment.
In this case, it was getting to spend time taking pictures and talking to Foundation Co-Founder and Chief Engagement Officer Joe Andruzzi. Dressed in costumes based on the popular Marvel movie franchise, 'Captain America' Joe led the charge in visiting several patients in the infusion centers at the hospital and talking with Sturdy healthcare workers—handing out JAF care packages and superhero masks to the patients who inspire us. 
Joe knows from his own cancer journey just how powerful positivity can be in helping patients through what can be the toughest times of their lives. One such patient who had a great time chatting with Joe was Brian, who was undergoing his first treatment session at the hospital.
"I've been following what you've been doing with your foundation," Brian told Joe. "Thank you for what you do. Keep it up."
Another patient who was so happy to see Joe she started to cry was Nancy. When Joe overheard Nancy was a huge fan of his, he quickly ran over to give her a big hug. Nancy's ear-to-ear smile never once went away during Joe's entire visit. The pair giggled and joked with one another while Joe autographed a photo and took selfies with Nancy. Sturdy nurses looked on with tears in their eyes as they watched Nancy and other patients forget about cancer for a little while.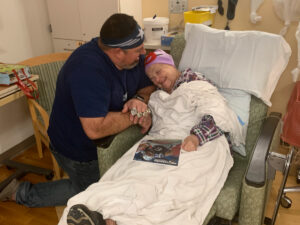 "Sixteen years ago, I was in their shoes," Joe said to WBZ News Radio. "To come in and bring some smiles and hear those two powerful words of 'thank you' that's what drives us at the Foundation."
Click HERE to read and listen about JAF's visit to Sturdy Health.
JAF extends a heartfelt thank you to Sturdy Memorial's Chief Executive Officer and President Aimee Brewer, Chief Medical Officer Dr. Brian Patel, Vice President and Chief Strategy Officer Justine Zilliken, Social Worker Case Manager Susan Therein, and the entire hospital team for welcoming us and being an incredible healthcare partner to JAF. Thank you to JAF's Assistant Director of Patient and Family Wellness, Katie Haidemenos, for organizing the visit, care packages, and costumes for the JAF team!
It was a MARVELous time to assemble the JAF team and deliver some smiles and laughs to those amid a cancer journey. Drawing inspiration from Captain America's iconic movie line – JAF likes to say that uplifting the spirits of cancer patients is something "we can do all day!"
To view more pictures of JAF's time at Sturdy Health, click HERE.