The Joe Andruzzi Foundation's 15th Annual Gala never lost its 'FOCUS' on Thursday, November 3, highlighting the cancer patients it serves and the work the Foundation does to remove financial barriers to treatment.
Patient recipients attending took center stage with their beautiful and colorful attire, while guests wore black and white. The room boasted four pillars in tribute to JAF's mission of help, hope, and reason to smile, each wrapped with patient and supporter photos and inspirational quotes. The room was a testament to the mission.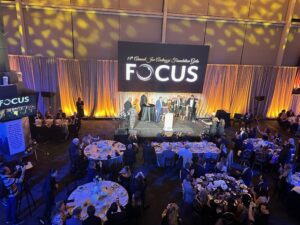 Back in person for the first time since 2019, nearly 350 guests gathered at the always show-stopping Gillette Stadium in Foxborough, MA, for a night filled with laughter, inspirational storytelling, and generosity. Supporters responded by helping JAF raise more than $880,000 that will go toward helping patients with household bills, food, transportation, extraordinary needs, and resources for self-care.
Before the Gala began, Nick "Fitzy" Stevens of WEEI Sports Radio hosted our Red-Carpet Pre-Show sponsored by ROI Communications. Everyone felt like a VIP walking the red carpet and having fun at our photo booth sponsored by OrderMyOil.com. Celebrity guests included the "Voice of the New England Patriots" Bob Socci, New England Sportscaster Jayme Parker, and former Patriots coach Dante Scarnecchia. New England Patriots Dietrich Wise Jr., Devin McCourty, Matthew Slater, and David Andrews; former players such as Pete Brock, Jonas Gray, Chris Sullivan, Roland James, Patrick Pass, Thomas Clayton, and Tully Banta-Cain (part of the NFL Players Choir!).
Special thanks to major sponsors: J. Derenzo Companies, CVS Health|Aetna, ROI Communications, Cross Insurance Agency, Granite Telecommunications, QML, The Kraft Group, Webster Bank, Zudy, and so many others for sponsoring this year's event. We are so thankful for everyone who supported the Gala and attended a night full of fun, laughs, music, fabulous auction items, and inspirational stories.
The program kicked off with Nick Stevens welcoming WCVB Channel 5 News Anchor and Gala emcee Erika Tarantal. President and CEO Jen Andruzzi shared the Foundation's accomplishments over the last year. Most notably, JAF granted more than $1 million in 2021, helping 3,700 cancer patients and their families.
And, for the third year, JAF recognized the Foundation's Game Changer Honorees – Anne Furey, Mike and Beth Huber, David Andrews, Bobby and Amanda Forrest, Susan Chaityn Lebovits – for helping the Foundation make significant strides and being among its top ambassadors.
As part of the Gala's 15th anniversary, Joe Andruzzi revisited a critical moment in the Foundation's history – its very beginnings. The audience heard from Dr. Noah Hoffman of Freeport, ME, who, many years ago, was diagnosed with non-Hodgkins Burkitt's lymphoma – just like Joe. Noah's story and call were just the inspiration Joe needed to move forward with Jen to start the Foundation.
Also featured was Emmett, a patient recipient from Jamaica Plain, MA. Emmett was diagnosed with Stage IV metastatic neuroendocrine cancer and shared his journey and how JAF's support with household expenses and food security helped him.
For the first time, members of the Foundation's Board of Directors took to the stage to make a moving appeal for support. After that, it was all Nick Stevens at the microphone (with an assist from Joe!) to lead a stellar LIVE auction and raise the paddle.
While Nick had everyone laughing in the aisles, it was the surprise entertainment to close the night that had guests on their feet! Fresh off their appearance on NBC's America's Got Talent competition, the NFL Players Choir owned the night with their performances of R&B favorites 'This is How We Do It,' 'September,' 'Can't Stop The Feelin',' and a moving version of 'Lean on Me.'
But the fun didn't end there! Guests headed to the after-party enjoying music and dancing provided by The Hess Twins.
Thank you to Well Told Design, Montillio's Bakery, and Wicked Good Cupcakes for contributing fun and delicious items for our guests to take home or enjoy at home!
JAF would like to thank our valued partners, The Castle Group, 5Tool Productions, Regan Communications, Strategy RED Sports, and The Hess Twins, for collaborating with the Foundation to make this year's Gala another production. We're also sending out gratitude to this year's Gala Committee: Linda Fernando, Lauren Olsen, Kim Oustinoff, and Kara Taverniers. And, as always, thanks to the Kraft Family and Gillette Stadium for allowing us to host our event in their first-class facilities.
To say that JAF's Annual Gala is back and better than ever is an understatement. This event came roaring back with an electric crowd and exceeding fundraising expectations. The Foundation is re-energized and ready to continue as a go-to resource for cancer patients throughout New England.
THANK YOU to everyone who attended – in person or tuned in from home! We can't wait to see you all next year!