This month, the Joe Andruzzi Foundation (JAF) took its sleigh full of cheer around the area and helped to pay it forward to cancer patients this holiday season. Joe, Jen, team members, and two of our favorite corporate partners traveled to North Attleboro, Attleboro, and Dorchester with some special surprises.
On December 15, the Foundation and Bob's Discount Furniture delivered brand new mattresses to two JAF patient recipients—Dean from North Attleboro, MA, and Adelia from Attleboro, MA.
This initiative was part of JAF's 2022 Giving Tuesday campaign to "put financial toxicity to bed ."Bob's was the Foundation's $25,000 match sponsor again this year and offered the added incentive of mattresses for patients.
Rob Ringler, a regional manager at Bob's, said the organization 'couldn't be prouder' to work in tandem with the Foundation. "[JAF's] mission of providing year-round help and financial relief to cancer patients in New England is the essence of the holiday spirit," Ringler said.
"It's the holidays, so it feels good, and it feels right," JAF CEO and President Jen Andruzzi said. "[We're] able to do something to help benefit [patients] when they're having the hardest times of their life."
"We are so grateful for Bob's and their continued partnership. Their gifts are truly bringing joy to our patients and making their days a little easier," said Joe Andruzzi, Chief Engagement Officer.
Leading the way, complete with a Santa hat, Joe and Bob's helped bring in the mattresses, as well as new sheets donated by the JAF staff, to both Dean's and Adelia's homes. The delivery was special for both patients, especially for Adelia, who had been sleeping on a blow-up mattress for months, according to her social worker.
"It's great," Adelia said. "I'm glad JAF and Bob's can help me. I'm so appreciative."
The Foundation will resume its mattress deliveries throughout New England in 2023 to eight more patients selected.
The work didn't stop there for the Foundation, though. On December 20, JAF teamed up with its friends at WaterRower to head to Dorchester, MA, to bring a custom water rower machine. The device was donated in honor of Emmett, a JAF patient recipient diagnosed with stage IV neuroendocrine cancer on Halloween 2019. While initially presented to him, Emmett gave the rower to Level Ground MMA, a gym and youth mentoring facility in Dorchester where he teaches boxing classes.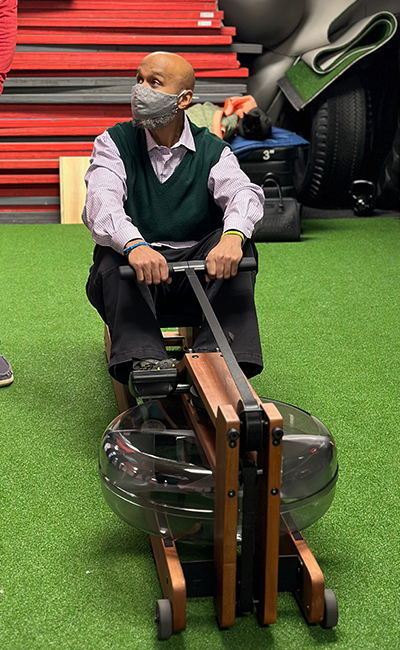 "Hearing Emmett's journey had an impact on everyone at WaterRower,"  Jamie Borges, the WaterRower representative, added. "Giving the rower to Emmett was simply a "no brainer."
Emmett's request to give the rower to Level Ground stemmed from Emmett's connection, and it would be their first new cardiovascular-focused equipment to be used plenty by students.
"It's just about love," Emmett said. "At this stage of my life, it's all about expressing and showing and giving love."
The water rower came with a special engraving recognizing Emmett and the strength, resilience, and hope he brings to people, even the students he teaches at Level Ground.
"We appreciate Emmett being here every week and coaching even despite everything he has going on," said Ali Fuller, Level Ground's founder and executive director. "He always shows up and is incredibly present to the students. We do appreciate him."
To Jen and Joe Andruzzi, Emmett's journey spoke volumes to them, even way back to the Foundation's annual Gala in November.
"I think Emmett said it best about paying it forward," Jen Andruzzi said. "He wanted to give this to Ali and the gym as assistance; it fits the spirit of the holiday season."
"WaterRower was the perfect partner this season," said Joe Andruzzi.  "Their gift embodied the health and wellness we wish for all of our patients.  They helped JAF give that to not only a patient but so many others."
When asked about the impact that JAF and its supporters have on patient recipients like himself, Emmett responded:
"Giving to organizations like the Joe Andruzzi Foundation, to dig down and think about what others are going through, that's a blessing that is multiplied."
JAF couldn't think of a better way to end 2022 than bringing comfort and joy to the patients it serves, together with the partners who give so generously to those in need.