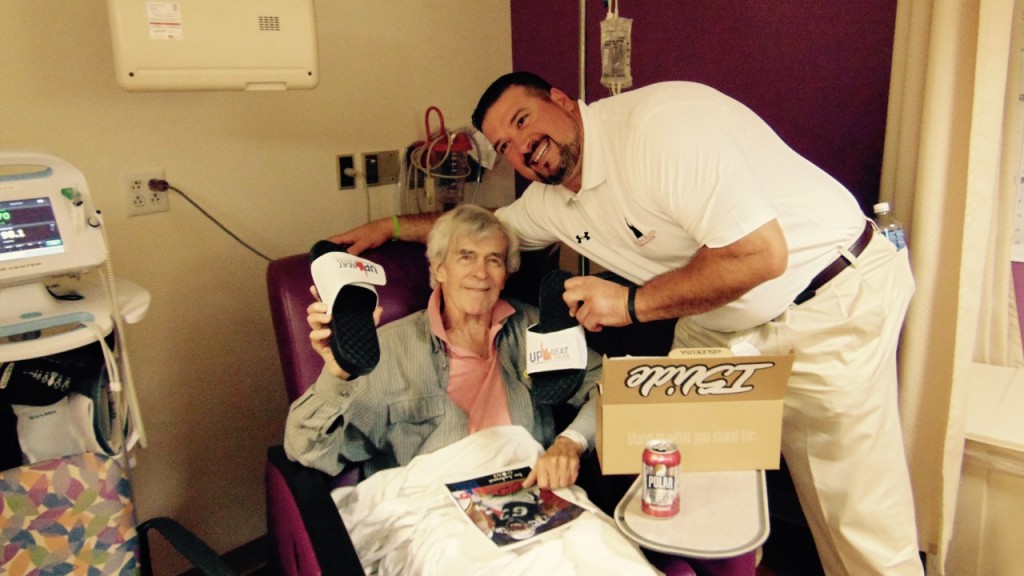 The Joe Andruzzi Foundation is blessed to be able to assist a growing number of cancer patients and their families with much needed financial and emotional support; it is always an incredibly rewarding experience to talk with a patient recipient who we have helped with a mortgage payment, or an electric bill, for example.
But one of my other favorite things to do as part of JAF is visit patients at hospitals and treatment facilities. Having been on that side, I know how important it is to stay positive throughout treatment, and that's why our foundation is so deeply rooted in our (Up)Beat Cancer mantra. Fighting cancer is such a physically and emotionally draining undertaking, and the chance to take a patient's mind off of treatment – even if just for a few minutes – is incredibly important.
This past Tuesday, June 2, I had the pleasure of surprising a group of patients receiving treatment at Beth Israel Deaconess (BID) Hospital in Plymouth – and thanks to one of our most generous supporters and a new partnership, we were able to deliver some goodies to the unsuspecting patients.
Lets rewind: in April, we were honored when up-and-coming footwear brand, ISlide, named JAF as its "ISlides4Good" charity of the quarter. ISlide partners with a new sports-based non-profit each quarter of the year, raising significant funds through sales of its popular, customizable slides.
From now through the end of June, ALL proceeds from each pair of the "(Up)Beat Cancer" slides sold will directly support JAF's mission of providing financial and emotional relief to cancer patients and families in need. In addition, $4 from any custom pair sold on ISlideUSA.com will be donated as well. You can personalize the slides with your name, or in honor of your friend or family member who has, or is currently, fighting cancer.
Thanks to an incredibly generous JAF supporter who donated 14 pairs of the slides, we were able to surprise each patient we visited Tuesday at Beth Israel Deaconess Plymouth with their own customized pair. Getting through treatment has so much to do with being comfortable, and everyone was thrilled to slip into some cozy sandals.
The visit was such a great experience, and I had the pleasure of meeting 12 incredibly strong individuals battling the disease – including, by chance, a couple JAF grant recipients – as well as two BID staff members who had previously beaten cancer. It was also great to see BID Plymouth President Peter Holden, as well as the thankless nurses at the facility – thank you for everything you do.
Getting to meet, share stories, and try on Super Bowl rings with patients is such an inspiring experience, and I'm so honored to have had the chance to do whatever our foundation can to help pay it forward. I remember my darkest days during treatment, and how important it was to experience those happy and upbeat moments.
You can check out photos of the visit on JAF's Facebook page (here) – and visit bit.ly/JAFiSlides to customize your own pair of (Up)Beat Cancer slides from now through the end of the month. Remember, all proceeds benefit JAF patients and their families – and the need is endless.
– Joe Andruzzi