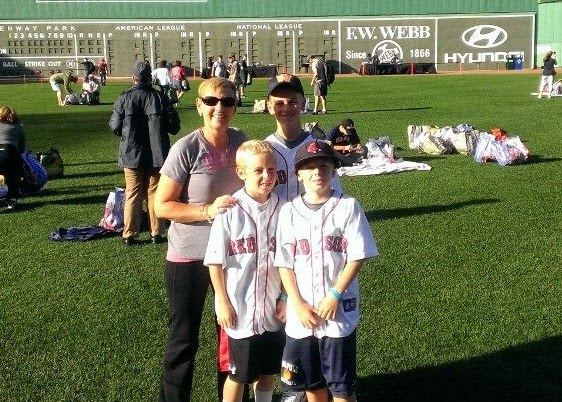 Michelle Fahey, a 45-year-old Walpole mother of four, thought she was in the clear after a mammogram in May 2011 showed no problems. Besides, life was busy with her sons, who were then all between the ages of eight and 17. Yet in September 2011, everything changed. Fahey discovered a lump in her breast.
"You put it down to, 'It must be a cyst or a bump [from being] at the beach all day boogey boarding – maybe I just hit myself'," she said with an Irish accent hinting to her heritage. "But nope. I went back to my OBGYN and she sent me to get a biopsy."
The lump, which was already the size of a tennis ball, turned out to be Stage III breast cancer. The mammogram missed any signs due to dense tissue, and the tumor was growing quickly. Fahey was told she would need a mastectomy and major reconstruction. The decades she spent waitressing and bartending to help support her family would have to be put on hold.
Thus began an almost two-year journey to battle through cancer, a grueling process that included six surgeries, four months of chemotherapy, and 35 radiation treatments. Complications and infections added to Fahey's medical woes, pushing out her recovery time, and adding higher hurdles to her path to health.
Fahey still managed to stay positive.
"Your kids will give you the strength," she said. "You want to keep them upbeat and keep their life as normal as possible."
But the reality of the situation couldn't be avoided. The bills from so many surgeries packed on additional pressure to an already stressful and frightening time. On top of the cost of Fahey's illness, the couple was dealing with a broken furnace, unexpected car repairs, college tuition for their eldest son, and emergency dental work for one of her twins.
"We were bleeding our bank account and not knowing when I could get back to work," Fahey said.
A friend whose son was also going through cancer mentioned how the Joe Andruzzi Foundation could help with some of the bills. Fahey wrote a letter to the organization, and immediately got a response.
"[JAF] mailed us a check for $700. It was huge," Fahey said. "Every bill came in at once. It was a big help to us."
Several months later, Fahey and her entire family were invited for a picnic in the park at Fenway. The day away from cancer treatments lifted the spirits of Fahey's kids, Fahey said, and was something they would never otherwise have been able to experience.
Fahey said she also connected to the organization's Up(Beat) Cancer philosophy, which encourages positivity in the face of adversity.
"Eighty percent of your recovery is mental," Fahey said. "If you can stay positive and get up every day, you can get [through] it."
Fahey's kids – now 10, 13 and 19 – have adopted the same positive outlook. They encouraged their mom to embrace the baldness that came with chemotherapy, and two of her sons will shave their heads at the One Mission Kid's Cancer Buzz Off at Gillette event on June 8 to raise money for cancer research.
Fahey is now cancer-free. She remains headstrong and positive, even though she now suffers from arthritis and osteoporosis due to her cancer treatment, will face another surgery sometime in the future and faces a 75 percent chance that the cancer will return to her bones, lungs or brain because the cancer impacted her lymph nodes.
She said she is grateful that she has been able to return to work, that her family and friends near and far have been so supportive, and that JAF stepped in to help when she needed it most.
Mostly, she's thankful for every new day.
"We have been lucky," Fahey said. "We're turning [things] around."