In JAF's line of work, we often have a front-row view of the emotional rollercoaster that comes with a patient's cancer diagnosis and treatment. We see patients (understandably) at their lowest, and we try to do anything and everything we can to lift them up. Other times, we encounter patients beaming with positivity, which can be incredibly inspiring and really puts things in perspective.
That, in essence, summarizes our foundation's "pay-it-forward" mantra – finding positivity in the darkest of situations and sharing it with those in need.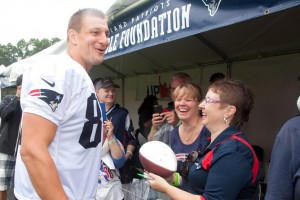 Last Wednesday was the ultimate example of the power of positivity, when the Joe Andruzzi Foundation hosted its annual Patriots Dream Camp outing – where we invite JAF recipients and local patients to take in a day of training camp with their families from a special VIP tent next to the practice field at Gillette Stadium.
Thanks to the New England Patriots Charitable Foundation, JAF patients enjoyed a fantastic afternoon taking in training camp, snapping photos, and, of course, meeting some of their favorite NFL stars.
The purpose of the event – as is the same with all of JAF's "(Up)Beat Opportunities" – is to provide patients and their families with the opportunity to leave their cancer worries behind and enjoy life's special experiences, even if just for an afternoon. This all relates back to JAF's mission stressing the power of positivity, and staying upbeat throughout a diagnosis.
And boy, was there fun to be had!
Trying on Joe's Super Bowl rings? Check. Getting an autograph from Tom Brady? Check. Taking photos with Gronk, Jimmy Garoppolo, and the entire offensive line? Check, check, check!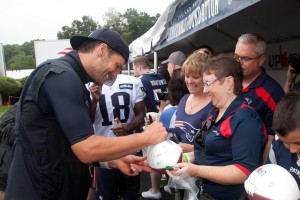 It's so much fun to see the joy on the faces of JAF patients and their families as they take it all in. In those moments, they mentally couldn't be any further away from their fight against cancer – just pure, honest, happiness.
Cherie Ashford was one of the JAF patient recipients we invited, along with her family, and earlier this week she sent us a note that truly warmed our hearts.
"I just wanted to let you know," she wrote, "yesterday was one of the happiest days for my family and I. We have not done anything fun like that since my diagnosis on July 10, 2015. I had tears in my eyes for the joy that I felt. It was great to meet the players right in front of us and have them sign that football – that is something my family and I will cherish forever. Something they can keep and remember when I am gone. Also, I would like to thank Joe for sharing the championship rings with us. Despite the rain it was an awesome day!!! Thank you from the bottom of our hearts. Love, Cherie."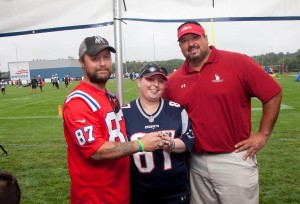 If you had to boil-down the true purpose of the Joe Andruzzi Foundation, all that would be left are Cherie's words. It's why we do what we do, and it motivates us to continue our mission of assisting as many patients as we can, emotionally, financially, or otherwise.
Cherie may have sent us a thank you note, but really we owe her – and all of our patient families – our utmost gratitude for continuing to inspire JAF and all of our supporters.
We also want to thank the Patriots Charitable Foundation one last time, along with Donna Spigarolo and her amazing team, for hosting us. We are so grateful for the support from (Up)Beat partners like you, and we can't wait to see you again next year!
– Jen Andruzzi

Check out photos from our 2016 Patriots Dream Camp patient outing on our Facebook page here: http://bit.ly/2bj89ME