The 117th Boston Marathon on April 15, 2013, is a significant and infamous day for the Joe Andruzzi Foundation (JAF) and countless others. At 2:49 p.m., an explosion occurred on Boylston Street in Boston near the race's legendary blue and yellow finish line. Just minutes later, another explosion went off, leaving chaos and tragedy in their wake.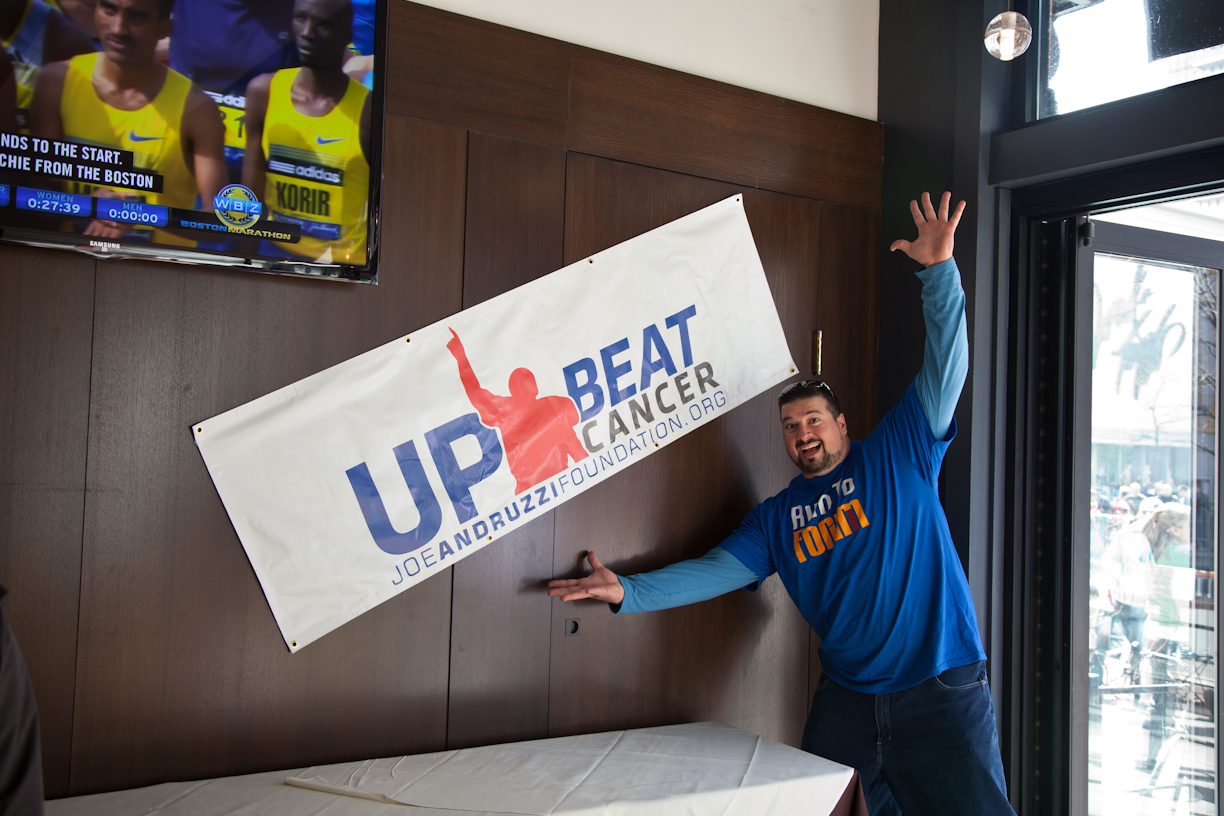 That day, JAF hosted a public watch party at the former Forum restaurant at 755 Boylston St—cheering on the Team JAF runners participating in the marathon. Gillian O'Brien, JAF's Senior Manager of Events, was then a volunteer for the Foundation who was there at the restaurant. Before the explosions, O'Brien described the day as a typical Marathon Monday.
"It was a beautiful, sunny day, and we were all out on the patio, rooting on the runners," O'Brien said. "My whole family was there at Forum too, and it just felt like a normal day of going into Boston to support the JAF runners and watch the marathon."
O'Brien and her family initially thought the jumbotron above the finish line had fallen when the first bomb went off. Seconds later, the second bomb exploded, with O'Brien and everyone around a few feet away.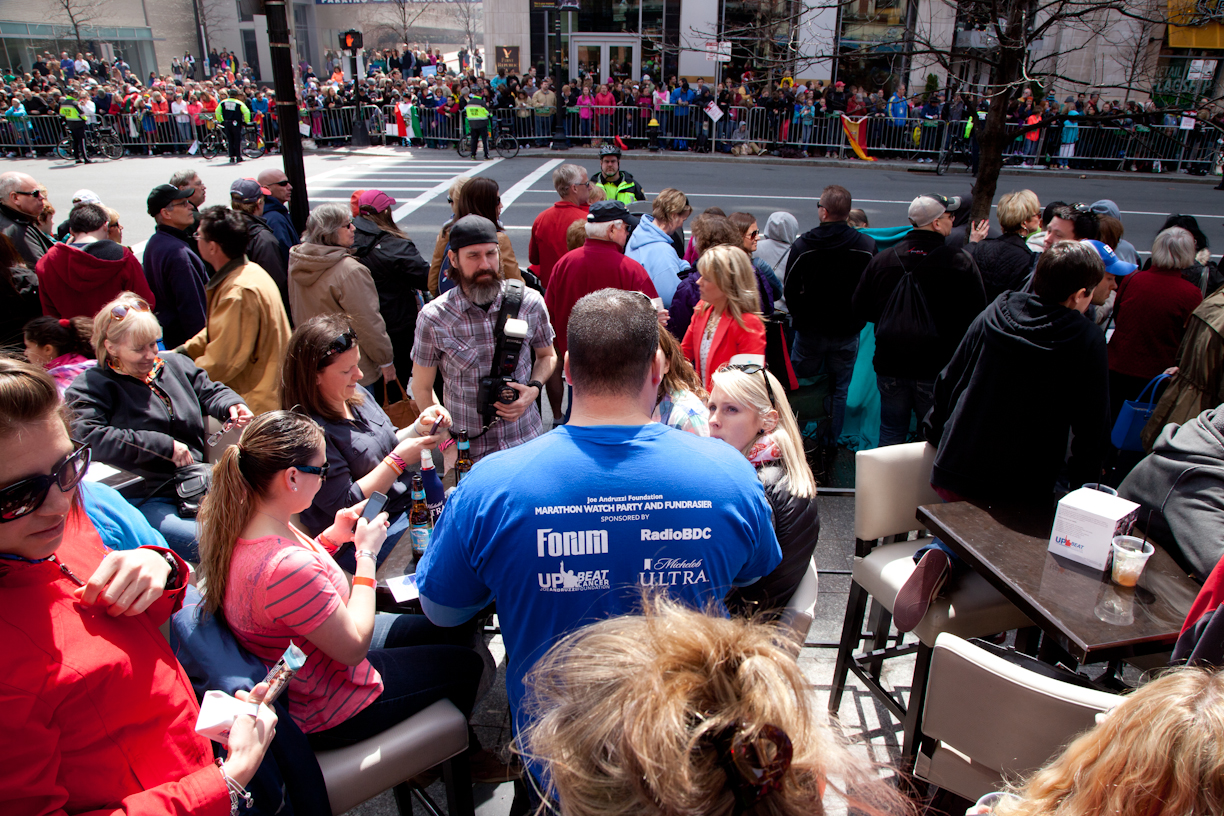 "It was just surreal," said O'Brien. "We heard a big blast right in front of us, and the last thing I really remember was being blown back to the ground and being under the charcuterie board table we'd set up and glass everywhere."
Sandy Clinton, the Foundation's Development Operations Manager, was also there that day. Being advised by police officers to get as far away as possible, Clinton remembered her and others going out of Forum's back exit and trekking to Boston Children's Hospital near Fenway Park to be picked up by a staff member's husband. All crunched together in a small sedan, they managed to get back to JAF's office and began calling runners.
"When we all got back to the office, it was 'oh my god, were any of our runners impacted?'" Clinton said. "We all sat there and called every single one of our runners to say, 'Are you okay?' We didn't leave the office until we confirmed that each runner was safe."
JAF's Chief Engagement Officer, Joe Andruzzi, described the moment as everyone's hearts jumping to their throats. That feeling stayed for the rest of that fateful week as they stayed glued to the television and scrolled through all the social media apps to stay updated on the latest developments.
Jen Andruzzi, the Foundation's President and CEO, explained that time felt like an out-of-body experience. She mentioned how even watching the movie Patriots Day brought her back to that moment.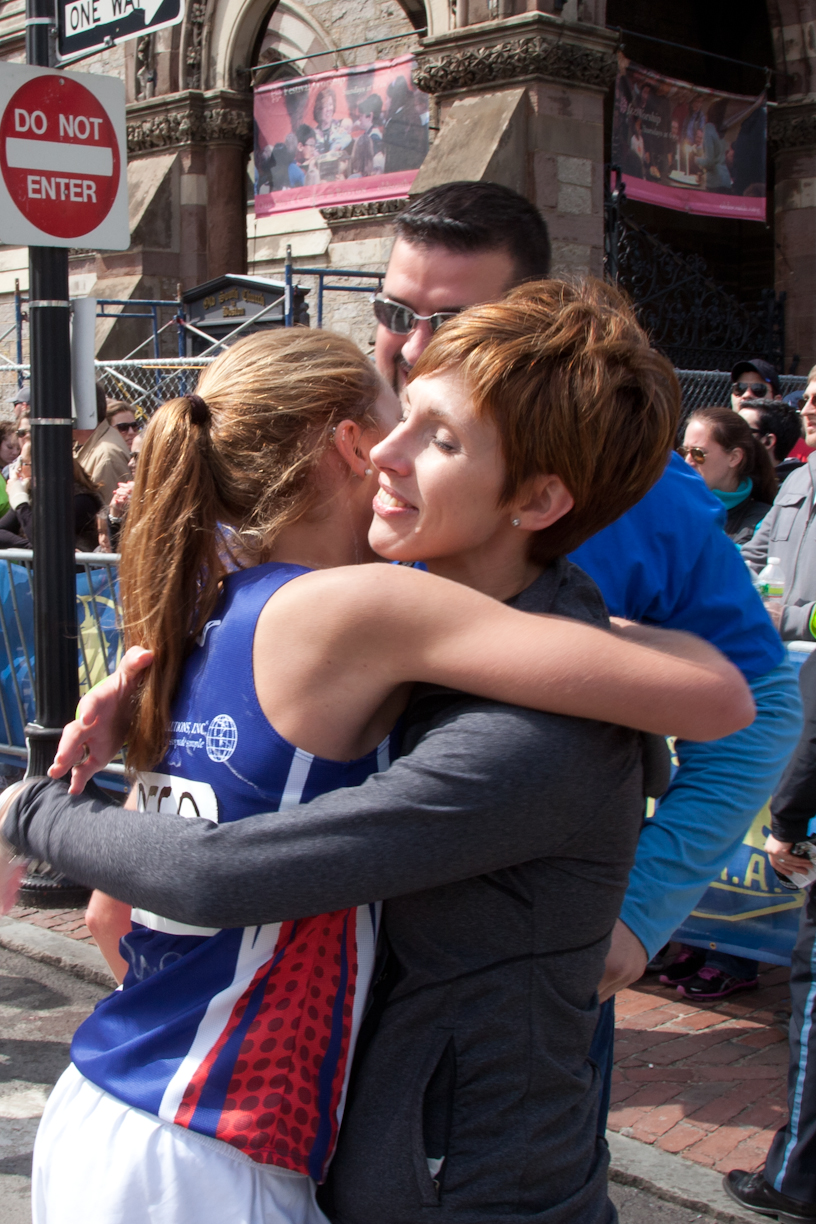 "I'll never forget watching that and seeing the live footage they used and our staff and guests right there at the patio at Forum," said Jen. "I just started bawling. That's something you just never forget and also think constantly about the what ifs of that day."
Ten years later, those at JAF who were there called for resiliency and pushing onward.
"What always comes to mind is the 'Boston Strong' message," said Joe. "As the years went on, we have gotten stronger and continue to grow our resiliency and return to the marathon route every year, cheering louder than the year before."
"We just have to continue to show that something like this – despite how horrible it was – isn't going to stop this awesome event from taking place," O'Brien said. "We remember it. We reflect on it, but we also move forward and show that we're strong too."
Despite the unfortunate tragedy that day, JAF, like many others, has and will never stop moving forward.
"Milestones can always be hard," said Jen. "But through tragedy came positive activism and beauty. Over the last ten years, I have watched in amazement what all those families and individuals have done despite their loss or injuries. They have and continue to be Boston Strong."
"For each year JAF has participated in the Boston Marathon since 2013, we do so with strength.
We choose to find positivity in the bonds we've created with our runners, past and present. While those tragic memories may linger, JAF and our runners know we must persist, and our efforts will go toward helping cancer patients throughout New England. We will always seek out the good and not let evil win," concluded Jen Andruzzi.
You can also hear more from Jen and Joe Andruzzi reflecting on the 2013 Boston Marathon from their interviews with WCVB channel five here and NBC10 Boston here.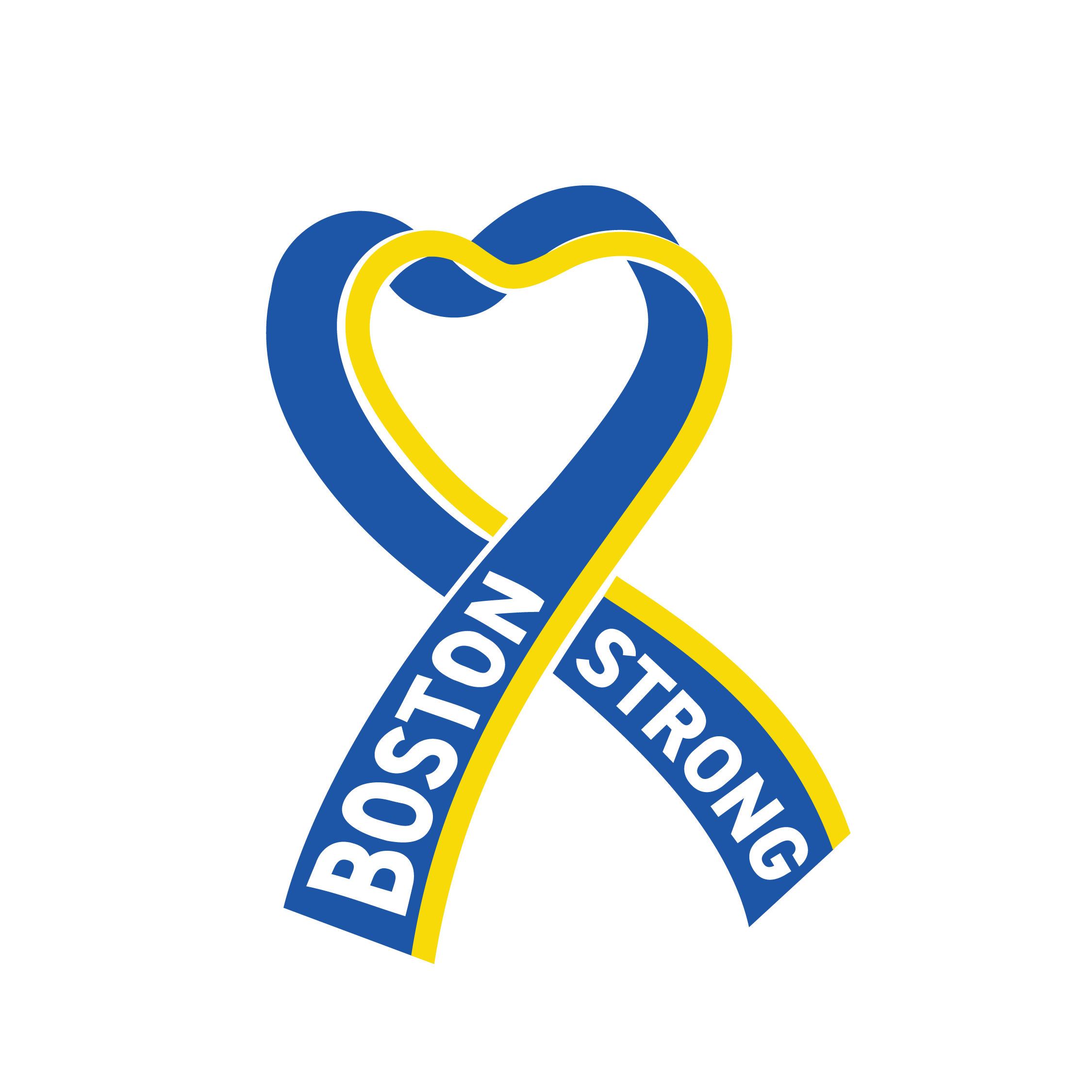 In recognition of the 2013 Boston Marathon tragedy, JAF will assemble the runners of their 2013 Boston Marathon team for the BAA 5K on Saturday, April 15. Following, the group will gather for a private brunch with their families for reflection and a moment of silence.
The Foundation remains incredibly grateful to the City of Boston's first responders and safety personnel (and beyond) on that fateful day.  The families of those impacted remain forever in the prayers and minds of the entire JAF staff and community.  #BostonStrong #OneBoston #RunBoston