You know all of those hilarious things kids say? The little wisecracks and comebacks that make us laugh out loud, that we always mean to write down? Well, we want your kids' precious quotes!
For the next month, our Foundation will celebrate the humor and wit of the children in our lives through an inspirational new social media campaign, the JAF Daily Dose (or, as you will be seeing it:
#JAFdailydose
).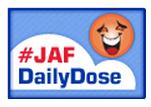 Inspired by all the amazing, resilient and funnykids Joe and I have met through our work – and in celebration of our new (Up)Beat Cancer initiative– we're aiming to collect kid quotes from all of our supporters and friends to share with our entire social community.
And for every quote submitted, our longtime sponsor Millennium Pharmaceuticals has graciously offered to donate $5 to the JAF, up to $10,000, supporting cancer patients and their families! Of course, direct donations are always welcome too!
These kids' quotes will be shared via Joe's Twitter handle –
@Andruzzi63
– and on our Facebook page every day, giving our patients, friends and supporters a "Daily Dose" of laughter and levity. Every week, Joe will also choose his favorite "quote of the week," which we'll highlight on
Facebook
and through our
Foundation's main Twitter feed
(@joeandruzzifndn)
using the hashtag #JAFdailydose.
At the end of the campaign, all quotes will be compiled into a special book just in time for our fifth annual
Celebrities Tackle Cancer Gala
– at Gillette Stadium on December 3 – our Foundation's biggest fundraising event of the year.
We're so grateful to Millennium for funding this fun new initiative, and to our friends at Digitas, the creative brains behind #JAFdailydose. Keep an eye out for their handiwork – via a fantastic MBTA ad campaign – as you ride and visit commuter rail stations throughout the next month!
Helping kids and families cope with pediatric cancer has long been a centerpiece of our Foundation's mission. Joe and my first major philanthropic effort, establishing the CJ Buckley Brain Cancer Research Fund, grew out of our strong attachment to a young friend suffering from pediatric brain cancer, and our desire to help others beat the disease.
When Joe was ill, he drew inspiration from CJ and all the brave kids he'd visited during his football career. He particularly loved how they managed to keep a sense of humor, even under the most painful of circumstances. The tenacity and innate joy in the children we've met over the years continues to permeate everything we do at JAF. And it's the driving force behind (Up)Beat Cancer and #JAFdailydose.
So, here's your personal invitation to laugh with us every day, on Twitter and Facebook. Keep your ears open and send us those hilarious quotes from the children in your lives; every tweet and post will help us reach our goal.
No matter what you're facing – cancer, or something less serious – we all know laughter is the best medicine. We're looking forward to administering some healthy doses this month!
–
Jen Andruzzi