Two-hundred Joe Andruzzi Foundation supporters walk into Raffael's Walpole…
While that may sound like the set-up to a joke, it accurately sets the scene for last Wednesday's Third Annual (Up)Beat Comedy Night fundraiser, presented by Bob's Discount Furniture! We're thrilled to announce that the evening, headlined by funnyman Lenny Clarke, raised $30,000 in
support of JAF's mission!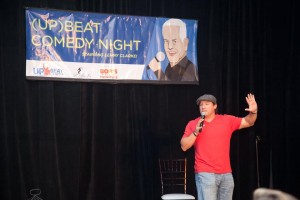 As many of you know, our Foundation is dedicated to providing assistance to cancer patients in need
to help with household bills and utility payments – but aside from the financial help, we also aim to spread our (Up)Beat Cancer mission.
When Joe was sick, almost a decade ago now, he realized just how important it is to stay positive through the most difficult times. We've always believed that laughter can truly be one of the best medicines to help fight cancer's emotional burdens, and, from there, our annual comedy night was born. Bringing people together for a night of laughs – including some of our former patient recipients – is always such a joy, and we are continually blown away by the kindness of our constituents who come out to support our events.
There are so many people we'd like to thank for making the event possible, including:
Bob's Discount Furniture and Ted English, our presenting sponsor for the evening. Your generosity is inspiring, and we could not be happier to have you in JAF's corner;
Raffael's in Walpole and co-owner Joe Bartucca, who once again generously donated the space for us to host the event (and two amazing auction items!). Joe's staff was impeccable, as always, and we can't thank everyone at the venue enough for their hospitality;
Carroll Adverting, who donated the billboard ads on Route 1 to help us spread word about the event; AV Presentations, who helped run A/V for the show; and, our committed volunteers who donated their time;
The incredibly funny comedians, including Johnny Pizzi, Artie Januario, Brad Mastrangelo, Graig Murphy, Dave Russo, and Christine Hurley. Thank you for volunteering your time to make us laugh!
And, of course, Lenny and Mike Clarke, who curated the comedians for the night and put on an amazing show. Our sides still hurt from Lenny's set –
and he, and his brother, Mike, have been such remarkable supporters of our Foundation for years. We can't thank you both enough for all of the time you dedicate to JAF in support of our mission!
If you couldn't make it out to the event, check out the photos on our Facebook page (here). And, one more time: THANK YOU to everyone who came out to support the event. We can't wait to laugh with you all next year!
– Jen & Joe Andruzzi