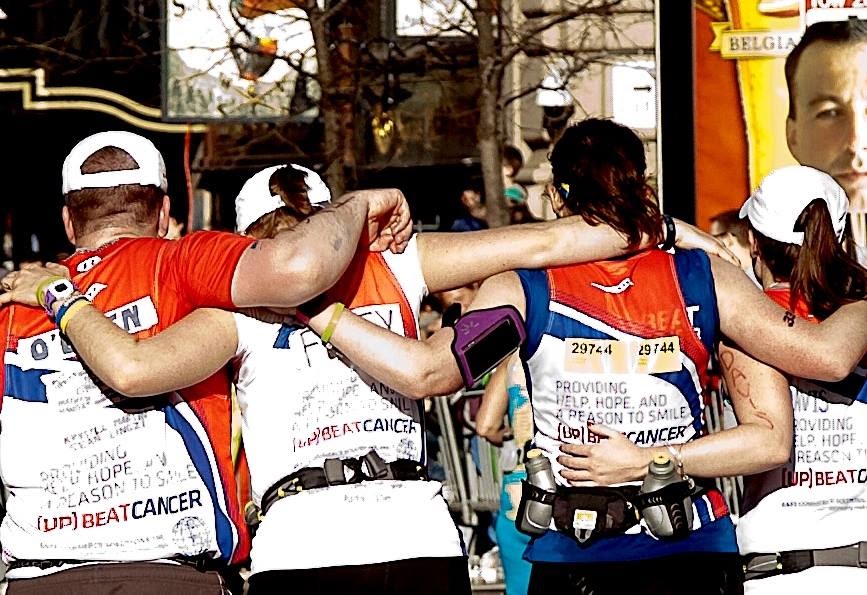 What a fantastic year it has been!
Each and every year seems to bring new milestones and accomplishments to the Joe Andruzzi Foundation and 2014 was no different. We are so very thankful for the continued generosity of our supporters, which allows us to help cancer patients and their families with everyday expenses so they can focus on their treatment.
It's hard to narrow down all the great moments the Foundation experienced to a top 10 list, but that's precisely what we've done!
1. Boston Marathon 2014: We returned to Forum restaurant to cheer on 47 Team JAF runners as they crossed the finish line, including Erin Chatham who ran the final mile with 2013 Marathon bombing survivor Heather Abbott. It was an inspirational and emotional day, and we couldn't have been prouder of our team!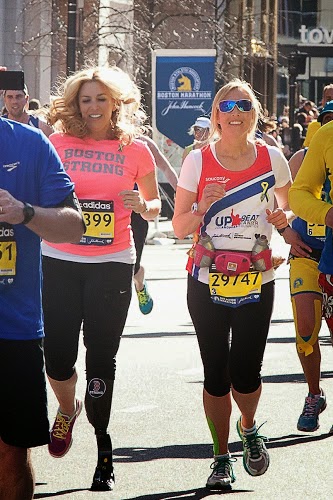 2. Inaugural (Up)Beat Comedy Night: A big thanks to Joe Bartucca at Raffael's in Walpole and to the comedians who gave us yet another reason to smile during a hilarious night of fundraising, which brought in a whopping $16,000 for the Foundation.
3. Sixth Annual Joe Andruzzi and Friends Golf Tournament: Generosity finished first at our annual golf tournament this summer, when we raised over $250,000. Two of our golfers were beneficiaries of JAF, which made the event all the more special. Our guest speaker was the inspiring JAF patient Michael Walsh – throughout two bouts of cancer, 12 cycles chemo, and 22 cycles of radiation, he has remained amazingly upbeat.
4. (Up)Beat Outings: This summer was packed with adventurous and (Up)Beat Outings that let patients leave their worries behind for a while. Thanks to Boston Harbor Cruises, we held our fifth annual Joe Andruzzi Foundation Codzilla Thrill Ride. And with the help of the Patriots Charitable Foundation, three cancer patients and their families and three JAF grant recipient families enjoyed Dream Camp – an action-packed morning that provided an up close and personal experience at Patriots training camp at Gillette Stadium.
5. The 42nd Annual New Balance Falmouth Road Race: In August we fielded our largest team to date (84 runners!) for the Falmouth Road Race. New JAF runner Brigid O'Connor, a radiation oncologist at the Cancer Center at Beth Israel Deaconess Medical Center, had witnessed the positive effect the Foundation has on cancer patients she treats and decided to join the team.
6. Third-Party Events: Through our third-party fundraisers, like this year's Run Like A Maverick Road Race, we are able to spread our upbeat philosophy and raise funds for patients in need. With immense support, we were able to raise over $100,000 for the Foundation this year. We are so appreciative of these efforts and do all we can to support them all year long. Keep them coming!
7. Partnerships: We are so thankful for our great corporate partners: National Grid, which will support Points for Patients throughout the NFL playoffs for the third year in a row; Honey Dew Donuts, which helped raise more than $39,000 during our fall #CupOfJoe campaign; and Alex and Ani, which developed a "Positive is How I Live" bracelet specifically for the Foundation. JAF receives 20% of the proceeds for every bracelet sold!
8. Be Bold, Be Bald! Sullivan Strong: In October we surprised fifth grade teacher and breast cancer survivor Colleen Sullivan with a "Be Bold, Be Bald" celebration in her honor. Colleen described the event as "the most wonderful and touching of maybe my whole life." And to top it all off, the event raised close to $2,500 for JAF – thank you, Team Sullivan Strong!
9. Gratitude Gala: In November, we raised a record-breaking $900,000 at our annual Gala, held at the Putnam Club at Gillette Stadium. Our special keynote speaker, the Honorable Mayor Boston Martin J. Walsh, shared his own story of recovery from cancer. Take a look at the fantastic video we shared at the event courtesy of Alex and Ani.
10. Healthcare Partners: We are so grateful for the opportunity to work with so many wonderful cancer institutions and their staff, who have helped us assist a record-breaking total of 1,465 patients and their families. We look forward to helping even more in 2015!
Wishing all the best and a happy New Year!

– Joe and Jen Andruzzi