Just last week the Joe Andruzzi Foundation said goodbye to our "Positive Is How I Live" ALEX AND ANI charm bangle – which launched in 2013 to represent Joe's positive approach to battling cancer, with 20% of all sales being donated to the Joe Andruzzi Foundation. Over the course of nearly four years, donations from the bangle allowed JAF to assist nearly 700 patients and their families battling cancer.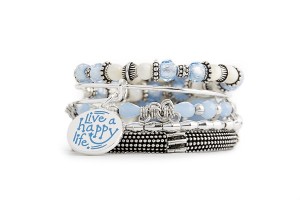 While we were sad to see the bangle go, it's "retirement" came for a good reason – the Joe Andruzzi Foundation is teaming up with ALEX AND ANI once again to introduce a new CHARITY BY DESIGN piece: the "Live A Happy Life" Charm.
JAF's new Charm represents an idea deeply embedded within our foundation: Hope.
The path to living a happy life is inherently paved with hopefulness, and the journey offers no shortcuts. Hope cannot be fabricated or counterfeited – it is manifested in only those who first believe in its existence. You can find hope and you can give hope; we must always remember: as long as hope exists, the road to a happy life awaits. 
The "Live A Happy Life" Charm is available in-stores and online (here) TODAY, and ALEX AND ANI will once again be contributing 20% of the purchase price from each Charm sold, with a minimum donation of $25,000 between now and December 2017, to the Joe Andruzzi Foundation to provide help, hope, and a reason to smile for cancer patients and their families by contributing financial and emotional support when it is needed most. 
To help kickoff the launch of the new Charm, Michelle Calado – a JAF grant recipient and mother to a young cancer survivor – penned a guest-blog on what "Living A Happy Life" means to her. We hope you will take a moment to read Michelle's powerful words (here) which highlight just how impactful the funds are that JAF is raising with ALEX AND ANI.

Want to be one of the first to see the "Live A Happy Life" Charm in person? Join Jen, Joe, and the Foundation at the ALEX AND ANI Patriot Place (Foxboro, MA) location on Tuesday, March 7 (6:00 PM) for the official release event. (To confirm your attendance, please email 
rsvp@alexandani.com with "LIVE A HAPPY LIFE" in the subject line)
Until then, keep an eye on our social media channels and the #LiveAHappyLife hashtag for updates this week!
Finally, on behalf of our entire organization, I'd like to extend an enormous thank you to ALEX AND ANI. Their commitment to our Foundation is continuing to help cancer patients and their families discover the incredible power of hope and living a happy life. We can't wait to see where this latest journey takes us!
– Jen Andruzz, Executive Director