Are. You. Ready. For. Some. Football?
We certainly are!
The Joe Andruzzi Foundation is once again teaming-up with premier retirement services provider Empower Retirement for year two of our "Goal Line Giving" partnership – where Empower has pledged to donate $100 to JAF's Financial Assistance Program for each point New England scores on the football field throughout the upcoming NFL regular season.
As you may already know, the Joe Andruzzi Foundation's Financial Assistance Program provides one-time grants to New England cancer patients and their families in active treatment, allowing them to focus on what is most important: getting better. Specifically, the program is designed to assist patients with rent/mortgage payments, utilities, and other household expenses. JAF aims to serve as many patients as possible by continually growing its ability to meet the needs of families across the region.
Through the Goal Line Giving campaign, New England points scored on the football field will allow the Joe Andruzzi Foundation to support families in numerous ways, such as:
Touchdown

 (6 points = $600) – equivalent to JAF assisting with a patient's rent/mortgage payment

Field Goal

 (3 points = $300) – average cost of JAF assisting with a patient's car/automotive payment

Safety/2 Pt. Conversion

 (2 points = $200) – cost of a patient's monthly gas bill

Extra Point

 (1 point = $100) – helping the Foundation assist with a patient's phone or electric bill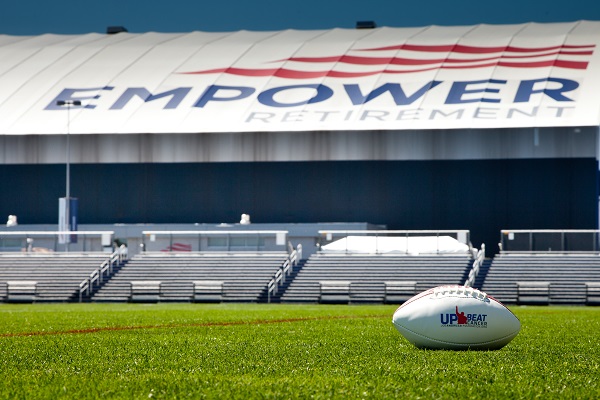 We are so privileged to be uniting with such an incredible and generous company again. Last year, Empower generously donated $50,000 towards the Goal Line Giving campaign, and we're hoping to reach that goal again in 2017!
Over the past year-plus, we've gotten to know Empower's President Ed Murphy, and it has been inspiring to hear about his passion for helping communities in need around New England and beyond. Ed, and the entire Empower Retirement family, share our vision for solving the financial distress facing so many families today, and joining forces allows us to reach even more patients fighting cancer.
Starting with tonight's opening kickoff against Kansas City and continuing all regular season-long, be sure to follow along with the Joe Andruzzi Foundation's social channels using the #GoalLineGiving hashtag – JAF's Twitter account will be live-updating fundraising totals as each point is scored during games this season. And don't forget to check in with our partnership page throughout the season as we update our Goal Line Giving scoreboard each week!
Lastly, we want to send another HUGE THANK YOU to Empower Retirement for once again supporting the Joe Andruzzi Foundation's mission. Join us in showing our appreciation by thanking them on social media using the #GoalLineGiving hashtag!
We're looking forward to an incredible season on the field – let's hope for plenty of touchdowns tonight and beyond!