Joe donned the number "63" as a three-time Super Bowl winning member of the New England Patriots – so when we realized the Joe Andruzzi Foundation had 63 "Team JAF" runners on its 2017 Falmouth Road Race squad, it became obvious that something special was in the air.
Months of training and fundraising culminated in Woods Hole on Sunday, August 20, 2017, when Team JAF runners completed the 7-mile, scenic Cape Cod race – raising, to date, more than $100,000 for JAF along the way. Despite humid temperatures reaching close to 80 degrees by start time, our runners ran with determination, drive, and of course an (Up)Beat attitude – we can't thank them enough for all they have done in support of JAF's mission.
The 45th annual race not only marked JAF's sixth consecutive year fielding a fantastic team for the event, but it also pushed Team JAF's all-time Falmouth fundraising total past the half million-dollar mark since we started participating in 2012. This alone has allowed us to provide hundreds of JAF cancer patients and their families with financial assistance grants to help pay rent/mortgage bills, utilities, and other household expenses.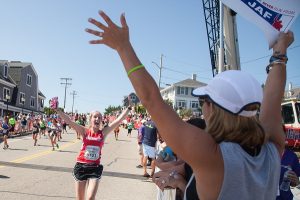 A special shout-out is due to our top five fundraisers who went above and beyond the minimum donation: 1) Erin DeStefano, 2) Cheryl Bergman, 3) John Belardo, 4) Patrick Sullivan and 5) Katie Kantrowitz. Hats-off to father/daughter duo Chuck and Gillian Furey as well, who teamed up to raise over $5,000 through their joint-fundraising campaign. It was truly a superhuman effort by all of our runners, and the Foundation and the families we support thank you from the bottom of our hearts!

After the race, we were fortunate to gather our team once again at the Kelley family's beautiful back yard for a celebratory barbeque, where our runners were joined by their families and friends to decompress and celebrate all of Team JAF's hard work. Everyone also had the chance to hear from cancer survivor, JAF grant recipient, and 2017 Team JAF Falmouth runner Dawn DeLuca, who shared her personal journey and stressed the importance of the funds her fellow teammates had raised for JAF. We want to send a big hug and thank-you to Dawn and the amazing Kelley family for once again hosting us!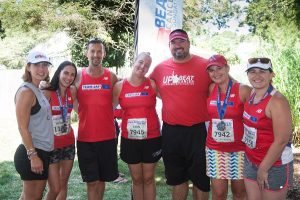 Our immense gratitude also goes out to our amazing partners and supporters that made Team JAF's 2017 Falmouth campaign possible: Falmouth Road Race staff and volunteers for another flawlessly run event; FRR's Numbers for Nonprofits Program for granting us bibs for the race; New Balance, for our awesome singlets and hats; our Team JAF cheer groups who lined the race course, giving our runners an extra boost; and everyone who helped put the post-race party together, including Patty Kelley, the Sausage Guy, Pepsi Co., Carvossa Disposal, Busy Bee Jumpers & Tents, United Site Services, and JAF's amazing staff and volunteers! We can't thank you all enough!
Last, but certainly not least, we want to send a GIGANTIC thank you to our incredibly generous friends and supporters at Yasso – and not just because they make the world's most delicious frozen Greek yogurt bars. (Try the Sea Salt Caramel bar, by the way…it will change your life)
We met Yasso Co-Founder Drew Harrington at the Super Bowl this past February, and we immediately hit it off. Joe and I were instantaneously awestruck by Drew's passion for the brand and desire to give back to the region he grew up in. It was there in Houston that Drew told us that he and his Co-Founder Amanda Klane wanted Yasso's own 2017 Falmouth Road Race team to fundraise in support of the Joe Andruzzi Foundation. The fundraising numbers are still being tallied, but in the meantime, we want to send Drew and the entire Yasso family another HUGE thank you for believing in our mission. Your support means the world to us and the patient families JAF serves.
Still want to make a contribution to Team JAF or an individual runner? Fundraising pages will be accepting donations through September 18 at: http://bit.ly/jaf17frr (Click here to see if your employer has a matching gift program)
Couldn't make it to Falmouth for the race? Check out photos from the day on our Facebook page here.
And, once more – thank you to our amazing runners: we could not be more thrilled to have you as ambassadors of our foundation, and all that you do to further our mission. The sacrifice and commitment you have made for those in need is inspiring, and perfectly mirrors our mission.
See you next year!        
– Jen Andruzzi