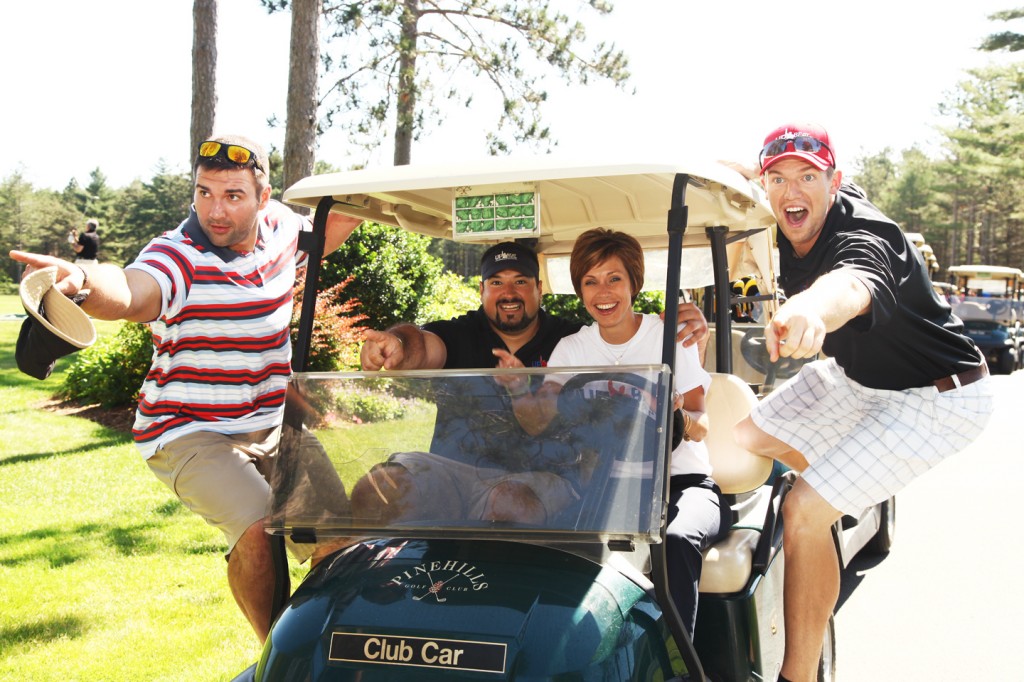 Results are in! The Fifth Annual Joe Andruzzi & Friends Golf Tournament was an amazing success, setting a new fundraising record of $278,000. From gut-busting laughs to tears of admiration, our attendees had the chance to experience it all during an incredible day out on the links.
As the golfers began to pour in, you could tell it was going to be a spectacular event. The sun was beaming, the golf club was buzzing with anticipation, and off in the distance you could hear the distinct thwack of golf balls soaring away from the driving range, the day's golfers likely imagining the bragging rights that would come with winning the tournament. The winners would have the opportunity to boast to friends and family that they beat the likes of famous Patriots such as Vince Wilfork and Julian Edelman. Quite an accolade – even if the win was only for a round of golf.
And boy, did our golfers get the chance to compete with New England athletes. Aside from Wilfork and Edelman, other current Patriots golfers included tournament co-hosts Zoltan Mesko and Rob Ninkovich, as well as Dan Connolly, Nate Solder and Ryan Wendell. Other Patriots Alumni joining myself on the scorecard were Peter Brock, Tedy Bruschi, Vernon Crawford, Ronnie Lippett and Andre Tippett, among others. Hall of Fame Sportscaster Lesley Visser emceed the evening's festivities, which drew comedian Lenny Clarke and Ken Casey of the Dropkick Murphy's. A big thank you to these folks and the many more who turned out in support of the Foundation!
This year's tournament had, by far, our largest ever field of golfers. We were overjoyed to host the event at the Pinehills Golf Club in Plymouth, Mass., where the Club's two 18-hole championship courses allowed 50 foursomes, some 200 golfers total, to compete throughout the day. Although many of our golfers – both the celebrities and our self-proclaimed golfing enthusiasts – spent much of the day scanning the course for errant shots, the round was nonetheless competitive.
Of course, this fantastic turnout of celebrities, golfers and friends of the Foundation would not be possible without the support of this year's participating sponsors. They are key to ensuring that the Joe Andruzzi & Friends Golf Tournament is a success, and this year they helped to drive that incredible fundraising amount of $278,000, a $75,470 increase compared to last year's total. We would like to express our deepest gratitude to this year's sponsors, especially our 2013 presenting sponsor Credit Unions Kids at Heart, as well as our premier participating sponsors: Millennium: The Takeda Oncology Company, Team Impact, Bob's Discount Furniture, The Home Depot, Randstad Technologies, Majestic Construction, East Commerce Solutions, Inc., Honey Dew Donuts, Peter Zampine, Hobbs Brook Management, LLC, Behavioral Concepts, Inc., Citizens Bank, State Street and Nickerson PR.
While the day's round of golf was great, our evening speaking program was truly reflective of our (Up)Beat

 

philosophy. Aside from the great food, drink and company that we all shared, we had the privilege to hear from two inspirational friends of the Joe Andruzzi Foundation.
First up was Jackie Mullen, a 6-year-old cancer survivor and unofficial cheerleader of the Foundation. During the tournament, Jackie operated what has become known as "Jackie's Lucky Ladybug Lemonade Stand," serving up refreshing beverages and applying "shimmer-glimmer" tattoos to willing golfers. Jackie donated the entire proceeds from the day's lemonade sales to the Foundation. We couldn't be more appreciative of her (Up)Beat attitude and her commitment to give back to a cause that assisted her family in their time of need. Thank you Jackie, and thank you also to her parents, Julie and Steve.
After Jackie made her donation we heard from Tim Conners, a New York resident, cancer survivor and Foundation "(Up)Beat Hero." Jen and I first met Tim in 2010, on a patient visit to Boston Children's Hospital. Tim was receiving treatment for T-cell acute lymphoblastic leukemia, a disease that would eventually take his vision and require him to spend a year in isolation as his immune system recovered. As Tim spoke of his battle with cancer, he explained that "cancer took his sight, but not his vision," and described his goal of being completely independent when he attends Ithaca College next year. Tim's story, which epitomizes the (Up)Beat philosophy of the Foundation, left not a dry eye in the house. Thank you Tim, for sharing your story and being an inspiration to all those who are fighting a similar battle.
When we hear the stories of patients like Jackie Mullen and Tim Conners, we are energized to provide more support – to fundraise in greater amounts and spread our (Up)Beat rallying cry to as many patients and their families as we can. The results and success of the Fifth Annual Joe Andruzzi & Friends Golf Tournament will help us do just that. Once again, thank you to all our golfers, supporters, sponsors and volunteers who made this event an outstanding success – we couldn't have done it without you.