What are your plans for the evening of November 7? Purchase your tickets now for the Fourth Annual New England Celebrities Tackle Cancer Gala.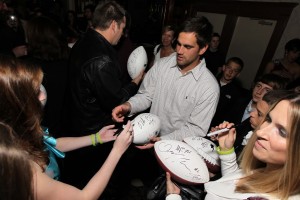 There are so many reasons to join us. Learn more about the Joe Andruzzi Foundation's contribution to brain cancer research and a perspective on survivorship. This also is a great opportunity to purchase a football and get it signed by attending celebrities. Perhaps you would like to contribute by bidding on one of the amazing auction items. Maybe you don't have a specific reason and that's fine, too.
Tickets are limited and must be bought in advance; BUY NOW. For more information, please call 774-284-4694 or email events@joeandruzzifoundation.org. By attending this event, you will help us support more cancer families in need. Joe and I are looking forward to seeing you at Christina's!