For years, many of our Team JAF runners, returning and new, have shared a single motivating factor: the drive to help aid the patients and families touched by cancer. This year however, many of our runners are also motivated to return to Boston by the memory of what happened last year. Some are looking to start fresh, while others are driven to finish what they started.

For returning JAF runner, David Roche, his motivation is stronger than ever before. While David was stopped just one mile short of his 26.2 mile goal last year, he isn't motivated by personal goals. Rather, David will run this year for the same reason he ran last year, to help raise money for families and loved ones battling cancer. He will also run in memory of everyone who lost their lives last April. David's giving spirit represents everything we stand for at JAF, and we are so proud to welcome him back for a second year.

With these powerful and selfless motivators at his back, we are sure that David will succeed in his goal and cannot wait to see him cross the finish line this April!

Click here to help David meet his fundraising goal!

– Jen Andruzzi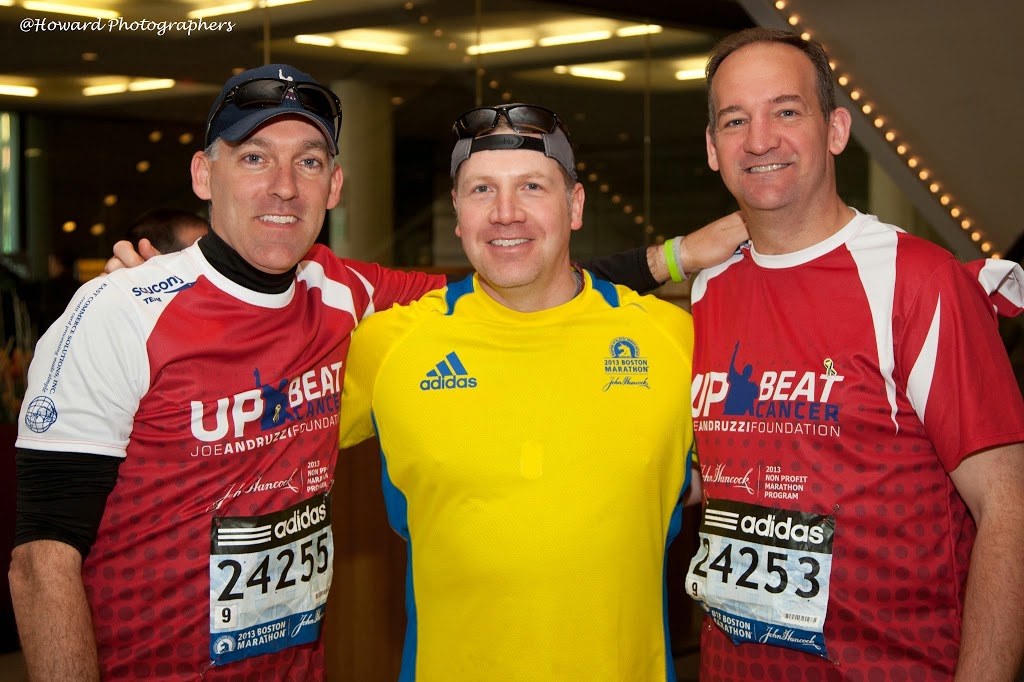 MEET DAVID ROCHE

HOMETOWN: Mansfield, MA
OCCUPATION: Broadband Technician at Norwood Light Department
FUNDRAISING GOAL: $5,000
JAF: Did you complete the 2013 Boston Marathon?
David: No, I was stopped at mile 25.2 in Kenmore Square.
JAF: What inspired you to return for the Joe Andruzzi Foundation Marathon Team this year? How did you originally find out about Team JAF?
David: The obvious answer one would think is because I did not finish my first marathon last year, but raising money for families that have loved ones battling cancer is still my main motivational factor. Secondly, I want to finish the marathon in memory of those who lost their lives as a result of what happened last year, as well as those affected both mentally and/or physically on that day.
JAF: What was it like being part of the 2013 Team JAF Boston Marathon team? Any inspiring stories you'd like to share?
David: It was truly amazing! It was a life changing experience. There are bonds I've made that will last a lifetime. There are many inspiring stories that came to light last year, but the one that personally sticks out in my mind was the kindness of one of my donors. I raffled off a 32" flat screen TV as part of my fundraising. A friend of mine that won the TV donated it back to JAF and it was awarded to a 21 year old cancer patient. If that does not inspire you, I'm not sure what will!
JAF: What's your marathon fundraising goal? How do you plan on reaching that goal? How does it differ from 2013?
David: I would love to try and raise $5,000. It is my same goal from last year, but with all of the inspiring stories- it will hopefully help me raise more. I have already had one fundraiser and I plan on reaching out to more potential donors personally.
JAF: How's training going? What is your regimen?
David: Training is going great. We have a great group of charity runners that love to support each other. I only run 3 times a week, including our long run on Saturdays, followed up with one strength training day. I have tried my hand at yoga this year as well, which is proving to be very helpful.
JAF: What are you doing to fundraise this year?
David: I did football squares on Thanksgiving again this year. I am reaching out to as many people as possible for any donations large or small. Any amount counts.
JAF: Anything else you'd like our supporters to know about you or your family heading into the 2014 Marathon season?
David: I am extremely humbled by all of the support of my friends and family. I appreciate the support and the kind gestures and words from all of them, but I also wish my immediate family to be recognized as well because they are going through this with me and none of this would be possible without their love and support and most of all, their understanding, especially when I cannot be with them because I am away from them training.
TO READ OTHER TEAM JAF RUNNER PROFILES, VISIT:CLICK HERE