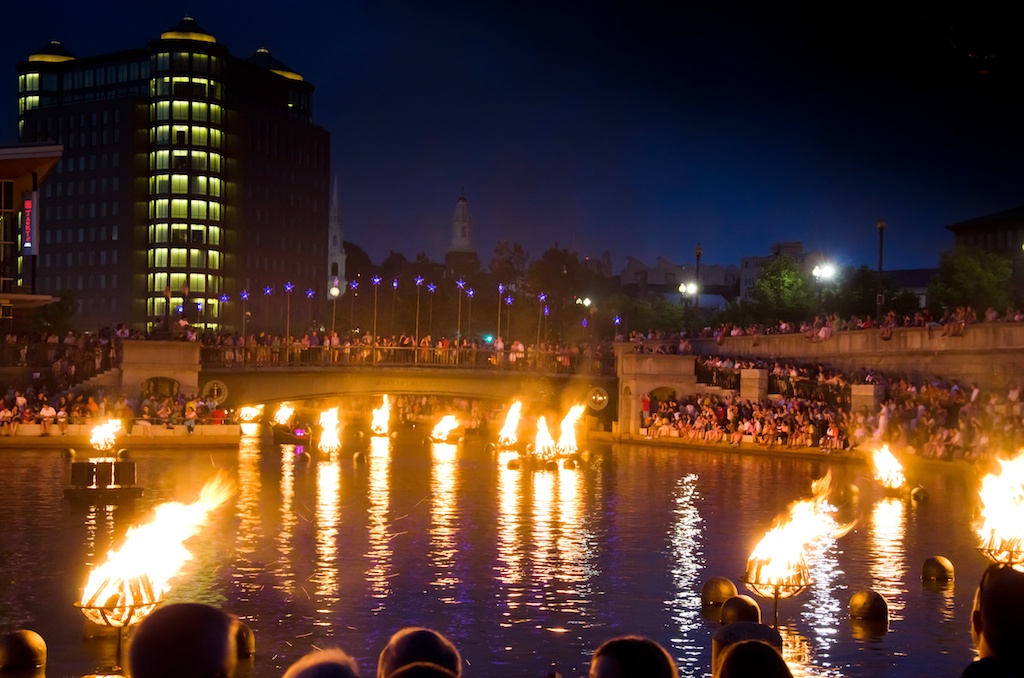 As the summer turns to fall, the Foundation heads to Rhode Island to celebrate our first major fundraising initiative in the state –
WaterFire Providence.
For the uninitiated, WaterFire is an elaborate night-time display of sparkling bonfires lit atop Providence's three rivers. But it is so much more than that. Those who have attended WaterFire know well the warmth and positive energy that a lighting exudes – it is an inspirational display, an amazing evening that brings hundreds of thousands of people together to creatively transform Rhode Island's capital city in celebration. It folds art, music, food and culture into one fantastic party. We have always admired the spirit of WaterFire and couldn't be more excited to announce our participation as a season sponsor of WaterFire Providence on Saturday, September 21.
We invite supporters of the Foundation to join our private "Mardi Gras Celebration" reception, to be held on the Washington Street bridge in nearly two weeks time. A WaterFire lighting is equal parts beautiful and inspirational – making it the perfect setting to spread the Foundation's (Up)Beat philosophy. The Mardi Gras theme will help us to embrace the night's atmosphere – so be sure to don your best mask as you join Joe and me, members of our staff, patients and their families and close friends in kicking back in support of the Foundation and the many that we help. There will be delicious food and drink, an amazing silent auction packed with in-demand sports tickets and other goodies, accesorize yourself stations, great company and entertainment, and of course, the 100 sparkling bonfires in downtown Providence.

 
This WaterFire sponsorship would not be possible without the support of our partner, East Commerce Solutions, Inc. We are so grateful for their continued support as we look to further extend our impact in Rhode Island. Since 2012, the Foundation has provided $101,250 in financial assistance to 138 patients families either living in or receiving treatment in Rhode Island. Just this week, Joe and I spent time visiting patients at Providence's Hasbro Children's Hospital,
spreading the (Up)Beat philosophy to those going through a difficult time.
It is our hope that, through the success of this WaterFire celebration we will be able to further increase our impact in Rhode Island in the months and years to come. We hope that you'll join us as we help to keep the Foundation's fires burning.
If you are interested in attending the WaterFire Mardi Gras Celebration or becoming a corporate sponsor for the event, please
visit our website.