With Marathon Monday right around the corner, first-time Team JAF runner, Laurie Ruegamer, is keeping it in the family—the JAF family that is—when it comes to her motivation during the last few weeks of training. This is Laurie's first marathon, but her history with the Foundation, and with our family, reaches back over a decade.

We met Laurie when her husband, Grey, played with Joe for the New England Patriots, and she has been a close friend of the Foundation and our family ever since. Throughout our 13-year friendship she has proven to be one of the most (Up)Beat, motivated people I know, and she brings all that enthusiasm to Team JAF, having already exceeded her initial fundraising goal.

As our team prepares for the last few weeks of training, we are so excited to have Laurie—and her can-do attitude—on our team. We look forward to celebrating with all of our Team JAF family and friends, old and new, as they cross the finish line this year!

– Jen Andruzzi

Click here to help Laurie continue her outstanding fundraising efforts for Team JAF!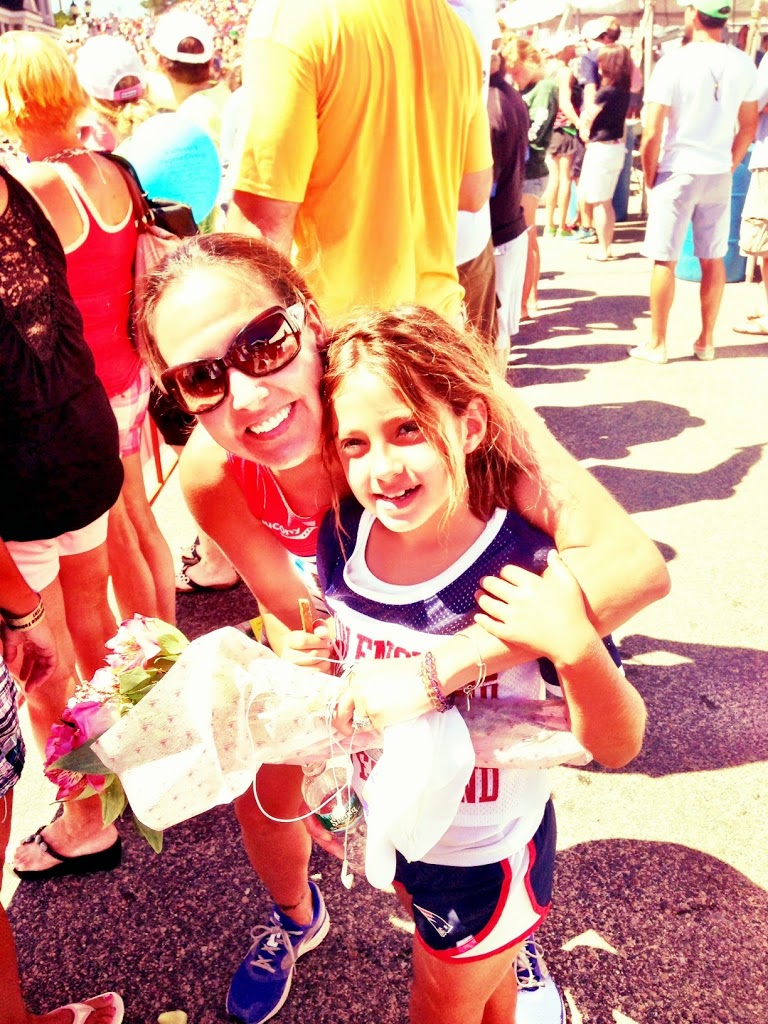 MEET LAURIE RUEGAMER
HOMETOWN: Scottsdale, Arizona
OCCUPATION: Recruiter
FUNDRAISING GOAL: $7,500 (and beyond!)
JAF: What inspired you to run for the Joe Andruzzi Foundation Marathon Team this year?
Laurie: The Andruzzi family is very dear to me, and it is an honor to fundraise on behalf of their commitment to provide help, hope and financial assistance to cancer patients in need.
Our families met 13 years ago when my husband, Grey, played with Joe on the New England Patriots. Jen and I quickly bonded and it was the start of a life-long friendship. Although our time with the Patriots was short, and Grey and Joe's professional careers took us to different parts of the country, we remained very good friends, making annual off-season trips to visit one another.

JAF: What's your marathon fundraising goal? How do you plan on reaching that goal?
Laurie: My original fundraising goal was $7,500. I am proud to announce that through the support of my family and friends all over the country, I have already surpassed that goal.
JAF: How's training going? What is your regimen?
Laurie: Training is going well! I am following a program that my friend, Mark Zimmer gave me from his NYC marathon training.
JAF: How do you motivate yourself to train when it's freezing cold or snowing?
Laurie: I live in Arizona, so weather hasn't been a challenge for me. However, to feel connected with the group, I follow my Team JAF members on FB/twitter and sign up for local runs.
JAF: What are you doing to fundraise?
Laurie: I'm using social media, mass mailings, and networking parties.
JAF: Do you do other charity work? How/why did you get involved?
Laurie: I'm actively serving as a board member for a local Phoenix charity, Gabriel's Angels. My efforts fundraise for the cause, providing healing pet therapy to abused, neglected and at-risk children and youth. I also serve as a committee member for the American Cancer Society in Phoenix, AZ.
JAF: Do you have a "theme song" and – if so – why is it YOUR song?
Laurie: I don't have a specific song, but my genre is old school rap.
JAF: What do you do to stay "upbeat" and motivated while training?
Laurie: I think of the Andruzzi family and my commitment to support their cause!
JAF: What would surprise the inexperienced about marathon training?
Laurie: 26.2 miles is super rewarding and a major self-esteem builder!
JAF: Is "runner's high" a myth… or real?
Laurie: It's real. After running 4 half marathons, I'm hooked. I've been pushed mentally, emotionally and physically! At 38, I finally found my legs!
JAF: What's the best training meal or snack?
Laurie: I feed myself positive talk!
TO READ OTHER TEAM JAF RUNNER PROFILES, VISIT: CLICK HERE