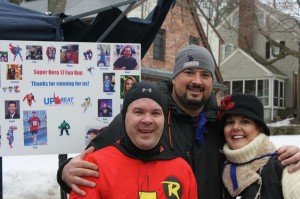 Meet Dan Picard, the last Team JAF runner we'll feature here before the big race –  just days away now! Dan is a special accounts manager with the City of Boston Credit Union, who lives with his wife Kerri and two sons – Timothy, 11, and Andrew, 8 – in Dracut.

When we asked Dan what he'd like to say to our community, this is what he shared: "Please support Team JAF. Every time you think about how hard completing the Boston Marathon would be, donate something!"

Now, that's some of the best advice we've heard all training season!

Good luck on Monday, Dan – and a huge thank you to you and all of our runners. 

We'll be cheering for you all at the finish line at our watch party at FORUM…and thinking of all the patients and families who will benefit from all of your hard work and generosity!

– Joe Andruzzi


JAF: What inspired you to run for JAF this year?
Dan: Jane Melchionda, President/CEO of Eascorp, has been organizing the Credit Union Kids at Heart program for years and, as a member of the Board of Directors for the Joe Andruzzi Foundation, she asked if I would be interested.
JAF: What's your fundraising goal and how are you meeting it?
Dan: My fundraising goal is whatever I can raise. Cancer touches all families and Boston Children's Hospital is second to none when it comes to children's medical needs. I hope that all of my friends, family and work associates will assist me in the fundraising portion of my efforts!
My website link is www.crowdrise.com/danpicard and I hope everyone reading this article who has been touched by cancer or knows someone who has received medical assistance from Boston Children's Hospital will consider making a donation! So far, I have organized a mini-golf event, as well as an event involving the Super Bowl.
JAF: What's on your marathon resume?
Dan: I completed the Boston Marathon as a bandit back when I was a senior at Suffolk University. I also completed the Providence Cox Marathon last May, after dropping out of Boston at Spleen Street. I looked forward to our Super Hero run, which started at Spleen Street on February 23rd, so I could finish my 2012 Boston effort from the spot I dropped out at!
JAF: How do you train?
Dan: Training is going great. I've built up my long runs to a comfortable level at this point. My regimen varies, as I am a high school basketball referee and need to schedule my runs around those days. I spend most of my training time running along the Charles River, as I work in downtown Boston.
JAF: How did you stay motivated to train in winter?
Dan: The folks at charityteams.org have done a great job giving us suggestions on clothing, sneakers, dressing in layers, etc. Officially completing the Boston Marathon is enough motivation.
JAF: Do you do other charity work?
Dan: At this point my focus is on fundraising for Team JAF!
JAF: Who's your favorite superhero? Any costumes in your closet?
Dan: I dressed as Robin for this year's Super Hero run… it was purely a practical decision, as I wanted a costume that would not cover my full face while I was running 17 miles!
JAF: How do you stay "upbeat" and motivated?
Dan: Reading the charityteams.org Facebook comments have been great. Susan Hurley and her team help to make this a lot of fun…even when running the hills of Newton with the devil or she-devil!
JAF: What would surprise non-runners about marathons?
Dan: Once you get past the building up of mileage, it is easy to complete 10-15 miles in training, especially with a group of others running for the same cause.
JAF: Runner's high… myth or reality?
Dan: Stand at the 26-mile mark of the Boston Marathon and listen to the crowd. You could be absolutely dragging at that point, but you will float to the finish!
JAF: What's the best training snack?
Dan: I like to have a banana and some water about 90 minutes before I start. I have been using a vanilla GU energy gel during my longer runs to help keep the hunger away while running.