Mike Longo is a young man. He's barely in his early thirties. He is the father to a daughter and a set of twins, and he is madly in love with his wife Leslie. He is also in his fourth relapse for Stage 4 Lymphoma.
But if you talk to Mike, you hear something in the way he talks, almost a kind of smile in his voice, even as he tells you some of the more horrifying stories about what he's been through. He just seems like a guy you want to know. There's a positivity in him that doesn't make sense when you know about the last four years of his life.
Back in 2014, Mike and Leslie bought their first house. It was a house that needed a lot of work, but they were excited. Their twins, son Luke and daughter Lux, were just born and their daughter Tess was 2. Mike drove a backhoe for a Boston construction company and made good money. Leslie was home with the kids, and every night when Mike got home, it was family time, then time to work on the house a little. Life was good. Everyone was happy and healthy.
Then Mike started getting night sweats. Drench the sheets kind of night sweats. He would get fevers that would spike to 104. One reached as high as 107. He started losing weight, dropping almost 30 pounds in just two months. Initially, doctors didn't diagnose anything. Mike was healthy to look at, so they were telling him he had walking pneumonia or found some other way to explain it all away.
But Mike was by no means healthy. He knew it. His wife knew it. His family knew it. Long story short, after a long, drawn-out journey with a few different doctors, a few different hospitals and multiple tests that got him nowhere, Mike finally reached an oncologist who started doing biopsies. A lot of biopsies. As it turned out, Mike had a very rare form of Lymphoma. Specifically, it's called T-Cell/Histiocyte-Rich B-Cell Lymphoma.
Since the day of his initial diagnosis, Mike's been through hell and back. Then through hell and back again. He's endured the most devastating and debilitating of chemotherapies, had surgically invasive biopsies, and been through three attempts at various treatments, some that were completely physically crushing. None of them worked. He is currently on his fourth different treatment.
It's been a scary, emotional, and challenging yo-yo journey of therapeutic approaches and relapses. Still, he remains positive. Mike says, "I don't have a choice. I have kids to support".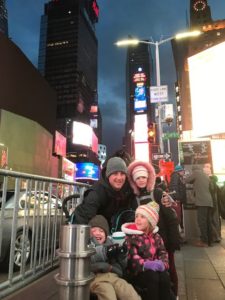 As for his wife Leslie? Mike calls her his Superhero. She's a bulldog of an advocate, searching and researching everything from medical options to financial resources for families dealing with this dreaded illness. She takes care of Mike when he's wiped out from treatment, runs the house, and takes care of three high energy young children. "She is my superhero, without a doubt," Mike says, "She has been so amazing through all this."
Mike had also been lucky with his employer, who initially had done everything they possibly could to stand by Mike and his family, from holding fundraisers to giving extra vacation days to changing his job to a desk job he can physically handle while going through all this.
But on the first day he was going to this new desk job in Boston, his car was rear-ended on the highway by another car at 45mph, opening surgical sutures in his chest and ripping his port-a-cath from his neck, rushing him to surgery, once again making him unable to work and bring in money. Another setback. After that, his employment with them ended.
Beyond the physical challenges of Mike's illness, now the financial realities were mounting. With Mike not bringing in a regular paycheck and Leslie having a full-time job as Mike's caregiver and advocate, running the house and taking care of three very young children, they were falling behind. No money was coming in, but the bills were. Mike says, "The financial aspect of something like this is something no one really thinks about. You worry. A lot."
As part of Leslie's exhaustive efforts, she started looking into financial resources that help those in their situation, and when talking with Mike's social worker about it, the Joe Andruzzi Foundation came up. A grant application was submitted and the foundation helped by paying the Longo's monthly mortgage, which Mike says helped take a huge burden off for another month.
The good news in all this is that Mike's latest treatment seems to be working as of this writing. (February 2019)
Mike is hopeful but will tell you he's cautiously optimistic. "I take things one day at a time and see how it goes". He spends all the time he can with his wife and kids, enjoying the moments and focusing on doing all he can to get better.
Mike and Leslie have shared their story with many people. They've done speaking engagements with financial planners, inspiring them to offer pro bono services to families in a similar situation, and they have been involved with Joe Biden's Cancer Initiative, among other things. They do this because they say they want to pay it forward, believing that if their story falls on the right ears, it can help another family like theirs, who is fighting the same battles. For now, he just soldiers on.
"You got to roll out of bed and go. You've just got to do it. God only gives you what you can handle, and I'm handling it.  I have an army of help in my house, a superhero wife and three strong kids. For that, I'm lucky."
One thing is for sure, Mike and Leslie Longo have a lot to fight for, so that's exactly what they're doing.