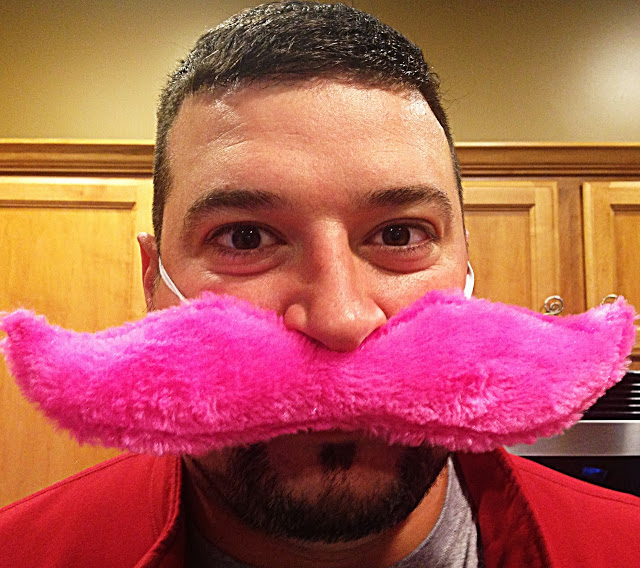 The handlebar, pencil, fu manchu, Magnum P.I… yep, it's Movember again, and here at JAF we're loving the many 'stache styles this month brings.
Unfamiliar with Movember? It's that awesome time of year when a growing number of men groom their mustaches to raise awareness and funds for prostate cancer research. We totally appreciate this fun campaign, because – of course – we love an (Up)Beat approach to a serious cause. Cancer is serious, but we don't have to be!
Prostate cancer deserves men's attention. One in six men will be diagnosed with the disease, and in 2013, more than 238,000 new cases were documented. A new case occurs every 2.2 minutes, and more than 30,000 men die from prostate cancer every year.
But here's the good news: if detected and treated early, prostate cancer has a 97 percent success rate. And a number of organizations list free screenings; men should also check with their local hospitals and prostate cancer support groups.
Experts recommend all men talk with their doctors about testing. Some are at higher risk for prostate cancer – those with a strong family history or those whose ethnicity makes them more susceptible. (African American men have the highest risk.) So while opinions on routine prostate cancer screenings vary – with some worrying about false-positives, over-diagnosis and over-treatment – high-risk men should consider screenings starting at age 40, according to the Mayo Clinic.
Men can also take proactive steps to prevent prostate and other cancers.
Although experts acknowledge there is no anti-prostate cancer recipe, the Mayo Clinic does recommend actions for minimizing risk:
Eat a healthy, low-fat diet: Studies show diets rich in fruits, vegetables and whole grains may decrease prostate cancer risk. Leaner cuts of meat and low or reduced-fat dairy products are optimum. Substitute plant-based fats for meat-based – olive oil for butter, for instance. Fatty fish — salmon, sardines, tuna and trout — are also healthy, as they contain a fatty acid called omega-3, linked to a reduced risk of prostate cancer. Green tea and soy-based foods are also helpful. 
Cut down on that beer! Try to indulge in no more than one or two drinks per day. One study found men who drank several drinks per day over many years experienced an increased risk of prostate cancer.
Stay trim: Men with a body mass index (BMI) of 30 or higher experience a higher risk of prostate cancer. 
Exercise often: Studies have shown regular exercise may reduce prostate cancer, along with the risk of heart disease and other cancers.
We love our men – and their moustaches – and want you all to stay healthy! So talk to your doctors and follow these additional tips, to protect yourself.
Of course, you can also grow out your 'stache for the cause… for more information or to get involved, visit http://us.movember.com.
-Jen Andruzzi